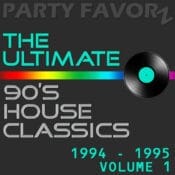 We've moved into the mid-nineties with the Ultimate 90's House Classics series which focuses on the years 1994 through 1995.
One of the things you'll notice is that the infusion of Hip Hop with House Music drops off significantly as each genre goes its own way. However, we start to see the emergence of Trance into the mainstream that moves from its infancy into mainstream but isn't quite there yet. Tracks by Opus III, Deep Forest and Josh Wink give us a hint as to what's to come while still incorporating all the elements of House. Oakenfold and Rollo & Sister Bliss are still knocking out big room House tracks before changing directions that elevate them to household status. While these tracks are included in this series — the full-on Trance classics will be preserved for a refresh later this year.
At this point, Soulful House (think MAW, Frankie Knuckles, David Morales C + C Music Factory) and more commercial House music (Love To Infinity, Stone(Bridge), Brothers In Rhythm, Roger Sanchez) along with underground big room tracks (Junior Vasquez, Tony Moran, Armand Van Helden) dominate this period. In the coming years, Big Room goes even BIGGER and takes over the clubs.
I really enjoy putting together these time capsules because it gives me the opportunity to showcase tracks that were massive back in the day but for whatever reason — have fallen into a blackhole of people's memories.
While this series is not the last word on House Music during this period — it's likely the closest anyone has ever attempted at curating and compiling this awesome era of music from which everything you listen to today has sprung.
I'll be back later this weekend with volume two of this series. Until then…ENJOY!
Album : The Ultimate 90's House Classics [1994 – 1995] Vol. 1
Genre : 90's Classic House
Year : 2021
Total Time : 2:50:00
1. Barbara Tucker – Beautiful People (C.J.'s Club Mix)
2. Michael Watford – So Into You (Classic Club Mix)
3. Gloria Estefan – Don't Stop (Tony Moran Stress Test Mix)
4. M People – Excited (M People Master Mix)
5. Lil' Mo' Yin Yang – Reach (Little More Mix)
6. Aretha Franklin – A Deeper Love (C + C Music Factory Mix)
7. Judy Cheeks – As Long As You're Good To Me (Love To Infinity's Classic Paradise Club Mix)
8. Mariah Carey – Fantasy (Def Club Mix)
9. Judy Cheeks – Reach (Brothers In Rhythm Club Mix)
10. Frankie Knuckles feat. Adeva – Whadda U Want (From Me) (K-Klass Mix)
11. Barbara Tucker – I Get Lifted (Underground Network)
12. Moné – We Can Make It (Jazz 'n' Groove 12″ Album Mix)
13. Ruffneck feat. Yavahn – Everybody Be Somebody (MAW Style Mix)
14. Opus III – When You Made the Mountain (Paul Gotel Club Mix)
15. Blondie – Atomic (Diddy's 12″ Mix)
16. Billie Ray Martin – Your Loving Arms (Junior Vasquez Soundfactory Mix)
17. Kristine W – Feel What You Want (Junior's NY Xtended Vocal)
18. Shades Of Love – Keep In Touch (Body To Body) (10.31 Mix)
19. De'Lacy – Hideaway (Dubfire Needs To Score Remix)
20. Judy Cheeks – Respect (The Ultimate Anthem Mix)
21. Labelle – Turn It Out (Shep's Totally Turnt Out 12″ Anthem Edit)
22. The Waterlillies – Never Get Enough (Junior's Deep Factory Mix)
23. Mary J. Blige – You Bring Me Joy (E-Smoove Joyous Club Mix)
24. Michael Jackson & Janet Jackson – Scream (Classic Club Mix)
25. K.D. Lang feat. Andy Bell – No More Tears (Enough Is Enough) (Classic Club Mix)
(Visited 1 times, 3 visits today)
Podcast: Download
Podcast (preview-channel): Download