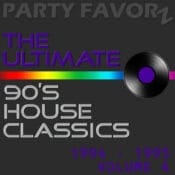 I realize this feels like a Netflix series that seems to drag on and on but I promise to take a break from the Ultimate 90's House Classics [1994 – 1995] series after this final set. It's not that I don't enjoy revisiting these classics but even for me — it's time to hear something else for a change.
That being said, pay close attention to how House Music has been evolving (especially in volume 3 and 4). There's a reason that Giorgio Moroder is considered the godfather of Techno and frankly House Music. It's because his work as a solo artist and production work with Donna Summer was some of the most advanced electronic dance music and was way ahead of it's time in the seventies.
As technology improves — much of his work is fully realized by mid-decade. This allowed House Music to branch off into a multitude of sub-genres, which has all culminated into the familiar sounds we hear today. Undoubtedly, the 90's produced some groundbreaking dance music and many of the DJs and producers you see in the credits are still churning out dancefloor hits today.
While the essence of House Music remains strong, the technology that fueled it has given rise to more experimentation, sampling and the recreation of sounds that were never possible even during Moroder's heyday. The 90's were truly a magically period for House Music. Once we get into the latter part of the decade — things really begin to evolve and a whole new sound slowly takes over.
I'm not going into the details because that's going to require a spin-off series (other than Trance), which won't come out until later this year but you get a feel for it in the Top Dance Club Songs of the Year starting around 1998 through 2005 before Electro House takes over. I've got plans to revisit all these periods but don't want to get too ahead of myself.
I've finished compiling the set list for the next Circuit & Anthems and Dance Club. I've started on Peak Hour and should finish compiling that and the next installment of Disco House today. Afterwards, I'll dig in and start mixing everything for release over the next couple of weeks starting with a fresh Dance Club set. Until then…ENJOY!
---
The skip at the beginning of M People "One Night In Heaven" has been fixed.
Album : The Ultimate 90's House Classics [1994 – 1995] Vol. 4
Genre : 90's Classic House
Year : 2021
Total Time : 2:33:02
1. Gloria Estefan – Turn The Beat Around (Def Classic Mix)
2. CeCe Peniston – Hit By Love (Def Classic 12″ Mix)
3. Spirits – Don't Bring Me Down (Fire Island Vocal Mix)
4. C+C Music Factory – I'll Always Be Around (Ministry Of Sound House Mix)
5. Size 9 – I'm Ready (Remix Version)
6. Alex Party – Don't Give Me Your Life (Dancing Divaz Club Mix)
7. Corona – The Rhythm Of The Night (Rapino Brothers "Let's Get Fizzical" Piano Mix)
8. Sound Factory – Good Time (Pure) (Extended Mix)
9. Diana Ross – Take Me Higher (T-empo's Club Adventure)
10. Crystal Waters – What I Need (Erick 'More' Club Mix)
11. M People – Open Your Heart (Fire Island Mix)
12. Jimmy Somerville – Heartbeat (E-Smoove 12″ Mix)
13. Deee-Lite – Bring Me Your Love (Johnny Vicious Mix)
14. DJ Duke – Turn It Up (Say Yeah) (Eurotech Groove)
15. The Fog – Been A Long Time (Full Intention 12″ Mix)
16. Jamiroquai – Space Cowboy (David Morales Classic Club Remix)
17. Vanessa Williams – The Way That You Love (20 Fingers Club Mix)
18. Michael Jackson – You Are Not Alone (Frankie Knuckles Franctified Club Mix)
19. M People – One Night In Heaven (David Morales Classic Mix)
20. Diana King – Ain't Nobody (David's Club Mix)
21. Deee-Lite – Call Me (Ralphi's Extended LP Mix)
22. Paula Abdul – My Love Is For Real (E-Smoove's Fever Mix)
23. Madonna – Human Nature (The Human Club Extended Mix)
24. Björk – Big Time Sensuality (The Fluke Magimix)
25. Staxx – Joy (Lovejoy Vocal 12″ Mix)
(Visited 1 times, 4 visits today)
Podcast: Download
Podcast (preview-channel): Download