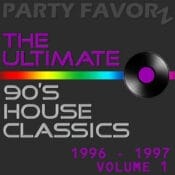 Folks, I apologize for being M.I.A. for the past couple of weeks. It's been one nightmare piled on top of another. When I finally had some breathing room to sit down and start working on the next Ultimate 90's House Classics from 1996 to 1997 — I was knee-deep in the first mix before I realized a lot of songs were missing.
I had taken a week off late last year to compile all the tracks and placed them in separate folders by year thinking I would be strategic and getting ahead of the game. I only now realized that I either overlooked several must have songs or they disappeared. I'm now questioning every set I've put out so far but it's too late to go back.
I had the perfect mix finished when I came to this realization and have been diligently tracking down everything I missed. I got up early this morning to rework this set and am now finished. Better late than never.
My mind is fried so I'll be talking about the changes in the musical landscape during this period on the next drop. There will be two to three more of these coming this week so stay tuned.
Until then…ENJOY!
---
Fixed minor issue with the transition from Happy Clappers "I Believe" to "So In Love With You" by Duke.
Album : The Ultimate 90's House Classics [1996 – 1997] Vol. 1




Genre : 90's Classic House




Year : 2021




Total Time : 3:43:30
1. Deni Hines – I Like The Way (David Morales Classic Club Remix)
2. Toni Braxton – Un-Break My Heart (Frankie Knuckles Franktidrama Mix)
3. Vanessa Daou – Two To Tango (Valley Of The Daou Mix)
4. Aaliyah – One In A MIllion (Ultimix)
5. Lisa Stansfield – Never, Never Gonna Give You Up (Mark!'s Transparent Vocal)
6. Erasure – In My Arms (Love To Infinity Stratomaster Mix)
7. Pet Shop Boys – Before (Classic Paradise Mix)
8. The Braxtons – The Boss (Masters At Work Album Mix)
9. Daft Punk – Around The World (Kenlou mix)
10. Rosie Gaines – Closer Than Close (Frankie Knuckles Classic Club Mix)
11. Poe – Hello (Edge Factor Mix)
12. Todd Terry pres. Martha Wash & Jocelyn Brown – Something Going On (Tee's Original Mix)
13. Jamiroquai – High Times (Roger Sanchez Bionic Supachronic Mix)
14. Jamiroquai – Alright (Todd Terrys In House Remix)
15. Happy Clappers – I Believe (12″ Master)
16. Duke – So In Love With You (Full Intention Mix)
17. X-Press 2 – The Sound (Nush Pizza X-Press Remix)
18. David Morales & The Bad Yard Club feat. Crystal Waters & Delta – In De Ghetto (The Bad Yard Club Mix)
19. Sandy B – Ain't No Need To Hide (Deep Dish 12″ Vocal Mix)
20. Heller & Farley Project – Ultra Flava (Rhythm Masters Club Mix)
21. Phunky Phantom – Get Up Stand Up (KLM Vocal Mix)
22. Livin' Joy – Don't Stop Movin' (Junior's Arena Anthem Mix)
23. Kristine W – Don't Wanna Think (Rollo's Raw Mix)
24. Joi Cardwell – You Got To Pray (Gomi's Lair X Beat Vocal)
25. Gloria Estefan – You'll Be Mine (Party Time) (Rosabel's Fiesta Mix)
26. Jennifer Holliday – No Frills Love (Moran's Anthem Mix)
27. Moné – Movin' (Jazz-N-Groove Main Vocal Mix)
28. Byron Stingily – Get Up (Everybody) (Mousse T.'s Extended Mix)
29. The Bucketheads – Got Myself Together (Kenlou Mix)
30. Nuyorican Soul feat. India – Runaway (Mousse T's Jazz Funk Experience)
31. Leann Rimes – How Do I Live (Mr. Mig Remix Club Mix)
32. Amber – One More Night (Hani Remix)
33. Kristine W – One More Try (Junior's Factory Mix)
34. Billie Ray Martin – Imitation Of Life (Def Club Mix)
35. Alison Limerick – Where Love Lives '96 (Dancing Divaz Club Mix)
36. Qkumba Zoo – The Child (Inside) (Junior's Club Mix)
(Visited 12 times, 3 visits today)
Podcast: Download
Podcast (preview-channel): Download