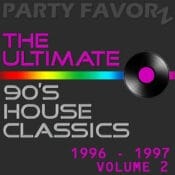 Earlier in the decade, Freestyle, Breakbeat, Trip Hop, Hip Hop and Eurodance were all offshoots of House music that went on to be fused together or evolved into their own distinct categories.
More notably, the second half of the nineties witnessed a sea change in House music. While Classic House continued to be a staple on dance floors — the sound became more progressive, electronic and tribal as club culture began looking for something fresh and new. Enter Club 69 (Peter Rauhofer), Thunderpuss, Victor Calderone, Tony Moran, Hex Hector, Jonathan Peters, Soul Solution, Rosabel (Ralphi Rosario), Razor N' Guido, Vission & Lorimer and a host of others. The one consistent in this area was Junior Vasquez who easily switched between edgy commercial House and the big tribal beats that would eventually claim the dance floor.
In fact, it took the Soul Hex remix (Soul Solution + Hex Hector) of Toni Braxton's "Un-Break My Heart" for the labels to take notice after it exploded all over the dance floor. For the sake of this series — the excellent Frankie Knuckles version was included on volume one of this series.
That being said, this new style of music steadily became more dominant that it begins to take over this four volume series and explodes by 1998 – 1999.
Other notable mentions in this period are Full Intention, StoneBridge and Love To Infinity who developed a tougher house sound that was commercially appealing and Armand Van Helden with his signature garage house style that sometimes veered into other worlds.
The other offshoot that exploded was Trance. Trance had been bubbling in the underground with rave parties that were popular in the UK in the early nineties and eventually found their way over to the US. That's an entirely separate category and will be prominently featured in its own tribute later this year. Just know that many of the big names in Trance started out as house DJs. Rollo & Sister Bliss, Perfecto, Sash! and BT were all making house music prior to jumping over to this genre where they found massive success.
After finishing volume two — I've decided to re-visit some of the earlier Legacy entries like Frankie Knuckles, Peter Rauhofer, Thunderpuss and Hex Hector. The original sets feel incomplete and can certainly be improved upon. I'd also like to incorporate more Club 69 remixes into Peter's tribute set since the moniker was key to his overall success. Those are being considered for a much future date as I got a lot on my plate at the moment.
In the interim, soak in this heavenly slice of House music history and be sure to turn it the fuck UP! I should have volume three out on Saturday or Sunday and the final fourth volume for this period sometime next week. Until then…ENJOY!
Album : The Ultimate 90's House Classics [1996 – 1997] Vol. 2
Genre : 90's Classic House
Year : 2021
Total Time : 3:06:16
1. Jamiroquai – Cosmic Girl (David Morales Remix)
2. Chaka Khan feat. Me'Shell Ndegéocello – Never Miss The Water (Franktified Club Mix)
3. The Blue Boy – Remember Me (Deep Zone Club Mix)
4. Garbage – Stupid Girl (Tee's Freeze Club)
5. The Cardigans – Lovefool (Tee's Freeze Club)
6. Diana King – I Say A Little Prayer (Love To Infinity's Extended Club Mix)
7. Pulse feat. Antoinette Roberson – The Lover That You Are (Hex Hector & Soul Solution Club Mix)
8. Hannah Jones – No One Can Love You More Than Me (StoneBridge Mix)
9. Spice Girls – Wannabe (Junior Vasquez 12" Club Mix)
10. Joi Cardwell – Run To You (Giuseppe D Hothead Vocal Mix)
11. Le Click – Call Me (Junior's Main Mix)
12. Grace – Not Over Yet (Perfecto Mix)
13. White Town – Your Woman (Fitch Brothers Up-Town Dance Mix)
14. Robert Miles feat. Maria Nayler – One And One (David Morales Club Mix)
15. Daphne – I Found It (Greed Shakedown Mix)
16. Club 69 feat. Kim Cooper – Drama (Club 69's Full Drama)
17. N-Joi – The New Anthem (Hot Tracks)
18. MK feat. Alana – Always (StoneBridge Club Mix)
19. Ace Of Base – Beautiful Life (Vission & Lorimer Club Mix)
20. Robin S. – It Must Be Love (Fitch Bros Club Mix)
21. Sash! feat. Rodriguez – Ecuador (K-Klass Klub Mix)
22. Lisa Stansfield vs. The Dirty Rotten Scoundrels – People Hold On (Jon Is The Don Mix)
23. Tori Amos – Professional Widow (Armand Van Helden's Star Trunk Mix)
24. Love Tribe – Stand Up (Narcotic Mix)
25. Praxis feat. Kathy Brown – Turn Me Out (Turn To Sugar) (Sol Brothers' Turn To Sugar Vocal Mix)
26. CJ Bolland – Sugar Is Sweeter (Armand Van Helden's Drum 'n' Bass Mix)
27. Sneaker Pimps – Spin Spin Sugar (Armand's Dark Garage Mix)
28. Victor Calderone – Give It Up (Original Mix)
29. Future Breeze – Why Don´t You Dance With Me (Future Breeze´s House Mix)
30. Kristine W – Land Of The Living (Junior's New Vocal Mix)
(Visited 1 times, 4 visits today)
Podcast: Download
Podcast (preview-channel): Download