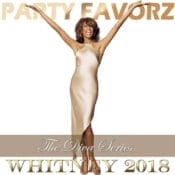 In the final days of 2017, I thought I'd show some appreciation for the folks that have donated, contributed, and made comments by sending up a thank you mix by Whitney Houston to take us into 2018. You folks are the only reason I'm sticking this out one more year.
Originally, I had put together a set of all-new mixes but after listening to it, I quickly became bored. Many of the remixes were bland and brought nothing new to the original remixes or actual song and seemed forced into a box that didn't quite fit, so I scrapped the whole thing. I ripped out half of the newer remixes I did like and went back to the table with the original mixes that made many of these songs genuinely special. The goal was to freshen up the original tribute to one of the greatest vocalists of all time while balancing the magic of the originals with fresh perspectives from today's musical landscape. Since there are only so many ways to skin that cat, this is what I came up with.
I'm not going to bore you with all the details of what I had to do to pull this off but I will say that it wasn't easy. It took almost two weeks to put together and by the time I finished (yesterday), I just didn't have it in me to sit and listen for an hour and 40 minutes with my headphones on. Because of the heavy song editing, I combed through it for errors so we're good there. I just don't know how great it all sounds (fingers crossed). If this isn't up your alley, stick with the original Whitney Houston Tribute from 2009.
For now, I want to wish everyone a very Happy New Year and a kick-ass 2018… ENJOY!
   Album: Whitney 2018 – The Diva Series  
   Genre: House Music
   Year: 2017
   Total Time: 1:40:50:00
1. I Will Always Love You (Hex Hector Mixshow)
2. Try It On My Own (Thunderpuss Club Anthem Mixshow)
3. Love Will Save The Day (Barry Harris Mix)
4. I Wanna Dance (Barry Harris 2018 Remix)
5. I Look To You (7th Heaven Remix)
6. How Will I Know (Van Hooft & Forever Kid Remix)
7. My Love Is Your Love (Jonathan Peters' Vocal Mixshow)
8. I Learned From The Best (HQ² Club Mixshow)
9. Same Script, Different Cast (Thunderpuss Club Mix) [with Deborah Cox]
10. It's Not Right But It's Ok (Thunderpuss Mixshow)
11. Heartbreak Hotel (Hex Hector Mixshow) [with Faith Evans & Kelly Price]
12. Step By Step (Tony Moran Diva X Diva Mixshow)
13. Million Dollar Bill (Barry Harris Remix)
14. Whatchulookinat (Thunderpuss Club Mix)
15. So Emotional 2012 (eSQUIRE vs. OFFBeat Remix)
16. I'm Your Baby Tonight (Stuart Robinson 2015 Mix)
17. I'm Every Woman (The Checkup Remix)
18. Greatest Love Of All (Club 69 Mixshow)
(Visited 1 times, 1 visits today)
Podcast: Download
Listen on: Apple Podcasts | Google Podcasts | Amazon Music | Android | iHeartRadio | Deezer | Donate