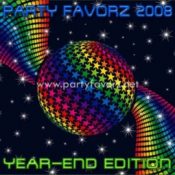 Well, it's been one year, over 80,000 downloaded mixes (includes two separate Podbean accounts that were eventually merged and a 4shared and Megaupload account that was later rolled into Podbean) and 200+ subscribers.  All I can say is WOW!  I never in a million years would have dreamt that people actually appreciate what it is I do for fun.  Now that I've gotten a good feel for the workings of this site and what people (including myself) like in the mixes, I'm hoping to make 2009 an even better year.  I absolutely want to thank the Guest DJs who have shared their work with this site and hope to continue our relationship through the years as well as bring in some fresh talent.  Heck, I might even try to sucker up to a few prominent DJs and see if they want to offer us something…you never know.
I also want to thank those of you who have come through with your donations not only recently but throughout the year.  Without those donations, this site would NOT be possible.  After all, music isn't cheap when you do your best to support the artists and my Podbean account (which has now been upgraded to a business level account, at least for the next several months while I get all of the links restored) costs money.  Frankly, I think everyone prefers the convenience of streaming and direct downloads that their service provides and the ability to run it through iTunes for those of you who use the service.  These are some of the fabulous comments I've received along with the various donations:
"GREAT TALENT ISN'T CHEAP AND CERTAINLY NOT FREE :)"
"To continue Keith's great blog!"
"OMFG your BTucker series is Fantastic. I luv her. Thanks for all your hard work, it is so appreciated. Keep it up."
"Your last mixes are awesome (i know you hear that always from me, but what should I say other).  Keep up with your nice work."
"Firstly let me heap praises on your blog, after years of buying cds and spending ?1000's of pounds i have at last found somewhere i can get music that i enjoy and makes me want to listen too. You have a real talent and i thank-you for that. Its not very often i can listen to a whole album without skipping through tracks, with your thought of tracks and mixing its a pleasure."
"I just recently found your blog and really APPRECIATE the mix sets you produce for all of us.  I've found so many gems thanks to you!  I am infatuated with "Heaven" by Pepper Mashay (Fed Conti mix) – it's a wonderfully creative and fun track.  I LOVE IT!"
"A friend recommended your site/mixes… great job! (and we're NOT easily impressed"
"really i can't find a word for u to say excellent magnificent brilliant perfect love ur mixes so much . Kisses muahhhhhh"
"thanks for all the great music… all my friends are loving it!!!! =)"
"Awesome work!!! Discovered you a few days ago, and have enjoyed everything I've listened to. Sent some $$ your way, and will continue to support your endeavors! Keep it flowing!"
"hi there – just wanted to say thanks for the mixes – very cool and much appreciated : )"
"Just sent you some $$ – loving the mixes here. Hope the ca$h thing works out…"
"Just learned about this website. INCREDIBLE stuff."
"Keith, no one can touch your Deep Editions! That is your forte my man! Ears always perk up and people always ask when I pop one of those in as my soundtrack. Thanks!"
"Nice blog Kj! Awesome mixes! Keep up the great work."
"…anyway, damn did it again, anyway, your mix this week is hot, I always look forward to fridays to hear the new mixes, keep them comin, and HAPPY PRIDE!!!!!!!"
"Amazing site!!! Good Mixes. Thanks Kjam"
"Estoy escuchando ahora tu musica, es censacional y quiero decirte que aprecio mucho tu trabajo "
Words cannot express how much I appreciate these remarks.  All I can say is that this is a new year, and I plan to make this site better than ever.  However, for now, I need to take some serious time off to recharge my batteries.  I feel like I've been on this mixing marathon since the election in early November.  I might come back in a couple of weeks with the first of the Diva series for 2009.  If not, the next Winter Edition will go up the last week of January or first part of February.  In the meantime, I'll be cleaning up this site, restoring links and hopefully provide better overall functionality.  I think I had mentioned the possibility of changing the series titles this year so here goes:  The Deep Editions will now be called "System Edition", the Electro-Funk series will now be called "BPM Edition" the Classic Edition will be called "Chrome Edition" the House Edition will now be called "T-Dance Edition" the Diva series and the Original Party Favorz Editions (i.e. Spring, Winter, Pride etc.) will remain the same.  I think the new titles provide the listener with a better sense of what genre(s) the mix provides and gives me more latitude to drop in a variety styles within the mix, especially on the Deep and Electro-Funk mixes where I felt a little constrained by the title.  Additionally, I think the Year-End Edition is going to be split up.  By that I mean, at the end of May or first week of June, I plan on creating a "The Year So Far Edition" or something to that effect which will contain tracks released between December 2008 through May of 2009.  This way the second installment in December will only contain tracks from May or so through the end of November.  This just makes more sense and will certainly make my job much easier.
I hope everybody had a great weekend.  Once again thanks for the overwhelming support, generosity, and kindness you've expressed towards me and my little hobby.  And of course always…ENJOY!
Keith a.k.a. Keiwi <—ooh, forgot to mention, I'm no longer going by K j A M and have officially changed it to DJ Keiwi, a hybrid of my first and last name and is pronounced just like the fruit, kiwi.  Plus, green is my favorite color, so it better reflects who I am.
Album : Year-End Edition v8
Genre : House, Electro, Funky, Progressive
Year : 2008
Total Time : 3:07:58:00
1. Dr. Feelgood 2008 (DJ Meme's Philly Suite Mix) – Groove Junkies feat. Diane Carter
2. Finally (Christopher Simmons Remix) – Bart B More vs. Oliver Twizt
3. Please Don't Go (Extended Mix) – Dobenbeck feat. Joanna
4. Save the Lies (Out Of Office Remix) – Gabriella Cilmi
5. No Promises (Live Element Remix) – Hott 22 feat. Bonnie Bailey
6. Disturbia (Jody Den Broeder Remix) – Rihanna
7. The Girl You Lost To Cocaine (Stonebridge Extended Vocal Remix) – Sia
8. Cry For You (Spencer & Hill Remix) – September
9. Dream On (Moto Blanco Club Mix) – Robyn
10. Baditude (Esquire Remix) – Spoon, Harris & Obernik
11. Heartbroken (Wawa Club Mix) – T2 feat. Jodie Aysha
12. Underlying Feeling (Soulshaker Club Remix) – Sylvia Tosun
13. Be Mine (Soul Seekerz Club Mix) – Robyn
14. Dust Off And Dance (Klubjumpers & Anthony Webster Mix) – Tiffany
15. The Party's Over (Ortega & Gold Club Mix) – Valeriya
16. Give Some Love (Klaas Extended Mix) – Antoine Clamaran feat. Mario Ochoa & Lulu Hughes
17. Piece Of Me (Bimbo Jones Club Mix) – Britney Spears
18. So What (Bimbo Jones Remix) – P!nk
19. Get Busy (Soul Avengerz Dancefloor Mayhem Mix) – Kid Massive feat. Elliotte Williams & Drue
20. The Cure And The Cause (DJ Meme Philly Suite Mix) – Fish Go Deep feat. Tracey K
21. Get Down '08 (Warren Clarke Club Mix) – Todd Terry Allstars feat. Tara McDonald
22. Hideaway '08 (7th Heaven Club Mix) – De'lacy
23. Daylight (Joey Negro Club Mix) – Kelly Rowland
24. Cobrastyle (Adam K & Soha Remix) – Robyn
25. Whenever You Need Me (The Mac Project Club Mix) – Infernal
26. Sex On Fire (Richard Sharkey & Peter Sar Remix) – Kings Of Leon
27. Feel Your Love (Original Extended) – Kim Sozzi
28. Womanizer (Lenny B Mixshow) – Britney Spears
29. Handle Me (Soul Seekerz Club Mix) – Robyn
30. Break The Wall (Diego Donati vs. F&A Factor Remix Extended) – Sandy vs. D'hany
31. I Get Power (T&B Club Mix) – Tognarelli & Bertani
(Visited 27 times, 2 visits today)
Podcast: Download