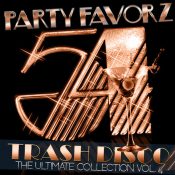 It's getting HOT in here! Based on the internal numbers, the new Trash Disco series is blowing the roof off! I knew there was a hunger for this back in 2016 when I posted the original 8-set series, but this is crazy. For the uninitiated, the Trash Disco Ultimate Collection is quite possibly the most comprehensive compilation of non-stop classic Disco tracks from the 70's and 80's ever put together in one giant collector's box. You've got the majority of the biggest hits that we all know and love (even if you didn't grow up during this period) and a massive swath of hits that charted on the Billboard's Disco Chart and many that did not, but are considered classics as today's current crop of crate digging DJ's sample the shit out of the most obscure releases.
Volume 4 slows the tempo down quite a bit and throws in a lot of Funk into the mix. Tracks like "Dazz" by Brick, "Ffun" by Con Funk Shun, and "Flash Light" by Parliament were massive party grooves during this period. It's hard to discern the difference but Funk is just a sub-category of Disco, which later became 80's R&B Dance. Regardless, these fantastic tracks fit in quite nicely within the entire spectrum of the genre.
You'll notice a lot of the same names come up in the track list for the creation of these classic edits. Dr. Packer and Dimitri From Paris are some of the more established DJ's that are household names (amongst others). That being said, Freddy from Digital Visions Remix makes some of the greatest edits to these gems. Y'all know I don't like to share music. If you're interested in having some of these edits for yourself, just message Freddy on his Facebook page and he'll work out something reasonable for you. I promise you, he doesn't bite and is a super nice guy.
I want to thank Weno for pointing out that some of the original Trash Disco compilations had broken links. They've all been fixed now, so if you only want the hits, that would be a good starting point.
I'm not certain how many sets there are going to be in this final Disco anthology. Each one is well over two hours, and I still have a ton more to create. I may release a couple more and then take a break to post some newer material and then revisit the remaining sets in late December. I'll just play things by ear.
In the meantime, get ready for some booty-shaking good times!…ENJOY!
---
This set has been expanded to include 5 new songs.
Album: Trash Disco | The Ultimate Collection Vol. 4
Artists: Various
Genre: Disco
Length: 03:11:04
1. Love Unlimited Orchestra – Love's Theme (Digital Visions Re-Edit)
2. Bionic Boogie feat. Luther Vandross – Hot Butterfly (Digital Visions Re-Edit)
3. Taana Gardner – Heartbeat (Digital Visions Re-Edit)
4. Yarbrough & Peoples – Don't Stop The Music (Digital Visions 2017 Re-Edit)
5. The Jones Girls – You Gonna Make Me Love Somebody Else (Buzz Compass Edit)
6. Barry White – It's Ecstasy When You Lay Down Next To Me (Dr. Packer Remix)
7. The Rolling Stones – Miss You (Digital Visions Re-Edit)
8. Rod Stewart – Da Ya Think I'm Sexy? (Digital Visions Re-Edit)
9. Andrea True Connection – More, More, More (Digital Visions Re-Edit)
10. Silver Convention – Get Up And Boogie (That's Right) (Hot Classics Remix)
11. The Brothers Johnson – Strawberry Letter #23 (Dr. Packer Remix)
12. Grace Jones – Pull Up To the Bumper (Digital Visions Re-Edit)
13. Silver Convention – Fly Robin Fly (Digital Visions Re-Edit)
14. Herb Alpert – Rise (Digital Visions Re-Edit)
15. Bee Gees – Stayin' Alive (Digital Visions Remix)
16. Peter Brown – Dance With Me (Digital Visions Re-Edit)
17. David Bowie – Fame (V's Bumpy Way To The Top Edit)
18. Wild Cherry – Play That Funky Music (Ultimix)
19. Dazz – Brick (Digital Visions Re-Edit)
20. Parliament – Flash Light (Dr. Packer Remix)
21. Con Funk Shun – Ffun (Hot Classics Remix)
22. L.T.D. – (Every Time I Turn Around) Back in Love Again (Digital Visions Re-Edit)
23. Peter Brown – Do You Wanna Get Funky With Me (Keep Schtum Re-Edit)
24. Change – Change Of Heart (Dr. Packer Remix)
25. Donna Summer – Love To Love You Baby (José Ferrando Remix)
26. Hot Chocolate – You Sexy Thing (Digital Visions Re-Edit)
27. Eruption – I Can't Stand The Rain (12″ Mix)
28. The Hues Corporation – Rock The Boat (Digital Visions 2015 Re-Edit)
29. Odyssey – Native New Yorker (Digital Visions Re-Edit)
30. Tina Charles – Dance Little Lady Dance (Northern Lights 12″ Mix)
31. Johnnie Taylor – Disco Lady (Digital Visions Re-Edit)
32. Earth, Wind & Fire – Fantasy (Dr. Packer Remix)
33. Bee Gees – Night Fever (Digital Visions Remix)
34. Chanson – Don't Hold Back (Oldwhibbler Edit)
35. Commodores – Brick House (Digital Visions Re-Edit)
36. George McCrae – Rock Your Baby Remix 2014 (Unknown)
37. Barry White – Can't Get Enough Of Your Love, Babe (Digital Visions Re-Edit)
(Visited 1 times, 1 visits today)
Podcast: Download
Podcast (preview-channel): Download