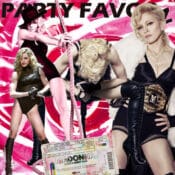 In 1983, as a high school junior, my part-time gig was at a local record shop. Madonna burst onto the music scene that same year, amplified by the new MTV channel we'd just added to our TV lineup. The era was marked by Reaganomics, while my parents globe-trotted thanks to dad's booming shoe business.
Though "Holiday" a Top 20 hit and #1 Dance Club hit, it wasn't until "Borderline" and "Lucky Star" that everyone really began to pay attention. I couldn't pinpoint it then, but there was an undeniable aura around her. A year later, I was livng in Austin (TX), working for the Austin American Statesman by day and Hastings Records by night. Madonna's "Like A Virgin" had just hit the shelves, and despite the critics' disapproval, she was the name on everyone's lips. Lucky me, I snagged free tickets to her Virgin Tour (and Prince's Purple Rain Tour) because my coworkers opted for Bruce Springsteen. Both shows were transcendental, turning me from a fan into an outright devotee.
Fast-forward a few years, I was back in my hometown, newly enrolled in college, and newly out as gay. Now legally allowed in clubs, my introduction to the gay scene coincided with "Express Yourself" ruling the airwaves. A weekend trip to Houston's Rich's gay Club was the turning point for me. Dancing to Madonna and Donna Summer, surrounded by a sea of faces, I felt an overwhelming sense of belonging. This was home, and Madonna's anthems were the soundtrack to my newfound freedom.
From then on, Madonna became an ever-present force in my life. Her music was my pick-me-up, her headlines were my intrigue, and each new album was a gift. The Queen of Pop was my constant companion through every up and down, a ritual I maintain to this day. Call her whatever you want — Material Girl, Business Mogul, or Controversy Queen — she's eternally the one and only Madonna.
Happy Birthday. XOXOXO.
Album : Madonna Melt Down Promo
Genre : House
Year : 2008
Total Time : 4:10:33:00
1. Give It 2 Me (Eddie Amador Club Mix)
2. Secret (Razor 'N Guido Mix)
3. Deeper & Deeper (Gerald Goode Blue Room Mix)
4. Die Another Day (Calderone & Quayle Afterlife Mix)
5. Nobody Knows Me (Peter Rauhofer's Private Life Part 1)
6. Hollywood (Calderone & Quayle Glam Mix)
7. Ray Of Light (Calderone Club Mix)
8. Erotica (Ralphi Rosario Mix)
9. Don't Tell Me (Thunderpuss 2001 'Hands In The Air' Anthem)
10. Get Together (Danny Howell & Dick Trevor KinkyFunk Mix)
11. Hung Up (Dave Aude Blue Up Bootleg)
12. I Love New York (Thin White Duke Mix)
13. Die Another Day (Dirty Vegas Main Mix)
14. Sorry (Paul Oakenfold Remix)
15. What It Feels Like For A Girl (Above & Beyond 12" Club Mix)
16. 4 Minutes feat. Justin Timberlake (Peter Rauhofer Saves London Mix)
17. Nothing Fails (Peter's 'Lost In Space' Mix)
18. Frozen (Calderone Extended Club Remix)
19. Music (HQ2 Club Mix)
20. Bedtime Stories (Deep Dish Remix)
21. Hung Up (Chus & Ceballos Remix)
22. Sky Fits Heaven (Sasha Remix)
23. Nothing Really Matters (Club 69 Future Mix)
24. Impressive Instant (Peter Rauhofer Universal Club Mix)
25. Jump (OranGeFuZzZ Kangaroo Klub Mix)
26. American Life (Peter Rauhofer's American Anthem Part 1)
27. Mother & Father (Peter Rauhofer Re-Invention Mix)
28. Forbidden Love (Alexander & Mark VDH Remix)
29. Love Profusion (Ralphi Rosario Extended Big Room Vox)
30. The Beat Goes On (Allan Natal Remix)
31. Beautiful Stranger (Calderone Club Mix)
32. Nothing Fails (Nevins Global Dub)
33. Drowned World/Substitute For Love (BT & Sasha's Bucklodge Remix)
(Visited 1 times, 1 visits today)
Podcast: Download
Listen on: Apple Podcasts | Google Podcasts | Amazon Music | Android | iHeartRadio | Deezer | RSS | Leave a review