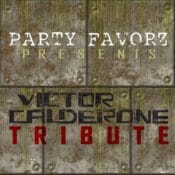 I knew for some time now that I wanted to put together a Victor Calderone Tribute series that honored the man and the more commercial aspects of his career. I had siphoned off all of his mixes into a separate folder but just hadn't gotten around to doing anything with it. I finally sat down and in the spate of a day knocked these out.
Frankly, they just came together with a few titles left on the floor (Hollywood, Who Am I, Give It Up) but I do believe what I came up with rocks the rafters, and most fans will be quite pleased.
I'm not going to go down the road of detailing his history, how he started, or even how he became Madonna's go-to boy after kicking Junior to the curb. He's given a plethora of interviews, all of which pretty much well-document his rise to superstar DJ and the demands that were placed on him to churn out a remix. One of the best things I did take away from him was that he turned out some of his best work in a week. Do not overthink something because for starters, you don't have the time and when you start tinkering around thinking you can make something better, you just screw it up. I've lived and learned from that motto while working on the episodes for this site; sadly I just wish I had read that from him sooner rather than later.
These three sets are RAW and completed in one take. I went back and did some minor editing afterward to ensure better flow but for the most part, I just let these 9+ minute epic mixes have the floor.  Of course, I did the pre and post-mastering before and after so nothing comes at your ear drums unexpectedly.
Probably the most time I spent on this was Sarah Brightman's remake of Dust in the Wind. I have no clue where I picked that up but there it was in my folder. After listening to it, I remembered the skip towards the end, which appears to be the same version all over the internet. Well, folks, I fixed it, so you're welcome.
Much like his contemporaries (Hex Hector, Thunderpuss, Peter Rauhofer) songs are attributed to him that he never remixed so I thought I'd clear those misconceptions up once and for all. While he did remix Destiny's Child's horrendous remake of the Samantha Sang ballad Emotion, he DID NOT remix Emotions nor was it sung by Kristine W. That excellent song was produced by Tony Moran and sung by Elle Patrice. Granted, Tony was channeling his inner Calderone in that production but it still isn't Victor.
Speaking of Kristine W, Victor DID NOT remix O Holy Night either. I know that has been attributed to him by everyone and their mother but the quite excellent remix that everyone remembers is actually by Illicit who had a really good run on dance floor remixes around the time of Victor's peak.
These days, Victor is still doing his thing but moved to the dark side in his productions. His productions were generally pretty dark, to begin with but his interest these days is a bit more low-key original productions. He continues to tour so check out his schedule on Resident Advisor to see where he's playing next.
It's with great honor and respect that Party Favorz honors the great Victor Calderone and his contributions to house music.
Album : Victor Calderone Tribute pt. 1




Genre : Circuit, Progressive House, Tribal House




Year : 2016




Total Time : 01:38:57
Madonna – Beautiful Stranger (Calderone Club Mix)
Destiny´s Child – Independent Women Part I (Victor Calderone Club Mix)
Superchumbo – This Beat Is (Victor Calderone Tribal Mix)
Information Society – Running (Victor Calderone Mix)
Madonna – Runaway Lover (Victor Calderone Provocateur Mix)
The Collaboration – Do It Properly (Victor & Peter NY Club Mix)
Sting – Desert Rose (Melodic Club Mix)
Sono – Keep Control (Victor Calderone Remix)
Olivia Newton John – Hopelessly Devoted To You (Victor Calderone Mix)
Sarah Brightman – Dust In The Wind (Victor Calderone Mix)
Madonna – Sky Fits Heaven (Victor Calderone Full Future Mix)
Madonna – Ray Of Light (Calderone Club Mix)
(Visited 1 times, 1 visits today)
Podcast: Download
Listen on: Apple Podcasts | Google Podcasts | Amazon Music | Android | iHeartRadio | Deezer | Donate