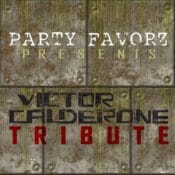 I've been planning a Victor Calderone tribute series for some time, aiming to spotlight the celebrated aspects of his prolific career. With a treasure trove of his mixes stored in a dedicated folder, I finally carved out the time to assemble these sets—and trust me, they're absolute roof-raisers that Victor Calderone fans will love.
Delving into his life story or his ascension to being Madonna's go-to DJ isn't the focus here; he's spoken at length about these in various interviews. What stands out about Victor Calderone is his efficiency; he's known for turning out some of his best work in a week's time. This "don't overthink it" philosophy has significantly influenced my approach to creating episodes for this site, a lesson I wish I had absorbed earlier in my career.
These curated sets were crafted in a single take, fine-tuned later to enhance their flow. Clocking in at more than nine minutes each, they've been pre and post-mastered for an impeccable audio experience. Special attention went into Sarah Brightman's rendition of "Dust in the Wind," which I discovered in my collection. The song had a glitch toward its end, a flaw that I've now rectified for your listening pleasure.
Contrary to popular belief, Victor Calderone did not remix certain songs often attributed to him. For example, he did remix Destiny Child's version of the Samantha Sang classic, "Emotion," but he didn't touch "Emotions," performed by Elle Patrice which was remixed by Tony Moran. Likewise, the popular remix of Kristine W's "O Holy Night" wasn't Calderone's work either but that of Illicit, who also made a splash during Victor's heyday.
Nowadays, Victor Calderone maintains an active presence in the industry but has shifted his focus towards darker, more subdued original productions. You can still catch his live sets, as he continues to tour extensively. Check out his schedule on Resident Advisor to see when he'll be gracing a venue near you.
In an industry filled with talent, Victor Calderone stands out for his consistency, versatility, and his undeniable influence on progressive house music. As a creator, he's taught us the value of trusting one's instincts, a lesson that holds weight whether you're crafting a nine-minute mix or a sprawling tribute series like this one.
It's an honor for Party Favorz to pay tribute to Victor Calderone and his invaluable contributions to the world of progressive house music. His legacy is a testament to the transformative power of the genre, and his enduring work continues to inspire both fans and fellow artists alike.
Until the next time…ENJOY!
Album : Victor Calderone Tribute Volume 1




Genre : Circuit, Progressive House, Tribal House




Year : 2016




Total Time : 01:38:57
1. Madonna – Beautiful Stranger (Calderone Club Mix)
2. Destiny´s Child – Independent Women Part I (Calderone Club Mix)
3. Superchumbo – This Beat Is (Calderone Tribal Mix)
4. Information Society – Running (Calderone Mix)
5. Madonna – Runaway Lover (Calderone Provocateur Mix)
6. The Collaboration – Do It Properly (Victor & Peter NY Club Mix)
7. Sting – Desert Rose (Melodic Club Mix)
8. Sono – Keep Control (Calderone Remix)
9. Olivia Newton John – Hopelessly Devoted To You (Calderone Mix)
10. Sarah Brightman – Dust In The Wind (Calderone Mix)
11. Madonna – Sky Fits Heaven (Calderone Full Future Mix)
12. Madonna – Ray Of Light (Calderone Club Mix)
(Visited 1 times, 1 visits today)
Podcast: Download
Listen on: Apple Podcasts | Google Podcasts | Amazon Music | Android | iHeartRadio | Deezer | RSS | Leave a review