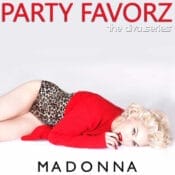 As Madonna's birthday month unfolds, her fandom stretches from New York to London, Paris, and Ibiza, celebrating the icon in all her glory. Keeping up with the time-honored tradition of Party Favorz, we've compiled a vibrant mix to commemorate the occasion: BITCH …I'm Madonna Volumes 1 & 2. Initially split into two separate episodes, the volumes have now been fused into one powerhouse podcast, creating a pulsating tribute that traverses Madonna's storied discography.
The Lure of Bootlegs
Every year, the crop of bootleg remixes of Madonna's vast catalog seems to multiply, revealing new perspectives on classic and current hits alike. These bootlegs serve as the foundation of BITCH …I'm Madonna Volumes 1 & 2, enabling DJs to sift through Madonna's iconic work and lend it a fresh sound. The surprise factor? The abundance of bootlegs derived from Madonna's most recent albums, including the celebrated "Rebel Heart."
A Nod to Recent Releases
While this set honors Madonna's illustrious career, it leans heavily on her last four studio albums: MDNA, Hard Candy, Rebel Heart, and Confessions On a Dance Floor. One notable standout is "Wash All Over Me," remixed by DJ FmSteff, which adds an air of contemplative introspection to the upbeat playlist. Then there's "Holy Water," given a new life by Max & Sebh, transforming it into an almost ethereal dance anthem.
The 90s and Beyond
Alongside the most current bootlegs, BITCH …I'm Madonna Volumes 1 & 2 skillfully weaves in gems from the '90s, striking a balance between past and present. Take "Erotica," for instance, masterfully remixed by Division 4; it injects a modern groove into the provocative original, showcasing Madonna's boundary-pushing artistry. Similarly, "Frozen," given an atmospheric overhaul by The TWIX Remix, lends a mesmerizing icy touch to the playlist. Both tracks act as timeless interludes, effectively connecting Madonna's historical musical influence with the modern flavors of today, all while ushering her legacy into the ears of a new generation of dance aficionados.
The Global DJ Community
The DJs who contribute to this tribute range from emerging talent to seasoned pros, each bringing their own flavor to the table. "Ghosttown," refashioned by Victor Dinaire & Bissen, and "Turn Up The Radio," reimagined by Bit Error, serve as prime examples. These remixes are not merely adjustments but creative reinterpretations that capture the essence of what makes Madonna a perennial favorite in the dance music world.
The Collective Experience
BITCH …I'm Madonna Volumes 1 & 2 is more than a collection; it's an experience. Whether it's "Girl Gone Wild" remodeled by Offer Nissim or "Living For Love" given a fresh spin by Taj x JRMX, the playlist showcases the collective creativity of DJs who take Madonna's original artistry to uncharted territories. And, just like the icon herself, this mix never stops evolving, continually embracing change while staying rooted in its origins.
So there you have it—a set list so meticulously crafted that you'd be hard-pressed not to get lost in its aural tapestry. BITCH …I'm Madonna Volumes 1 & 2 offers an exuberant homage to an artist who has forever changed the landscape of dance music. It's a musical feast that promises to impress even the most ardent Madonna aficionado.
Until the next time… ENJOY!
Album : The Diva Series starring Madonna
Genre : Circuit, House, EDM
Year : 2015
Total Time : 02:20:14
1. Wash All Over Me (DJ FmSteff 2014 Totalmix)
2. Heaven (Tommy Marcus Private Bootleg)
3. Sorry (Luis Erre Universal Mix)
4. Holy Water (Max & Sebh Remix)
5. Hung Up (Overwerk 12-30 vs. Mind-Tronic Vocal Edit)
6. Music (Division 4 Club Mix)
7. Addicted (DUDI SHARON Club Mix)
8. Ghosttown (Victor Dinaire & Bissen Remix)
9. Turn Up The Radio (Bit Error Club Mix)
10. Celebration (Ralphi Rosario Extended Edit)
11. Devil Pray (Gustavo Scorpio Private Miix)
12. Bitch I'm Madonna (Backdoor Deluxe Club Mix)
13. Gang Bang (George M. Private Orgy Bootleg)
14. Justify My Love (Luxar Remix)
15. Erotica (Division 4 Remix)
16. Best Night (Maxim Andreev Nu Disco Mix)
17. Give Me All Your Luvin' (Sultan & Ned Shepard Remix)
18. Girl Gone Wild (Offer Nissim Club Mix)
19. Give It To Me (Allan Natal Remix)
20. Miles Away (Cajjmere Wray's Distant Club Mix)
21. Frozen (The TWIX Remix)
22. Living For Love (Taj x JRMX Mashup)
23. Ray of Light (Division 4 Club Mix)
24. Get Into Barbra's Groove (DJ Taj Remix)
25. Inside out (bEWEGUNG DnB Rebel Heart Remix)
(Visited 1 times, 1 visits today)
Podcast: Download
Listen on: Apple Podcasts | Google Podcasts | Amazon Music | Android | iHeartRadio | Deezer | RSS | Leave a review