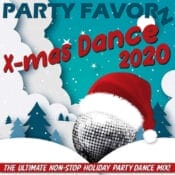 As an avowed atheist, some of you may wonder why I bother dropping the X-mas Dance mix every year. I grew up in the Catholic church and for all the drama, the piss poor education, the failed attempt to teach creationism alongside actual science for which I questioned everything and was punished by Sister Ursula repeatedly, and the sexual abuse — you would think that I would shun the holiday season but I don't.
I have a love-hate relationship with Christmas in that I have great memories as a kid going to Corpus Christi, TX to visit Momo and Boonpa, aunts, uncles, and cousins, and always enjoyed myself. My grandparents were non-practicing Baptists, alcoholics, and basically hell raisers, which made them a lot of fun to be around. As I got older and after their deaths, the family pretty much splintered and the era of fun and family had come to an end.
By this time, I was in college in north Texas, alone, afraid, HIV+, and wondered when it was my turn to die. That never happened nor was I ever even close. I was new to the whole gay scene and had become great friends with Kurt who also happened to be from South Texas. He was a smart, bitchy queen that could slice through bullshit the minute it walked through the door. Yes, we were friends with benefits but that's about it.
[youtube v="XiSPNaQNGOY"]
I distinctly remember going to meet him for lunch during the season when he worked at Express in the mall and they were playing U2's rendition of "Christmas (Baby Please Come Home)" over their speaker system in the store. There's a feeling of warmness I can't express that comes over me when I hear that song and think about our long-lost friendship. In fact, Kurt was the last person I stayed with in Dallas before driving nine hours back home for good. It's funny how these small insignificant fleeting moments come rushing back but here I am spilling my guts out.
I've been fortunate throughout my life to be in long-term relationships with frankly, some really great guys including my partner Rick for 18 years. I'm not an easy person to get along with and am appreciative of his patience but even he has his limits and puts me in my place when I need to be taken down. I have fond holiday memories of Tommy, Eddie, and Pete that I will cherish for the rest of my life.
Nevertheless, mood swings during the season are fairly typical for many people and I'm no different. I fall back on the music and the memories that filled me with happiness and sadness during the holidays and try to spread the joy to anyone needing a boost.
That being said — this will definitely be the last episode of this series. There's no sense in trying to top perfection. These songs vary widely from style to tempo which causes my traditional mixing style to be thrown out the door. This time, I can honestly say, "I nailed it."
I don't know what this next year holds for me or Party Favorz. My goal is to give it one final year to release everything on my bucket list before hanging it up. Priorities can change but for now — my goal is to see this through.
I want to wise everyone a very happy holiday season and hope you put this set to good use. It will brighten up even the most cloudy days while adding some positivity to your life. I'll be back next week as I begin to close out 2020. There's a lot to get done between now and then so until then…ENJOY!
---
This set is dedicated to my long lost friend Kurt Baum. I hope love and happiness has found you wherever you are. 
Album: X-mas Dance Mix 2020
Genre: Dance, House, Funky
Year: 2020
Total Time: 03:28:08
1. Crystal Waters – Merry Christmas All (Original Mix)
2. Mariah Carey – Joy To The World (Morales Club Mix Edit)
3. Wham! – Last Christmas (Synthmix 2011 PWL Style Mix)
4. Kylie Minogue – Every Days Like Christmas (Stock Aitken & Waterman Remix)
5. Santa Claus & D'Jingle Bells – White Christmas (Original Mix)
6. Leona Lewis – One More Sleep (Cahill Radio Edit)
7. Kristine W – Hard Candy Christmas (Resolution Club Mix)
8. Darlene Love – Christmas (Baby Please Come Home) (Julian Marsh Mix)
9. Mariah Carey – Oh Santa (Low Sunday Extended Mix)
10. Kelly Clarkson – Underneath the Tree (Morlando Remix)
11. Claire Richards – My Heart Is Heading Home (This Christmas) (7th Heaven Xmas Overload Club Mix)
12. Dirty Disco feat. Debby Holiday – Let It Snow (Dirty Disco Holiday Remix)
13. Dirty Disco feat. Brenda Reed – Christmas Wrapping (Dirty Disco Holiday Remix)
14. Gloria Gaynor – Winter Wonderland (Winter Dance Mix)
15. Mariah Carey – All I Want For Christmas Is You (Disco Pirates Xmas 2019 Club Mix)
16. Lenny B. feat. David Verbist – Feliz Navidad (Original Mix)
17. Dirty Disco feat. Jeanie Tracy – Santa Baby (Dirty Disco Mainroom Mix)
18. Kristine W – Mr. Christmas (Love To Infinity Mix)
19. Pet Shop Boys – It Doesn't Often Snow At Christmas (New Version)
20. DJ Gang – Happy Xmas (War Is Over) (AR remix)
21. Bananarama – Baby It's Christmas (Almighty Club Mix)
22. Donna Summer – Rosie Christmas (Abercrombie & Fitch 2009)
23. Cher & Rosie – Christmas (Baby Please Come Home)
24. Dead Or Alive – Blue Christmas (P.K.G. Remix)
25. LFB feat. Brenda Reed – Sleigh Ride (Club Mix)
26. Carol Hahn – Have Yourself A Merry Little Christmas (Ranch Halo Club Mix)
27. Kristine W – Oh Holy Night (Illicit Club Mix)
28. Raquela – What Child Is This (Nivek Tek vs. Keith Kemper Club Mix)
29. Erasure – Gaudete (Dave Aude Extended Club Mix)
30. BandAid – Do They Know It's Christmas (CLX Remix)
31. Pepper Mashay – Little Drummer Drama (Main Christmas Drama)
32. Christina Aguilera – The Christmas Song (Chestnuts Roasting On An Open Fire) (Thunderpuss Club Mix)
33. Raquela – Dear Santa (Bring Me A Man This Christmas) (Extended Club Mix)
34. Kelly Clarkson – Wrapped In Red (Ruff Loaderz Extended Mix)
35. Pentatonix – Beginning To Look A Lot Like Christmas (Cutmore Extended)
36. Dirty Disco feat. Pepper MaShay – Winter Wonderland (Dirty Disco Mixshow Edit)
37. Kristine W – Mary Did You Know (Original Mix)
38. Larry Peace – Carol Of The House (Extended Mix)
39. Elements Of Life feat. Josh Milan & Cindy Mizelle – Christmas Time Is Here (Instrumental)
40. DJ Spen & The Muthafunkaz – Our First Christmas (Original)
41. Donny Hathaway – Twerk Sum This Christmas (Mr. Collipark Remix)
42. Tony Bennett – I'll Be Home For Christmas (Moby Remix)
43. Magness – Merry Christmas (Magness Edit)
(Visited 2 times, 1 visits today)
Podcast: Download
Listen on: Apple Podcasts | Google Podcasts | Amazon Music | Android | iHeartRadio | Deezer | Donate