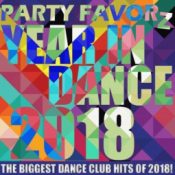 As we count down the days to Christmas, Party Favorz is on a tear remembering the year that was in dance music. The Year In Dance 2018 part 2 keeps that promise by delivering even more of the BIGGEST club hits of the year!
Recently, one of our followers messaged me and asked if I used radio edits in my mixes. My canned response was a bit dismissive when I stated flatly "that I did not." The truth to that lies somewhere in the middle — to borrow a phrase from one of the biggest tracks of 2018; let me explain…
With the rise of streaming services, music is in the process of becoming Spotified — especially dance music. This started back in 2009 when Mariah Carey released her bomb "Memoirs of an Imperfect Angel" album. In an effort to save it, Sony commissioned Jump Smokers to remix the entire album, which resulted in a hit and miss collection of dance tracks that had no extended versions — basically radio edits. While the album was ultimately shelved, a couple of the tracks made it onto the internet, and much to the dismay of DJs were not mix friendly. Slowly but surely, the release of so-called "dance remixes" was more like edits without the intro and outro.
Fast-forward to 2018 and more than 1/3 of remixes are that way. Why? Because Spotify is nothing more than a glorified radio station on demand, without advertising. It's designed for quick listening and then moving on to the next track. Honestly, nobody wants to sit and listen to 2 minutes of intro and outro in a radio environment — so, in a way this makes sense.
The problem is that this leaves DJs with a dilemma. Either we serve up the music folks want to hear or abandon favorite songs strictly for mixing purposes. To be specific, it's tricky but workable. There are still many dance remixes that clock in longer than the average of 3:30 that can be matched up with the edits. It does kinda suck the joy out mixing, but you work with what you got.
Granted, this is not always the case and is more common in the commercial dance-club scene than say Underground House, Funky House, and Circuit-Tribal music.
The other issue I've noticed is that several labels have turned themselves into automated dance music manufacturing machines that go straight to Spotify or Apple Music. In other words, their business model is not based on selling music but the number of streams they can generate. I stumbled on this during the summer when some folks were streaming by the pool some really great dance tracks that I've never heard. When I asked what they were playing, they said it was a Spotify curated list of club music. As good as these tracks were, they will never be serviced to DJs for playback in clubs, which is a shame — but I wholeheartedly understand their reasoning.
If I had one complaint, it's that Spotify does not allow dance music podcast like Party Favorz onto their platform — even though, I provide something they clearly are not delivering. What I do competes with their carefully curated playlists. With new technology for them to be able to identify the artists, titles and music publishers from a non-stop podcast like this one, these folks could get an additional revenue stream and greater exposure while adding more value to Spotify's streaming user base. I personally think it's a win/win for everyone involved — but I digress.
As Party Favorz is about to embark on our 12th year of providing high-quality, carefully curated dance music podcasts, it would be nice to get a little recognition from the leading players in the streaming industry for the work that I do to bring this music to the broadest possible global audience. Especially after approximately 5 million streams or downloads throughout that time. I don't do any social promotion and would likely have a more substantial following on Facebook if I did. However, the numbers I generate, speak for themselves, especially on a global level.
With that said, I've decided to keep plugging along through 2019 with a complete website overhaul. I realize most folks don't even read my posts and just follow my on Apple Music or their favorite streaming platform and that's fine. There's honestly no good way to be able to calculate all those numbers, but it's immeasurable. What little information I am able to glean is that Party Favorz is a worldwide recognized brand by a hardcore group of followers — even if I never have the chance to engage with them due to language barriers. For that, I am grateful.
I want to thank — yet again — Ludovic D. for his donation as well as Markus A. It appears that I have met 89% of my target for contributions through the end of the year. Who wants to help me put it over the top? You can donate here. 
I'll be back tomorrow with the final installment of the Year in Dance 2018. Until then…ENJOY!
Album: Year in Dance 2018 pt. 2
Genre: EDM, House, Dance, Club
Year: 2018
Total Time: 02:30:22
1. U2 – Love Is Bigger Than Anything In It's Way (Intro Version feat. Raanana Symphonette)
2. Martin Garrix & David Guetta feat. Jamie Scott & Romy Dya – So Far Away (Nicky Romero Remix)
3. The Perry Twins feat. Harper Starling – Euphoria (Kue Remix)
4. Jax Jones feat. Ina Wroldson – Breathe (Ultimix by DJ Strobe)
5. CliQ feat. Alika – Wavey (Nathan Jain Extended Remix)
6. Janelle Monae – Make Me Feel (EDX Dubai Skyline Extended Mix)
7. DJ Snake feat. Selena Gomez, Ozuna & Cardi B – Taki Taki (Ryan Skyy Pony Extended)
8. Dan + Shay – Tequila (Maverikk Remix)
9. Olivia Holt – Generous (Martin Jensen Remix)
10. Ellie Goulding x Diplo feat. Swae Lee – Close To Me (Colin Jay Remix)
11. Ariana Grande – Thank U, Next (Division 4 & Matt Consola Remix)
12. Kylie – Dancing (Anton Powers Remix)
13. Calvin Harris & Sam Smith – Promises (Mousse T's Extended Disco Shizzle Remix)
14. Janet Jackson & Daddy Yankee – Made For Now (Eric Kupper Extended Mix)
15. Beck – Up All Night (Nathan Jain Remix)
16. Demi Lovato – Tell Me You Love Me (Barry Harris Remix)
17. Ariana Grande – God Is A Woman (Charlie Lane Remix)
18. Kesha – Woman (Barry Harris Club Enhanced)
19. Troye Sivan – My My My! (Barry Harris Mix)
20. David Guetta & Afrojack feat. Charli XCX & French Montana – Dirty Sexy Money (Joe Stone Remix)
21. Bazzi – Mine (Vice Extended)
22. Lenny Kravitz – Low (David Guetta Extended Remix)
23. Tiesto & Dzeko feat. Preme & Post Malone – Jackie Chan (Sebastian Perez Extended Mix)
24. Loud Luxury feat. Brando – Body (Extended Mix)
25. Sean Paul & David Guetta feat. Becky G – Mad Love (Cheat Codes Remix)
26. Dimitri Vegas & Like Mike vs. David Guetta feat. Kiiara – Complicated (R3hab Remix)
27. P!nk – What About Us (Cash Cash Remix Extended)
28. Sigala & Paloma Faith – Lullaby (Martin Jensen Remix)
29. Skylar Stecker – Blame (Dave Aude Extended Remix)
30. Jonas Blue feat. Jack & Jack – Rise (Jonas Blue & Eden Prince Club Mix)
31. Gryffin feat. Elley Duhe – Tie Me Down (L'TRIC Club Remix)
32. Weiss – Feel My Needs (Purple Disco Machine Extended Mix)
33. Dynoro & Gigi D'Agostino – In My Mind (Original MIx)
34. Tom Budin & Luciana – X With U (Extended Mix)
35. Purple Disco Machine – Dished (Male Stripper) (Alphalove Remix)
(Visited 1 times, 2 visits today)
Podcast: Download
Podcast (preview-channel): Download