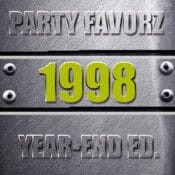 Imagine a time when dance floors throbbed to a dynamic new beat, a time when the top dance songs of 1998 ruled the music scene. That was the year when dance music swirled in a whirlpool of innovation, offering a myriad of heart-pounding melodies that transformed nights into vibrant memories. It was a year when the biggest dance songs became the pulsating rhythm of every party, setting the stage for a thrilling revolution in music.
The energy on the dance floor was elevated with Veronica's 'Release Me'. The Johnny Vicious Club Mix blended high-energy beats with Veronica's soulful voice, creating a tantalizing and vibrant sonic treat that was undoubtedly one of the top dance songs of 1998.
The Razor N' Guido Club Mix Edit gave Monica's 'The First Night' an exciting new sound and feel. Their remix brought a heightened tempo and irresistible rhythm that propelled this song among the year's biggest dance hits.
Sash! teamed up with La Trec to deliver 'Stay', a track that garnered a significant place in the dance music landscape. The Magnificent 4 Remix breathed life into the song with its distinctive beats and hypnotic tune, propelling it to the top dance songs of 1998.
'Still The One', originally a country ballad by Shania Twain, was transformed into a dance anthem by Soul Solution. Their Extended Club Mix layered the song with upbeat house rhythms, making it one of the biggest dance songs of the year.
The Tony Moran 12" Club Mix of Janet Jackson's 'Together Again' was a revelation. The iconic song was given an energetic spin that echoed across dance floors, helping solidify its status as one of the top dance songs of 1998.
Finally, the David Morales Classic Club Mix of Mariah Carey's 'My All' showcased a beautiful blend of house and pop. The powerful beats paired with Carey's emotive vocals made it a chart-topper, securing its place among the biggest dance songs of the year.
As we revisit the top dance songs of 1998, it's clear how this era left an indelible mark on the music industry. Each track showcased the artistic genius of its creators, redefining dance music. These biggest dance songs of the year were not merely foot-tapping tunes, but a testament to an age when music began to push boundaries. Through their innovative beats and captivating lyrics, the top dance songs of 1998 continue to inspire us, reminding us of a time when the dance floor was a space for endless creativity and energy. So, let's groove to these timeless beats and relive the unforgettable magic of 1998.
Album : Year-End Edition 1998 | volume 2
Genre : Circuit, House, Progressive
Year : 1998
Total Time : 01:19:46
1. BT – Remember (Sasha's Remix)
2. Veronica – Release Me (Johnny Vicious Club Mix)
3. Monica – The First Night (Razor N' Guido Club Mix Edit)
4. Sash! feat. La Trec – Stay (Magnificent 4 Remix)
5. Aretha Franklin – Here We Go Again (Razor 'n' Guido Mix)
6. Erin Hamilton – Satisfied (Soul Solution Club Mix)
7. Shania Twain – You're Still The One (Soul Solution Extended Club Mix)
8. Club 69 feat. Suzanne Palmer – Much Better (Future Shock Make It Better Mix)
9. Janet Jackson – Together Again (Tony Moran 12" Club Mix)
10. Mariah Carey – My All (David Morales Classic Club Mix)
(Visited 1 times, 1 visits today)
Podcast: Download
Listen on: Apple Podcasts | Google Podcasts | Amazon Music | Android | iHeartRadio | Deezer | RSS | Leave a review