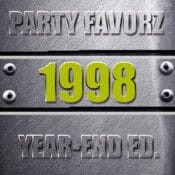 The year 1998 marked a golden era in dance music. The mesmerizing rhythms of the top dance songs of 1998 not only filled the dance floors but also marked the rise of powerhouses like Hex Hector and Soul Solution. The year was a melting pot of styles, from Trance bubbling up from underground raves to House's evolution and Circuit's advent. Each song brought something unique to the turntable, be it in the form of genre-bending remixes or original melodies that captivated our hearts. Today, we revisit these top dance songs of 1998, each a testament to a time when dance music began breaking boundaries and taking risks. Their legacy continues to inspire, reminding us that in the realm of music, what's old can indeed become new again.
Reina's 'Find Another Woman' (Hex Hector Main Club Mix) left no room for subtlety. Its vigorous, relentless beats carried an intoxicating energy, reminiscent of Hex Hector's quintessential style that evolved during these prime years. This was a melody that commanded you to let loose and give in to the music. Truly, one of the biggest dance songs of the year.
'The Freaks Come Out' (Sharp Freaks At Trade Mix) by Cevin Fisher's Big Freak, on the other hand, was a different creature altogether. It managed to mingle elements of darkness and seduction with an upbeat tempo that kept you craving for more. The riveting progression from Sharp's iconic Trade Mix was a testament to the era's musical versatility.
The dance scene further unfurled its magic when Shania Twain's 'From This Moment On' received a riveting makeover by Soul Solution. Soul Solution's remix, infused with their signature big-house sound, transformed the ballad into a dance-floor anthem. The unexpected combination of country-pop and dance was the breath of fresh air the genre didn't know it needed.
Meanwhile, Mousse T. vs. Hot 'N' Juicy had club-goers worldwide grooving to 'Horny '98'. With its extended mix replete with cheeky lyrics and infectious rhythm, it was impossible to resist its allure. This unforgettable hit confirmed itself as one of the top dance songs of 1998.
Hex Hector proved his remixing prowess yet again with Lisa Stansfield's 'I'm Leavin". The club mix demonstrated his knack for reimagining melodies with vibrant, energetic beats. This song was a tribute to the club scene's captivating transformation at the time.
Last but not least, the year gifted us with Dario G's 'Sunchyme'. An ode to the sun-soaked beach parties and late-night raves, the original mix captured the era's euphoric ambiance. Its unforgettable synth chords and dreamy vocals secured its spot among the biggest dance songs of the year.
Energized by pulsating beats and electrifying mixes, the year 1998 was a pivotal one for dance music, exploding with creativity and originality. These classics and those on the subsequent volumes of the Top Dance Songs of 1998 represent the biggest dance songs of the year that filled dance floors the world over.
Album : Year-End Edition 1998 | volume 1
Genre : Circuit, House, Progressive
Year : 1998
Total Time : 01:25:45
1. Reina – Find Another Woman (Hex Hector Main Club Mix)
2. David Morales pres. The Face feat. Juliet Roberts – Needin' U (12" Mix)
3. Cevin Fisher's Big Freak – The Freaks Come Out (Sharp Freaks At Trade Mix)
4. Shania Twain – From This Moment On (Soul Solution Remix)
5. No Mercy – Kiss You All Over (Johnny Vicious Ova Club Mix)
6. Todd Terry pres. Shannon – It's Over Love (Funky Green Dogs Miami Club Mix)
7. Mousse T. vs. Hot 'N' Juicy – Horny '98 (Mousse T.'s Extended Mix)
8. So Pure feat. Sheleen Thomas – Changes (Soul Solution Vocal Mix)
9. House Of Prince – Perfect Love (Club 69 & Peter Rauhofer's Universal Mix)
10. Kimara Lovelace – Circles (Hex Hector Club Mix)
11. Lisa Stansfield – I'm Leavin' (Hex Hector Club Mix)
12. Dario G – Sunchyme (Original Mix)
(Visited 1 times, 1 visits today)
Podcast: Download
Listen on: Apple Podcasts | Google Podcasts | Amazon Music | Android | iHeartRadio | Deezer | RSS | Leave a review