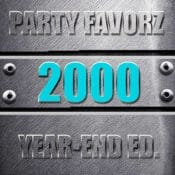 In the year 2000, the dance floor was ablaze with a kaleidoscope of beats. Strobe lights pulsed to the rhythm of the music, each beat a heartbeat that electrified the soul. The top dance songs of 2000 played a pivotal role in setting the scene, a pulsating symphony that left a deep, indelible mark on the hearts and minds of music enthusiasts. These anthems were not just fleeting tunes but the biggest dance songs of the year that defined an era and continue to resonate even today.
Take, for instance, Madonna's 'Music' in its Deep Dish Dot Com Remix avatar. A powerhouse blend of Madge's iconic vocals with an intoxicating bass line, the track was a deliciously danceable hit that, much like its title, was pure music to our ears.
Olive's 'I'm Not In Love' was transformed into an absolute club banger in the DJ Skribble & Anthony Acid Trance Club Mix. The track painted a picture of emotional resilience and freedom, against a backdrop of foot-thumping beats, making it one of the top dance songs of 2000.
Ultra Nate's 'Desire,' magnified by the Thunderpuss 2000 Club Mix, was a pulsating promise of rhythm and energy. Each beat was like a pulse of desire, every note echoing with the raw, primal emotion of longing, making it one of the biggest dance songs of the year.
Lara Fabian's 'I Will Love Again,' spun into an energetic anthem by the Hex Hector & Mac Quayle Main Mix, was a danceable declaration of emotional resilience. Each beat was a testament to the power of love and hope, making it a true gem amongst the top dance songs of 2000.
Delerium's 'Silence,' featuring Sarah McLachlan, remixed by DJ Tiesto, was an ethereal exploration of melody and emotion. It was as if each beat was a word whispered in the silence, every note an echo in the inky abyss of a serene night.
Melanie C's 'I Turn to You,' in the Hex Hector Club Mix, was an anthem of hope, of turning to love and music in times of despair. Each beat was like a heartbeat, a pulsating rhythm of hope and resilience.
Sting's 'Desert Rose,' featuring Cheb Mami, was brought to life in the Calderone Melodic Club Mix. It was an intoxicating fusion of Sting's evocative vocals and a thumping rhythm that resonated like a tune played in the heart of a desert under a starlit sky.
Finally, the HQ2 Mix of Toni Braxton's 'Spanish Guitar' strummed the heartstrings of listeners with its beautiful, guitar-laden melody. Each beat was like a strum of a Spanish guitar set against Hex Hector and Mac Quayle's hi-energy remix is a melody that echoed in the caverns of the heart.
In conclusion, the top dance songs of 2000 were the soundtrack to an era of rhythmic euphoria. The biggest dance songs of the year were anthems that made the dance floor a platform for expression and the club a refuge for music enthusiasts. These timeless classics continue to echo in the realm of dance music, a testament to their enduring appeal and the power of music to unite, inspire, and set hearts and feet in motion.
Album : Year-End Edition 2000 | volume 3




Genre : Circuit, Mainstream, House, Classics




Year : 2008




Total Time : 1:38:41:00
1. Music (Deep Dish Dot Com Remix) – Madonna
2. I'm Not In Love (DJ Skribble & Anthony Acid Trance Club Mix) – Olive
3. Love One Another (Rosabel Vocal Anthem) – Amber
4. Desire (Thunderpuss 2000 Club Mix) – Ultra Nate
5. Feelin' So Good (Thunderpuss Club Mix) – Jennifer Lopez
6. I Will Love Again (Hex Hector & Mac Quayle Main Mix) – Lara Fabian
7. Silence (DJ Tiesto In Search Of Sunrise Remix) – Delerium feat. Sarah McLachlan
8. I Turn to You (Hex Hector Club Mix) – Melanie C
9. She Bangs (Hex Hector Club Mix) – Ricky Martin
10. Desert Rose (Calderone Melodic Club Mix) – Sting feat. Cheb Mami
11. Spanish Guitar (HQ2 Mix) – Toni Braxton
(Visited 1 times, 1 visits today)
Podcast: Download
Listen on: Apple Podcasts | Google Podcasts | Amazon Music | Android | iHeartRadio | Deezer | RSS | Leave a review