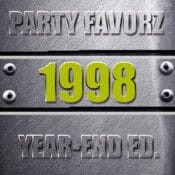 Cue the strobe lights and rev up the turntables because we're spinning back to 1998, a year when dance music radiated an irresistible vibrancy. It was a golden era for the genre, boasting the top dance songs of 1998 that sent electrifying ripples across dance floors around the world. The biggest dance songs of the year came to life as the night unfolded, each track punctuating the year with heart-thumping beats and soul-stirring melodies.
Faithless gave us the profound 'God is a DJ', a manifesto of sorts that spoke to the divine power of music. The Monster Mix took this anthem to soaring heights, cementing it as one of the top dance songs of 1998.
The supergroup Stars On 54, comprising Ultra Naté, Amber & Jocelyn Enriquez, delivered a stunning rendition of 'If You Could Read My Mind'. The Hex Hector Extended Club Mix added an extra layer of dynamism, making it one of the biggest dance songs of the year.
Madonna, reinvented herself yet again with 'Frozen'. The Calderone Extended Club Remix transformed the brooding original into a hypnotic dance floor hit, securing its place among the top dance songs of 1998.
Joey Negro and Taka Boom paired up for 'Can't Get High Without You', a funk-laden dance track. The Classic Funk Mix of the track was pure ecstasy, contributing to the year's impressive lineup of biggest dance songs.
Fire Island's collaboration with Loleatta Holloway on 'Shout To The Top' was a pulsating addition to the dance scene. The Club 69 Vocal Mix heightened the song's infectious energy, adding it to the list of top dance songs of 1998.
Martha Wash's 'Catch The Light' was an instant classic, and the Jonathan Peters Sound Factory Mix brought a new zest that made it one of the biggest dance songs of the year.
Lastly, the Latin pop icon Gloria Estefan dazzled with 'Oye'. Hex Hector & Mac Quayle's 12" Mix of the track was a confluence of salsa rhythms and electronic beats, placing it among the top dance songs of 1998.
In conclusion, 1998 was an illustrious year for dance music, a year marked by the top dance songs that changed the course of the genre. The biggest dance songs of the year not only defined the era but also etched unforgettable memories in the hearts of dance music lovers. As we delve into these musical gems, we appreciate their value and impact, reminding us of a time when the dance floor was our world, and the beats were our heartbeat.
Album : Year-End Edition 1998 | volume 4
Genre : Circuit, House, Progressive
Year : 1998
Total Time : 01:13:56
1. Faithless – God is a DJ (Monster Mix)
2. Danny Tenaglia – Elements (The D-Tour)
3. Stars On 54 [Ultra Naté, Amber & Jocelyn Enriquez] – If You Could Read My Mind (Hex Hector Extended Club Mix)
4. Madonna – Frozen (Calderone Extended Club Remix)
5. Jody Watley – Off The Hook (Soul Solution Club Mix)
6. Joey Negro feat. Taka Boom – Can't Get High Without You (Classic Funk Mix)
7. Fire Island feat. Loleatta Holloway – Shout To The Top (Club 69 Vocal Mix)
8. Martha Wash – Catch The Light (Jonathan Peters Sound Factory Mix)
9. Byron Stingily – You Make Me Feel Mighty Real (Victor Calderone NY Underground Mix)
10. Gloria Estefan – Oye (Hex Hector & Mac Quayle 12" Mix)
(Visited 1 times, 1 visits today)
Podcast: Download
Listen on: Apple Podcasts | Google Podcasts | Amazon Music | Android | iHeartRadio | Deezer | RSS | Leave a review