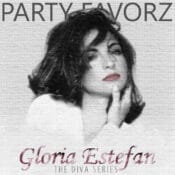 I can't think of no better way to offset a nu-school Diva induction with an old-school induction that frankly, is long overdue.
Gloria Estefan is a multi-Grammy winner with several top ten hits including Conga (her-trademark song performed with Miami Sound Machine), Rhythm Is Gonna Get You, 1-2-3, Get On Your Feet, Anything For You, Here We Are, Coming Out of the Dark, Oye! and Party Time to name a few. She's won an MTV Video Music Award, a couple of ACE awards, an American Music Award, and multiple Billboard awards. She was inducted into the BMI  Songwriters Hall of Fame and is listed as one of VH1's top 100 Greatest Artists of All Time. With a resume like that, it's no wonder she has garnered a great deal of respect as a mover and shaker within the recording industry.
I'm not here to pile on more accolades, or maybe I am. What I will say is that her "salsa es muy caliente."
Without further ado, Party Favorz honors Gloria Estefan with an induction into the Diva Hall of Fame.
Que FABULOSO!
Album : The Diva Series starring Gloria Estefan




Genre : Latin House




Year : 2016




Total Time : 01:30:21
Rhythm Is Gonna Get You (Alan Kaula Remix)
Higher (Juniors 12" Club Mix)
Conga (Italo Bros. Remix)
Turn the Beat Around (Pablo Flores 12" Remix)
Mi Tierra (Pablo Flores Latin House Mix)
Hotel Nacional (The Thin Red Men Club Mix)
I'm Not Giving You Up (Tony Moran's 12" Remix)
Live For Loving You (Live For Clubbing You Mix)
You'll Be Mine (Party Time) (Rosabel's Fiesta Mix)
Go Away (Dance Remix)
WEPA (Ralphi Rosario Club Mix)
Oye (Hex Hector & Mac Quayle 12" Mix)
Don't Let This Moment End (Hex Hector 12" Vocal Mix)
Out of Nowhere (Thunderpuss Club Mix)
Heaven's What I Feel (Soul Solution Vox Mix)
(Visited 1 times, 1 visits today)
Podcast: Download
Listen on: Apple Podcasts | Google Podcasts | Amazon Music | Android | iHeartRadio | Deezer | Donate