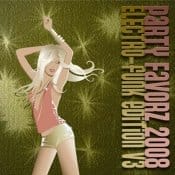 First off, everyone that receives updates through an RSS feed (Google, Yahoo, etc.) or email, please go back and re-subscribe again. I know…I know, I just asked you to do that, but there was a problem with the new feed that I couldn't correct, and support from Feedburner is kinda lacking.
Consequently, I had to scrap it and start all over again. I can assure you, everything is now working correctly and there will be no further need to do this again. Your patience is much appreciated. For those of you who have not signed up for updates; whatcha waitin' for? Everyone that has signed up for the alerts, understands I update this blog frequently with brand-spanking new mixes. Even if you're only into one specific genre, it's worth it to not miss out whenever I post something new.
Now, onto the music. All I can say is WOW! 275 songs cut down to 76; 5 mixes and 400 minutes of the finest non-stop electro-funk, I think I've outdone my own personal best. Granted, knocking out 5 mixes in less than two weeks is time-consuming. I definitely won't do this again. Regardless, it's been fun. At this point, I wouldn't expect volume 4 until April (well maybe sooner, you know how I am). This will give me time to work on other styles. I'm not gonna say what's up next, let's just keep it a surprise for now.
With this mix, I've made a few changes to how I list and review everything. First, I'm not going forward with the YouTube videos anymore. I feel it drags the whole site down and causes poor loading. Those of you who are on slower connections may have experienced some issues since the last update.
The other thing is that I won't be reviewing each song as much. I may note a few things here and there when I feel it's necessary or just wants to add a humorous anecdote. So I'm replacing it with a "star" rating for each song instead. This will give everyone an indication of my own personal preference for each song. It doesn't necessarily mean the song is bad or good, it's just my own perspective. Anything lower than a 3-star, pretty much means I think it sucks. I guess you already know how that works.
I want to thank a few of you who answered my call for assistance. 4shared has a 2-4-1 deal going on with the bandwidth, so I bought another 20 gigs of bandwidth. Just a reminder, if you like what I'm doing please feel free to support my work and donate. If there's any question, I'm not getting rich off this blog. In fact, I have yet to make a cent off of the advertisements.
Everything that is donated goes towards my cost for storage, bandwidth, and music. I've had several people ask me why I pour so much of myself into this blog. Aside from the obvious, my love for house music, and it also keeps me out of trouble. [Big Grin]
I also want everyone to bear in mind, I'd like this blog to be interactive. So I highly encourage everyone to provide some feedback. Tell me what you like; tell me what you don't. I'm still kinda feeling my way around with regards to the site and the mixes.
Obviously, one of the biggest changes was to combine the electro with the funkier music. Frankly, I think that worked out really well. Instead of the mixes getting bogged down in one style, it puts you on a rollercoaster ride; so you don't know what to expect next. Any thoughts and/or suggestions on how to improve the site, the mixes etc. is ALWAYS welcome!
One last thing of note, there is a total of "3" mixes this time around. So please keep that in mind. You'll need to scroll down until you get to the next Podbean player for each additional mix.
I guess that just about wraps it up for now. The cold and rain should be clearing out later today, here in the ATL. I'm definitely looking forward to some sun and spring-like weather. I hope everyone has a great weekend! Enjoy!
---
Due to the original structure of this post, the three separate sets have now been combined into one and remastered based on the techniques used in current podcasts.
Album : Electro-Funk Edition 2008 v3 | Pt. 1, 2 & 3
Genre : Electro House
Total Time : 3:56:15:00
Track : 1
Title : A Higher Place (7th Heaven Remix)
Artist : Peyton
Track : 2
Title : Over You (eSQUIRE Remix)
Artist : Warren Clarke feat. Kathy Brown
Track : 3
Title : Music Is My Life (Simmons & Christopher Remix)
Artist : Dennis Christopher feat. Rocq-E
Track : 4
Title : Freaks (Tocadisco's Commandeur Mix)
Artist : Moquai & Tocadisco
Track : 5
Title : First Light (Chocolate Puma Remix)
Artist : Bart Claessen feat. Simon
Track : 6
Title : Feedback (Jody Den Broeder Club)
Artist : Janet
Track : 7
Title : When You Touch Me (Freemasons Full Length)
Artist : Freemasons feat. Katherine Ellis
Track : 8
Title : Shake It (Wideboys Club Mix)
Artist : The Outhere Brothers
Track : 9
Title : Gonna Be Mine (Soul Seekerz Club Mix)
Artist : Addictive feat. T2
Track : 10
Title : Freed From Desire 2008 (Massimo Nocito Mix)
Artist : Backside Artists
Track : 11
Title : Criminal (Club Junkies Peak Time Remix)
Artist : Patrick Hagenaar
Track : 12
Title : You Make Me Feel Good 2008 (Club Junkies Mix)
Artist : Pat Hodges
Track : 13
Title : Good Night 2008 (Romain Curtis Remix)
Artist : Brown Sugar & Niko De Luka feat. Dawn Tallman
Track : 14
Title : That's Life (First Life's Dirty Hole Mix)
Artist : First Life
Track : 15
Title : World In Love (Raul Rincon Remix)
Artist : Spencer & Hill
Track : 16
Title : Break Of Dawn 2008 (Club Mix)
Artist : Out Of Office
Track : 17
Title : If You Love Me (Moto Blanco Club Remix)
Artist : Buzz Junkies feat. Elesha
Track : 18
Title : Watch Out (Extended Mix)
Artist : Alex Gaudino feat. Sheena
Track : 19
Title : I Can't Help Myself (Jason Rooney Remix)
Artist : Bellatrax feat. Sophia May
Track : 20
Title : Forgiveness (Eddie Thoneick's Lifted Mix)
Artist : Eddie Thoneick feat. Berget Lewis
Track : 21
Title : Ride On Time (Original Club Mix)
Artist : C&Y
Track : 22
Title : Music Is My Life (Dennis Christopher Club Mix)
Artist : Dennis Christopher feat. Rocq-E
Track : 23
Title : Gonna Get You (Smax & Gold Remix)
Artist : Houzecrushers
Track : 24
Title : Magnificent Feelin' (Meck Remix)
Artist : Johnny Depth
Track : 25
Title : Slow Down (7th Heaven Mix)
Artist : Juliet Roberts
Track : 26
Title : Mucho Sexo (Club Sample Mix)
Artist : Mats pres. Heyaka
Track : 27
Title : Desert Storm (Superbass Master Mix)
Artist : Nayo
Track : 28
Title : De Janeiro (S&H Project Remix)
Artist : R.I.O.
Track : 29
Title : White Lines (Playmakers Oldskool Club Mix)
Artist : Bionik Phunk
Track : 30
Title : Word Up 2008 (Dirty South Electro Remix)
Artist : Cameo
Track : 31
Title : Pump! (Bigroom Mix)
Artist : Kriz Van Dale
Track : 32
Title : Do It Yourself (Go Out & Get It) (Extended Mix)
Artist : Uniting Nations
Track : 33
Title : Never Give Up (Soul Avengerz Dirty Vocal)
Artist : Peyton & The Rhythm Republic
Track : 34
Title : Get Your Clothes On (Extended Mix)
Artist : Solasso feat. Jacquie Williams
Track : 35
Title : Love Has Gone (Fonzerelli Remix)
Artist : Dave Armstrong & Redroche
Track : 36
Title : Cry For You (Spencer & Hill Remix)
Artist : September
Track : 37
Title : Don't Stop The Music (Simmons & Christopher Remix)
Artist : Rihanna
Track : 38
Title : You Know By The Weekend (Club Mix)
Artist : Eric S feat. Sophie's House
Track : 39
Title : Lovelight (Soul Seekerz Vocal Mix)
Artist : Robbie Williams
Track : 40
Title : Pumping It Up (Club Mix)
Artist : House Addicts
Track : 41
Title : Relax, Take It Easy (Dennis Christopher Remix)
Artist : Mika
Track : 42
Title : Rising High (Michi Lange Remix)
Artist : Alexandra Prince
Track : 43
Title : Fool (If You Think It's Over) (Bimbo Jones Extended Mix)
Artist : Nemesis Rising
Track : 44
Title : Mysterious Times (7th Heaven Remix)
Artist : Sash feat. Tina Cousins
Track : 45
Title : If He Loves Me (Disco Lovers Remix)
Artist : Disco Lovers vs. Whitney Houston
Track : 46
Title : Don't Stop Believing (Original Mix)
Artist : Weekend Warriors vs. Journey
(Visited 1 times, 1 visits today)
Podcast: Download
Listen on: Apple Podcasts | Google Podcasts | Amazon Music | Android | iHeartRadio | Deezer | Donate