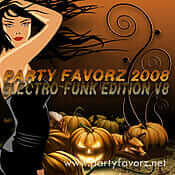 Wrapping things up with the third and final installment of the Electro-Funk Edition v8, I'm giving you a mix a bit longer than the first two.  I have to tell you, this is quite possibly the most difficult mix I've made all year long.  First I started out with over 240 mediocre songs and what looked like a four mix set.  Fortunately, a lot of great stuff came out between the time I started this mix about 3 weeks ago and now.
My process is usually to preview all the songs that I want to use for a specific mix and then start the process of elimination, giving each song about 10 seconds before I make up my mind.  Then I throw everything together in one giant mix, burn it to mp3 disc and preview it (in my car, at home or in the gym) and decide which final songs will make the cut.  Then I go back and do the official mix generally in one take and edit down as necessary.  This go around, I had a bitch of a time deciding what to keep and what to throw out.  Even after I made my final decisions, about 1/4 of the songs had mismatched beats.  Meaning, they were way off.  Usually, I expect a few, but this was way too many.
So then, I had to painstakingly go back and manually adjust the beats to line them up.  Talk about a fracking pain in the ass.  Regardless, I got up early this morning to finish this final mix so I can enjoy the rest of my day.  I hope I caught everything, because sometimes at 2:00 in the morning, I'm not necessarily all there if you know what I mean.  The next Deep Edition is starting to shape up that way as well, though the majority of the songs appear to be mixing together quite nicely, so the only issue is what to get rid of.  I'm going to try to keep it down to a three mix set with each mix coming under 80 minutes.  That mix should be out this next week sometime and then I'll start working on the Halloween Edition.
I've also got our next guest DJ lined up, and this is something you gotta hear.  I'll get into details this next week when I post the mix, but I will say that it's deep, dark and FIERCE!
In the meantime, I hope everyone has a great weekend and as always…ENJOY!
Album : Electro-Funk Edition v8
Genre : Electro, Funky, Progressive, Trance
Year : 2008
Total Time : 1:37:51:00
Track : 1
Title : Let It Go (Stonebridge Vocal Mix)
Artist : Stonebridge & Wawa
I'm not really sure why these two had to collaborate on something either one of them could have easily done themselves.  Frankly, I was expecting a lot more.
Track : 2
Title : Angel On My Shoulder (Funkerman Mix)
Artist : Kaskade
What a completely different track compared to the original or the awesome progressive EDX mix.  Certainly Funkerman tailor made this for the floor to great effect.  Essential.
Track : 3
Title : Shut Up And Let Me Go (Chris Lake U.K. Vocal)
Artist : The Ting Tings
I've already used the Johnny Vicious mix back in Pride and more recently the kickass Seamus Haji mix in my Electro-Funk v7 from August.  So why go back now and add the Chris Lake mix?  Why not…this is the song that just keeps on giving.  Essential.
Track : 4
Title : I Want To Be Evil (Spencer & Hill Remix)
Artist : Giant JT vs. Eartha Kitt
Delectable, delightful and absolutely DELICIOUS!  Always love me some Eartha and this doesn't disappoint.  Now I'm hoping someone will go back and give us some 2008 mixes of 'Where Is My Man".  Essential.
Track : 5
Title : Last Goodbye (Spencer & Hill Remix)
Artist : Avenue
I know you must be thinking, Keith a fracking boy band???  What the fu….?  Folks, trust me on this one.  Think of it like eating cotton candy.  Tastes really sweet, but doesn't last near as long as it should, so you gotta go back and get some more.  Ear candy at its best!  Essential.
Track : 6
Title : They Said I Said (Sunset Strippers Vocal Mix)
Artist : Sugarush Beat Company
Totally all over the original of this song.  If you get a chance, check out the amazing video for this it.  Though this is the only remix currently available, the housey trance bounce is sure to please.  Essential.
Track : 7
Title : Honey (7th Heaven Club Mix)
Artist : Raen
Track : 8
Title : No Promises (Live Element Remix)
Artist : Hott 22 feat. Bonnie Bailey
There's a long build up, so just wait…wait…wait…BAM!  It goes right into a familiar Eurythmics bounce that'll keep you hopping and humming.  Essential.
Track : 9
Title : Wash My World (Bimbo Jones Remix)
Artist : Laurent Wolf
Quite possibly the sister to Antoine's 'Give Some Love' below.  Honey, our world WILL be washed come November 4th when we finally get rid of the current corrupt government.
Track : 10
Title : Waiting For The Knight (Stonebridge Club Mix)
Artist : Henrique & Danny Merk
Track : 11
Title : Close 2 Me (Extended Mix)
Artist : Captcha
Not much to say other than VERY catchy song.  Should do very well at radio and equally translate to the floor.  Essential.
Track : 12
Title : Give Some Love (Klaas Extended Mix)
Artist : Antoine Clamaran feat. Mario Ochoa & Lulu Hughes
I'm not sure why everyone is so hot on the Klass remix for this song.  Don't get me wrong, it's okay, but it doesn't have much warmth.  I personally prefer the Tristan Garner mix I used earlier in the Spring.
Track : 13
Title : Let The Freak Out (Original Vocal Mix)
Artist : Kurd Maverick & Azin
Track : 14
Title : Sandcastle Disco (Lost Daze Remix)
Artist : Solange
Lovin' this song.  Sister Solange has it going on!  Frankly, I'd rather hear her than her sister anyday.  Though, that could change once Beyonce's Freemasons produced album comes out next year.
Track : 15
Title : Perfect Day (Bimbo Jones Club Mix)
Artist : Natalia
Track : 16
Title : True Faith (Digital Dog Club Edit)
Artist : Liz Kay
I'm sorry, I just can't seem to wrap myself around this song.  As a product of the late eighties New Order generation, I can't hear anything other than the classic original with male vocals.  Sorry.
Track : 17
Title : Whenever You Need Me (The Mac Project Club Mix)
Artist : Infernal
HOT! HOT! HOT!  With a riff very similar to Coldplay's 'Clocks' and beautiful lyrics with equally beautiful vocals, this is one song not to be missed.  Highly recommended.  Essential.
Track : 18
Title : Juliet Of The Spirits (Morgan Page Remix)
Artist : B-52's
One of my favorites off of their new album, get's a full remix EP; and what wonderful mixes they are.  Look out for the hot Glenn Morrison mix which will be on my Halloween Edition.  Essential.
(Visited 1 times, 1 visits today)
Podcast: Download
Listen on: Apple Podcasts | Google Podcasts | Amazon Music | Android | iHeartRadio | Deezer | Donate