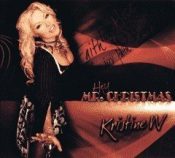 As we patiently wait for the release of "The Power of Music" and her jazz album "Straight Up With a Twist", Kristine yet again wets our appetites with an unexpected holiday e.p.  Boy oh boy, what a treat this is!  I admit I'm a sucker for Christmas music, especially when it's been 'housed' up.  While this may be shorter than I might have hoped for, it sure does deliver the goods from start to finish.
Starting with the fabulous holiday original "Mr. Christmas" followed by "Everyday Is a Holiday" and the oh say gay classic "Hard Candy Christmas" from "The Best Little Whore House in Texas" and "My Favorite Things" from "The Sound of Music" this is a can't miss for those of you that need a little house beat in holiday music.
In addition to these new recordings, we also get Kristine's dance version of last year's "Mary Did You Know" and the now-classic dance mix of "Oh Holy Night" from several years back.  Most surprisingly is the inclusion of a live unplugged take of "The Wonder of It All" with Jim Brickman.  This is an achingly beautiful song that brought tears to my eyes; the original version on her album "Fly Again" never had that effect on me.
With World AIDS Day coming up on Monday, this song certainly strikes a chord as I reminisce about the friends I've lost over the years.  It's been a long time since I purchased a full-length Holiday album (think back to the "Very Special Christmas" series),  as I am usually a holiday singles kinda guy.  I've got to say, note for note, this is so worth it.  Currently, the disc version is available through Perfect Beat and Kristine's official online store.  You can also download the mp3 version from both stores, including iTunes.  So put yourself in the holiday spirit and pick up a copy for yourself and/or someone you love, you'll be glad you did. -PF
(Visited 6 times, 1 visits today)