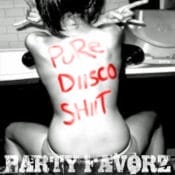 I thought it would be apropos to close summer out with a DFH (Disco-Funk-House) set.
As you glance over the track list you may see some familiar mainstream names in there and think that your humble host may have a screw loose. While that part may be debatable LOL, I know that which I've included in this mix.
You can thank Daft Punk for opening the door this year for that "pure" disco sound and making it once again acceptable to the masses. If not for them, Enrique, Kylie, Bruno would have never been re-worked into a simple disco biscuit (officially or otherwise).
I don't expect disco in its original form to catch on to point of mainstream domination, much like EDM has but it has opened the door for this generation to go back a couple of decades to rethink what they're doing now. Let's face it, the EDM scene is on the verge of imploding on itself as the boutique and mainstream labels all chase after the same dollar without really trying to evolve. Hell, Tiesto has become a name only for marketing and money while his apprentices churn out the mixes.
So it is refreshing to enjoy some seriously old-school throwback by some mainstream artists. Mix that up with today's disco-house and you got yourself a party for this Labor Day weekend. ENJOY!
Album : Pure Diisco Shiit




Genre : Disco Funk House




Year : 2013




Total Time : 1:16:59
1. Daft Punk feat. Pharrell – Lose Yourself To Dance (SIMONE Remix)
2. Antonello Ferrari feat. Dawn Tallman – Beautiful View (Antonello Ferrari Main Mix)
3. Bruno Mars – Treasure (Cosmic Dawn Bootleg Mix)
4. My Digital Enemy – Nothing To Take (Club Mix)
5. Jay C – Fab Freddy Said (Original Mix)
6. Torha & Earstrip – You Gotta Funk (Original Mix)
7. DJ Dan & DJ Mes – Don't Hold Back (Original)
8. Rescue & Kevin Kind – Outta Sight (Original Mix)
9. Lonely Boy – When I Think About (Original)
10. Housemates – Can't Get Enough (Raul Rincon Remix)
11. DJ Mes & Sonny Fodera – Do What You Wanna Do (Subway Baby Re-Edit)
12. Havana Brown – Flashing Lights (RNG Funk U Remix)
13. Enrique Iglesias – Turn The Night Up (Mark Picchiotti's Nu Disco Vocal)
14. Kenny Summit – The Dirty Lowdown (Original)
15. Kylie – Skirt (Switch Remix)
(Visited 1 times, 1 visits today)
Podcast: Download
Listen on: Apple Podcasts | Google Podcasts | Amazon Music | Android | iHeartRadio | Deezer | Donate