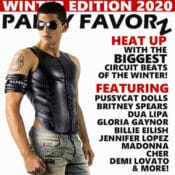 SURPRISE! Party Favorz is back with the annual Winter Edition 2020 and boy, is this one a monster! This non-stop circuit tribal house mix is jam-packed with all the latest tribal house beats by the likes of Dua Lipa, Gloria Gaynor, Billie Eilish, Jennifer Lopez, Madonna, Cher, Demi Lovato, Pet Shop Boys, and the return of the Pussycat Dolls. Folks, it just doesn't get any better than this.
Clocking in at just over 3 hours, you have enough energy to fuel your workouts for a month. Of course, by then, the Spring Edition 2020 will be out with a new fresh circuit tribal house.
It seems lately, I fret that there are not enough circuit tracks to fill a set and I end up dropping some coin at Beatport to flesh it out. Like the Holiday Edition 2019, which served some outstanding tracks most of you had never heard before. This time, most of them were just okay and I only used maybe two and discarded the rest because there was so much already out — it felt unnecessary to include them.
I will be hard at work on the first Dance Club set of the year as I've been itching to drop the latest from Sofi Tukker . The follow-up single is on here but the first release is blazing hot! Expect that set to drop by the end of this next week.
I can't begin to describe how good it feels to finally regain my groove. I'll be back sooner than you can finish listening to this new set. Until then…ENJOY!
Album: Winter Edition 2020
Genre: Circuit, Tribal, House
Year: 2020
Total Time: 03:22:38
1. Alan x Walkers – Unity (Yan Bruno Anthem Mix)
2. The Pussycat Dolls – React (Rob Moore Remix Part 1)
3. Britney Spears – Work Bitch (Division 4 Chemical Daze Remix)
4. Dua Lipa – Future Nostalgia (DJ FUri DRUMS House Extended Club Remix)
5. Gloria Gaynor – Day And Night (Enrico Meloni Remix)
6. Dirty Disco vs. Dusty Springfield – I Close My Eyes And Count To Ten (Dirty Disco Mainroom Remix)
7. Eda Green – Hate Me Too Final (Hector Fonseca & Zambianco Club Remix)
8. Connor Bvrns & Bonn – Anthem (Mike Cruz Club Remix)
9. Avery Raquel – Pieces (Dirty Disco Mainroom Remix)
10. Brett Oosterhaus & Debby Holiday – Living For The Music (Danny Morris Remix)
11. Billie Eilish – Everything I Wanted (Dirty Disco Mainroom Remix)
12. DJ Paulo feat. Loleatta Holloway & Alan T – Where's The Beef (Impossible Burger Mix)
13. Glidesonic – Energy (Dirty Disco Mainroom Remix)
14. The Pussycat Dolls – When I Grow Up '20 (Rip City Boys I Wanna Have Boobies Remix)
15. Jipsta – Stomp (Wayne G & Andy Allder Remix)
16. Jennifer Lopez – Baila Conmigo (Dirty Disco Mainroom Remix)
17. Cascada – Evacuate the Dancefloor (Brett Oosterhaus & Adrian Lagunas Remix)
18. Joey Suarez – Alive (Hector Fonseca & Zambianco Club Mix)
19. Billie Eilish – Bad Guy (Dirty Disco Eagle Houston Remix)
20. Gryffin & Carly Rae Jepsen – OMG (Guy Scheiman Club Remix)
21. Madonna – God Control (Dirty Disco Eagle Houston Remix)
22. Bimbo Jones & Thelma Houston – Turn Your World Around (Spin Sista's Haus Of Luv Remix)
23. DJ BoBo – Love Is All Around (Pedro Ilha Remix)
24. Dua Lipa – Physical (Dirty Disco Mainroom Remix)
25. Cher – Song For The Lonely (Toy Armada 2019 Remix)
26. Da Buzz – Show You Love (SoundFactory Paradise Anthem)
27. Pulse – The Lover That You Are (Paulo & Mike Soriano Club Mix)
28. Yinon Yahel – Rock the Beat (Club Mix)
29. A Great Big World feat. Christina Aguilera- Fall On Me (Toy Armada & DJ GRIND Anthem Mix)
30. Rosabel feat. Tamara Wallace – Anything For You (Big Room Mix)
31. Soffi Tukker – Purple Hat (Barry Harris vs. Novak Club Xtended Reedit)
32. Michelle Kash – Personal Jesus (Dirty Disco Mainroom Remix)
33. Pet Shop Boys – Monkey Business (Dirty Disco Eagle Houston Remix)
34. Demi Lovato – Anyone (DJ FUri DRUMS Cristal Circuit House Club Remix)
(Visited 1 times, 1 visits today)
Podcast: Download
Listen on: Apple Podcasts | Google Podcasts | Amazon Music | Android | iHeartRadio | Deezer | Donate