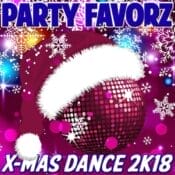 I see many of you have already been hitting up on last year's X-Mas Dance Mix. FYI, all past Christmas dance mixes are still available on the site by clicking here. I've been holding out for some new entries and only three came through. Out of those, only one was worth adding.
I was so looking forward to Dirty Disco's release this year that when it dropped, I was disappointed if not severely heartbroken. I was hoping they'd do a remake of the Weather Girls classic "Dear Santa (Bring Me A Man This Christmas)" which is so up their alley. Unfortunately, they put out a lackluster dance mix of "Last Christmas" by Brenda Reed, which is not some of her best work, so I took a pass and brought back the Young Divas version of "Dear Santa" and a George Michael bootleg of "Last Christmas."
I kept this year's entry tight and remastered several older mixes to bring them up to today's standards. While many of the tracks have been recycled from previous efforts, isn't that what Christmas music is all about? That is, hearing your favorite tunes year after year by your favorite artists and never getting sick of them. Throw in a few newbies or alternate versions and you got yourself a little holiday party rocking around the Christmas tree.
I for one never get sick of hearing the Eagles take on "Please Come Home For Christmas", or the Pretenders' version of "Have Yourself A Merry Little Christmas," or even U2's "Christmas (Baby Please Come Home)." These are just a couple of my personal favorites.
At the end of the day, many of the major artists who do release updated versions of holiday classics, typically don't invest in commissioning dance mixes for those tunes. The last major ones we've gotten were from Kelly Clarkson, Mariah Carey, and Leona Lewis which are included here. Even then, that was several years ago.
That's unfortunate because there really IS a yearning for these tracks to be remixed.
That being said, I am NOT about to ruin your holiday season by not creating some holiday magic for my followers. Who am I to scrooge you out of the most wonderful time of the year?
As many of you know, I am an atheist but even I don't allow that to get in the way of enjoying the music I grew up with, and in a genre that lifts my spirits. Therefore, once again into the bleach, Party Favorz presents X-Mas Dance 2K18, the Ultimate Non-stop Christmas Dance Mix… ENJOY!
Album: X-mas Dance Mix 2K18
Genre: Dance, House, Funky
Year: 2018
Total Time: 01:59:02
1. Claire Richards – My Heart Is Heading Home (This Christmas) (7th Heaven Xmas Overload Club Mix)
2. Leona Lewis – One More Sleep (Cutmore Club Mix)
3. Mariah Carey – Oh Santa (Low Sunday Extended Mix)
4. George Michael – Last Christmas (Remix 2017)
5. Bananarama – Baby It's Christmas (Almighty Club Mix)
6. Kristine W – Oh Holy Night (Illicit Club Mix)
7. Christina Aguilera – The Christmas Song (Chestnuts Roasting On An Open Fire) (Thunderpuss 2000 Holiday Remix)
8. Lenny B feat. David Verbist – Feliz Navidad
9. Kylie Minogue – Every Day's Like Christmas (DMC RKL Remix)
10. Dirty Disco feat. Pepper MaShay – Winter Wonderland (Dirty Disco Mixshow Edit)
11. Dirty Disco feat. Jeanie Tracy – Santa Baby (Dirty Disco Mainroom Remix)
12. Kristine W – Mr. Christmas (Love To Infinity Mix)
13. Gloria Gaynor – Winter Wonderland (Winter Dance Mix)
14. Band Aid – Do They Know It's Christmas (CLX Remix)
15. Darlene Love – Christmas (Baby Please Come Home) (Julian Marsh Mix)
16. Kelly Clarkson – Underneath the Tree (Morlando Remix)
17. Mariah Carey – All I Want For Christmas Is You (Low Sunday Extended Mix)
18. Kelly Clarkson – Wrapped In Red (Ruff Loaderz Extended Mix)
19. Cher & Rosie – Christmas (Baby Please Come Home)
20. Donna Summer – Rosie Christmas (Abercrombie & Fitch 2009)
21. Young Divas – Dear Santa (Bring Me A Man This Christmas)
22. Carol Hahn – Have Yourself A Merry Little Christmas (Ranch Halo Club Mix)
23. Mariah Carey – Auld Lang Syne (The New Year's Anthem) (Rosario Traditional Mixshow)
(Visited 1 times, 1 visits today)
Podcast: Download
Listen on: Apple Podcasts | Google Podcasts | Amazon Music | Android | iHeartRadio | Deezer | RSS | Leave a review