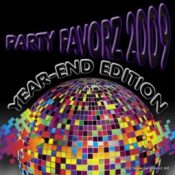 When I was a kid, I used to mow lawns for money to pay for my records.  I never received an allowance and my dad wouldn't pay me to mow the lawn (though I still had other chores), so I started mowing all the neighbor's lawns.  I charged $10 a job unless they had an extra-large yard, in which case the rate was $20.  Every weekend, I would hop on my bike with the money I had earned and ridden several miles to the nearest record store to buy the latest 45's.  Much like my willingness to bike several miles for my music, to this day, my dedication and passion for music have never faltered.  I've always paralleled music to various points in my past.  The good, the bad and the so-so, music is like a soundtrack to my life.  The first time I kissed a girl, the first time I kissed a boy (and liked it), when my brother died, when I went off to college, it's all there like a bad episode of "Cold Case."
You may be asking yourself, why the heck is he talking about "when he was a kid?"  I'm glad you asked.  With four more sets to go, I HIGHLY recommend that you take these mixes and back them up somewhere for future enjoyment.  I promise you, 10, 15, 20 years from now, you'll want to dig them out and remember the time you were fierce, flawless and on top of the world.  Maybe 2009 was the year you came out of the closet, maybe it was the year you fell in and out of love or even the year you lost your job.  Whatever the reason, you'll dance, you'll sing and will be telling your friends "remember when music was good."  I realize that everyone thinks I'm the energizer bunny, but I won't be here forever, nor will these time capsules of your life, unless you save them.  It's entirely up to you, but I would certainly trust me on this one.
I also thought that now would be a good time to talk about the "Gay Anthems" four mix set I put out last November.  If you remember, the proceeds from these kick-ass mixes were to go to Equality Across America.  This organization is leading the fight to garner equal rights for the LGBT community here in the US.  If anybody here follows Towleroad, you'll understand the bigotry and hatred that is spewed against us from various groups, including our very own representatives in the United States Congress.  Winning (as if this is a game) my equal rights along with every other gay, lesbian, bi or transsexual person, for now, and future generations is something that I am deeply passionate about.  In fact, if we don't start receiving some serious concessions from our government, I see this heading to the streets of America in the very near future.  Mind you, not the bread crumbs that President Obama keeps throwing out to keep us placated, but outright full equality in life, work, home, health and yes marriage.  We won't stop until we are given FULL EQUALITY with equal protection under the Constitution.
The good news is that with your help, I have officially reached my goal of $500.  In fact, I just tallied up the donations this morning and we currently stand at $530.91.  WooHoo!!!  I will officially be making a donation in that amount on Wednesday this next week.  However, if you haven't had a chance to download these great mix sets, never fear.  I have added a link to the side of my blog titled "Gay Anthems" and a tab at the top of my Podbean page for easy access to all of the mixes.  I also went back and placed an "add to cart" button so you can purchase everything all at once.  If we can push this thing over $600 by next week, that would be SUPER- DUPER FABULOUS!  I want to thank everyone that has contributed to my efforts to give back the only way I can at the moment.  Let's keep it going!
I also have other plans for future donations that include my Chrome Edition.  I was looking at Billboard's "Best of the 2000s" in the Dance/Club Play category and was pretty much appalled.  It starts out decent enough, but once you get into it, it's pretty shameless.  As someone who has followed the charts all of my life, I understand how they determine year-end rankings.  Based on a numerical assignment for each week a song is on the charts with bonus points for making the top ten and even more for the number two and one position, more often than not, important songs are left out of the tally.  So, I've decided to create my own "Top 100+" of the past decade.  I will spread them out through the year so as not to hit everyone at once.  I'll lower the donation amount for each mix, in hopes of getting more of you on board.  If you read the first two paragraphs of this post, you'll appreciate the significance of this project.  I promise this will be SPECTACULAR!  I was thinking of setting up voting every other week that includes a list of personal picks and a write-in (just in case I overlook something) for the best songs from each year within the decade.  Once those are tallied up, then I can begin the project.  I would really like to get everyone on board with this as I think that together we can make one hell of a decade-long best of!
Finally, I want to mention a very worthwhile project that one of Party Favorz' very good friends Lovett is involved in.  He is working through an organization called "El Porvenir" who work to improve the standard of living of poor people in Nicaragua through sustainable self-help water, sanitation and reforestation projects. In its 14 years of operation, they have completed 350 projects and served over 14,000 people.  He has a goal of raising $1,100 and is currently at $200 as I write this.  Here's is the request he forwarded to me:
Subject: Please help me make a difference!

Hi Everyone!

The New Year brings new beginnings, and new opportunities in life.  I, along with a group of leaders in South Florida, are standing to make a difference for a community in rural Nicaragua.  Our goal is to create a clean water source for a village that does not have one.  I am asking for your donations to help make a difference for these people, and to show them how powerful people can be when they come together.  Any amount you can donate WILL MAKE A DIFFERENCE!

I've created a fundraising page, which you can access with the following link:  https://www.facebook.com/l/ca0b4;www.firstgiving.com/FL164

I would like to thank you in advance for giving what you can, and creating a better world for ALL to live in.

Thank you, and much love!

Lovett 🙂
I personally donated to this worthwhile project and hope that you guys can muster up a little something to help out.  At the end of the day, it's not always about us, but those we can help that don't have the means to help themselves.
That's about all I got for today.  This will be the last of the BPM year-end edition and I will begin to roll out the Original Party Favorz year-end edition early next week.  Those waiting for the best of the mainstream circuit of 2009, it's coming soon.  Until then, try to stay warm, have a fantastic weekend and as always, ENJOY!
Album : Year-end Edition v4
Genre : Electro, Funky, House, Progressive
Year : 2009
Total Time : 1:48:07:00
1. Alexandra Burke feat. Flo Rida – Bad Boys (Moto Blanco Vocal Mix)
2. Solange – T.O.N.Y (Mark Picchiotti Mix)
3. Moony – I Don't Know Why (Viale & DJ Ross Remix)
4. Booty Luv – Say It (Warren Clarke Remix)
5. Pixie Lott – Boys And Girls (Moto Blanco Club)
6. Enrique Iglesias feat. Ciara – Takin' Back My Love (Jody Den Broeder Club Mix)
7. David Guetta feat. Kelly Rowland – When Love Takes Over (Original Mix)
8. Black Eyed Peas – I Gotta Feelin' (David Guetta Remix)
9. Pronto – Gonna Make U Sweat (Summer Party Mix)
10. Rudenko – Everybody (Club Mix)
11. Miami Starfish feat. Jermaine Stewart – Clothes Off (Soul Seekerz Club Mix)
12. The Ian Carey Project – Get Shaky (Ian Carey Original Mix)
13. Noisettes – Don't Upset The Rhythm (Go Baby Go) (Soul Seekerz Club Mix)
14. Tiesto & Sneaky Sound System – I Will Be Here (Wolfgang Gartner Remix)
15. U2 – Magnificent (Dave Aude Club Mix)
16. Mini Viva – Left My Heart in Tokyo (Pete Hammond Contemporay Remix)
17. Kelly Clarkson – I Do Not Hook Up (Bimbo Jones Club Mix)
18. Pussycat Dolls – Hush Hush (I Will Survive) (Dave Aude Extended Mix)
19. Little Boots – Remedy (Stonemasons Club Mix)
20. Ameerah – The Sound Of Missing You (Extended Mix)
(Visited 29 times, 1 visits today)
Podcast: Download