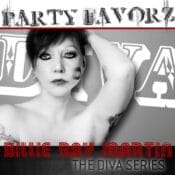 Billie Ray Martin may be an unlikely candidate for induction into the Diva Hall of Fame but her deeply soulful voice and an ear of what the musical landscape was at any given time during her career makes her the perfect choice.
Her first big break came with the group Electribe 101 whose Talking With Myself is considered a classic in all its various incarnations. The original version released in 1988 still holds up to this day but got a makeover by none other than Frankie Knuckles in 1990. However, it wasn't until 1998 when a new set of remixes by Canny (one a Trance mix and the other a Chill mix) both won the hearts and minds of club-goers and the electronic music community.
By the mid-90s Electribe 101 had broken up while negotiating a new record contract and Billie ultimately went solo and was signed to Sire/Warner in the US. The resulting album was the mesmerizing Deadline For My Memories coupled with Kristine W's Land of the Living (released around the same time in 1996 in the US) held a very special place in my musical heart, even to this day.
That album contained many songs that were slated for the second Electribe 101 album including Your Loving Arms, which went on to massive success at radio and in the clubs.
It's unclear as to why Billie Ray left Warner records but it may have had something to do with her not being allowed to record in a Memphis studio, a lifelong dream of hers.
From there, Billie Ray has controlled her destiny releasing material on her own labels or in collaboration with other artists. Musically, she swings from electronic and house to circuit and deep house. With unmatched vocal skills that are perfectly suited for the Stax influence of artists like Aretha Franklin, you can see just how easily it translates into the aforementioned genres.
While the mix I've created in her honor comes nowhere close to her output over the years, it's a good start.
It is with great love and respect that Party Favorz honors Billie Ray Martin by inducting her into the Diva Hall of Fame. You're in good company.
Album : Billie Ray Martin | The Diva Series




Genre : House




Year : 2016




Total Time : 1:14:49.00
1. Mystic Motion Remix (Bum Bum Club Remix) [with Datura]
2. Off The Rails (Aerea Negrot Edit) [& Aerea Negrot]
3. The Glittering Gutter (Dave Aude Extended Mix)
4. Talking With Myself '98 (Canny 12″ Vocal) [Electribe 101]
5. Honey (Deep Dish Honeysuckle Remix)
6. Running Around Town (Junior's Mix)
7. Your Loving Arms (Soundfactory Vocal Mix)
8. 18 Carat Garbage (Junior Vasquez Remix)
9. Space Oasis (Jnr's U.K. Mix)
10. Undisco Me (Peter Jurgens Remix)
(Visited 1 times, 1 visits today)
Podcast: Download
Listen on: Apple Podcasts | Google Podcasts | Amazon Music | Android | iHeartRadio | Deezer | Donate