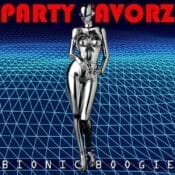 I've been working on Bionic Boogie for the better part of two weeks. It's a combination of Nu Disco, House Music, Gospel House, Soulful House, Funk, and re-worked Disco Classics that will help ease you into Summer!
The original set was coming in over 2 hours+ and something didn't quite sit right with me after repeated listens. I went back to surgically remove some tunes but that still wasn't working. Finally, I cut 1/3 of the fat, trimming it down to a more manageable 80 minutes.
Because of the excise, expect the set to take a noticeable turn after the third song. The switch up was my intention to keep folks engaged, if not surprised. Let's just say that the song "Freedom" by Disco Incorporated is NOT what you'd expect it to be. In fact, there was a recent viral tweet about a certain megaband whose music was not danceable. In all honesty, their music was never intended for dance floors but Deep Dish got there first and you sure as shit can dance to this updated re-work; that's all I'm sayin.
With the trims I made to this set, I may have enough to go back and put together another Trash Disco set for all of the hardcore disco-fanatics (like myself) at a later date. I'm not making any promises but it's definitely on my radar.
In other news, getting back into Spotify does not look promising. I've identified the issue but my podcast host Podbean prefers to play dumb and then refers me to Spotify who then refers me back to Podbean in a vicious circle of stupidity that I really don't have time for. I'd be shocked if this ever gets resolved and I have no plans on expending all of my energy trying to fix the issue. If it happens, I'll let you know but I wouldn't hold my breath.
That's all I got for this weekend. As new tracks continue to roll in, expect a new Dance Club set in the coming weeks. Until then…ENJOY!
Album: Bionic Boogie
Genre: Nu Disco, House Music, Gospel House, Funk, Disco Classics
Year: 2018
Total Time: 01:20:41
ATFC feat. Lisa Millett – Bad Habit (Dr. Packer Remix)
Swing Kings – Bumping The Funk (Original Mix)
The Cube Guys & David Penn – Ah Feel Like Ahcid (Original Mix)
Disco Incorporated – Freedom (Good Vibes Mix)
Lisa Stansfield – Never Ever (Rob Hardt Extended Remix)
The Soup Dragons – I'm Free (Yam Who- & Alan Dixon Remix)
Danny Cruz – Life Saver (Original Mix)
Mistura feat. Bridgett Grace – Love To The Limit (Shur-i-kan Club Mix)
Dr. Packer – Baby You Make My (Original Mix)
Yuksek & Bertrand Burgalat – Icare (Yuksek Remix)
Soul Clap – Moov To Tha Beat (Original Mix)
Block & Crown – Frequency Freakin (Original Mix)
Todd Terry feat. Martha Wash & Jocelyn Brown – Keep On Jumping (Re-Tide's Disco Remix)
Peggy Gou – It Makes You Forget (Itgehane) (Original Mix)
Ferreck Dawn & Robosonic – In Arms (Extended Mix)
ATFC & David Penn – Hipcats (Extended Mix)
Sophie Lloyd feat. Dames Brown – Calling Out (7′ Mix)
(Visited 1 times, 1 visits today)
Podcast: Download
Listen on: Apple Podcasts | Google Podcasts | Amazon Music | Android | iHeartRadio | Deezer | Donate