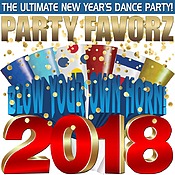 Blow Your Own Horn 2018 has finally arrived and it's the ultimate hell-raising dance party mix!
Folks, I've busted my ass putting this final set of the year together, which consists of bootlegs, mashups, a lot of bounce interspersed with the familiar as well as brand-spanking-new tunes that will carry into the new year.
There is also a smattering of old classics reworked for today's dancefloors that are sure to surprise and delight! If this doesn't raise your temperature and get your blood boiling, then you might want to check for a pulse because it's likely you're dead.
Final thoughts on 2017:
Once again, this has proven to be a difficult year in which Party Favorz continues to transition. Granted, I never expected to get 10 years into this yet here I am.
It's become painfully clear that this podcast poses a problem with my being able to obtain gainful employment. Two of the rejection letters I received cited that my "current interests do not align with the position I was seeking." They might as well say that my interests don't align with the culture of their company because it comes across more that way. Frankly, if your company has a Trumpist culture, I don't really want to work there as I wouldn't be a good fit. d
Another recent interview was oddly informal and the HR person kept going on about how qualified I was for the position. After receiving yet another rejection email from them, I'm starting to think I may also be over-qualified for the positions I've been seeking. In that case, I'm thinking about using a headhunter on Monday to see if my prospects will fare better.
That still leaves open one position I applied for at Home Depot that I am so qualified for and really interested in that it makes my head hurt. I still haven't heard back from them but I'll assume the worse case scenario.
This leaves the fate of Party Favorz. Closing the site all together has been weighing heavily on my mind. The amount of time and cost I put into this is enormous and relying on donations just doesn't come close to covering my monthly (nor yearly) expenses. Continuing the site at the cost of permanent employment is an additional factor in my considerations. Frankly, I am torn.
What started out as a hobby and a passion of mine has turned into a fulltime job and apparently a major liability in my pursuit of self-fulfillment, happiness, and prosperity.
Madonna recently announced she was working on a new album and tour in honor of the 35th anniversary of the self-titled release of her first album. If she's working on what I'd hope she would do, which is to come full-circle and go back to the fun early 80's dance-disco infused sound, which is all the rage at the moment, I'd be onboard. Since I don't know what's she has planned, I've made the decision to go all-in for one more year. It just seems fitting that I tie in the final year of Party Favorz with the anniversary of our much beloved and number one inductee into the Diva Hall of Fame.
That being said, it's highly likely I'll shut down the main website for Party Favorz and just run everything off of my host's platform at Podbean. That address is currently at https://partyfavorz.podbean.com/
I'll have to go back and hand-code the site to get the look and feel of the current one as best I can, which is more work for me but it will lower my costs dramatically. The negative aspect of it is that it will lower my ranking in Google search as Podbean is a relatively closed environment. If I do this, I will also have no choice but to institute a subscription-based model.
I've already blocked the Diva Hall of Fame, Legacy, Gay Pride, and Year in Dance (Top Dance Club Song 2010 – present) sections of the site in anticipation of the move and will be slowly implementing the blocks through the rest of the site through the end of the year. It's not something I want to do but frankly, I just don't see any choice in the matter. This will be the only way I can justify wrapping up the site at the same time our favorite DIVA does the same.
I'm sorry but I won't be able to extend subscriptions to anyone that has substantially donated to my work over the years as Podbean will not allow it. I've already made the request and they emphatically said "NO." They will be handling all download and subscription inquiries for a fee. That takes the most annoying part of running a subscription service out of my hands (which is a good thing).
In the interim, I hope everyone enjoys their upcoming holiday's with family and friends and is as creative, inventive and diverse in your endeavors. Blow your own horn and follow the path that best suits your individuality.
From my house to yours…HAPPY NEW YEAR'S and as always…ENJOY!
Album: Blow Your Own Horn 2018
Genre: EDM, House, Dance
Year: 2017
Total Time: 02:19:04
Daft Punk – One More Time (Delirious & Alex K Mix with Intro)
Bob Sinclar & Daddy's Groove – Burning (Robbie Rivera Extended)
Snow Patrol vs. Tello vs. Bassheads vs. Underworld – Chasing Everybody Slippy Out There (Jack Eye Jones Club Mash)
Pitbull – Celebrate (M&Project 2k15 Bootleg)
Will Sparks – What I Do (Extended Mix)
Dua Lipa vs. Twenty One Pilots – Blow Your Mind (Heathens) (Barry Harris Mash-Bounce Mix)
Camilla Cabello – Havana (Vixen Remix)
Avicii feat. Aloe Blacc – Wake Me Up (Miky Vibes Bootleg Mix)
Kygo feat. Selena Gomez – It Ain't Me (Barry Harris & MSC Remix)
Clean Bandit feat. Sean Paul & Anne-Marie – Rockabye (Matteo Sala & Luigi Gabriele Bootleg)
Taylor Swift vs. Cardi B – Look What You Made Bodak Do (Barry Harrris Mashup by Party Favorz)
Gloria Estefan – Conga (SunPhillips Remix)
Luis Fonsi feat. Daddy Yankee – Despacito (PILO Bootleg)
Earth n Days – Saxology (Original Mix)
Ofenbach vs. Nick Waterhouse – Katchi (Jack Mazzoni Remix)
3BUTE – Up & Down (Original Mix)
Chic – Le Freak (Jaedo Bootleg)
Rave Vegas – My House (Calvo Remix)
Kelly Clarkson – Love So Soft (Cedric Gervais Remix)
Flume feat. Tove Lo – Say It (Division 4 Club Mix)
Pink – What About Us (Stormby Club Mix)
DJ Khaled feat. Rihanna & Bryson Tiller – Wild Thoughts (Mike Cruz Club Mix)
Imagine Dragons – Thunder (Barry Harris Club Enhanced Mash & Remix)
Kesha – Woman (Barry Harris Club Enhanced)
Kate Perry – Chained To The Rhythm (Barry Harris Disco Balls Mixshow)
Liv Lovelle – Won't Say Too Much (Xenomania Remix)
Dirty Disco feat. Celeda – To The Dancefloor (Space City Mix)
Sia – Move Your Body (Toxic D MashUp)
Zedd & Alessia Cara – Stay (MSC Remix)
LMFAO X Garmiani – Party Rock Fogo (Casiraghi 2K17 Mash-edit)
Julia Michaels – Issues (Barry Harris Club Enhanced Mix)
Martin Solveig vs. Otto Knows vs. Nadia Ali & Starkillers & Alex Kenji vs. Alesso – Million Pressure Voices (Andrea Chan Mashup)
Dimitri Vegas & Like Mike vs. David Guetta feat. Kiiara – Complicated (Diego Miranda & Wolfpack Remix)
RetroVision x Raven & Kreyn – Nobody Else (Extended Mix)
Whitney – I Wanna Dance (Barry Harris 2018 Remix)
(Visited 1 times, 1 visits today)
Podcast: Download
Listen on: Apple Podcasts | Google Podcasts | Amazon Music | Android | iHeartRadio | Deezer | RSS | Leave a review