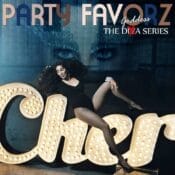 Cher kicked off her Dressed To Kill tour last night in Arizona (among all places, clear throat).  I consider this the Farewell, Farewell tour but then again, never say never.  As she famously said on the last go-around, she'd still tour when she's toothless and her tits are hanging down to her knees and we'd still go see her LOL.
In all seriousness, Cher is an American ICON, a diva, and a GODDESS.  Us gay folks have been in love with her for decades, because of her style, her outrageous outfits, her ability to garner headlines in the 70s, 80s, and 90s… and her voice and beauty, plastic surgery, and all.
Most importantly, the connection she has to our community is a bond that can never be broken.  It's her style, grace, and inner beauty that endears us to her.  Never once have we been betrayed and her acceptance and appreciation for our community are her greatest gift.
The first set I ever created for Cher was completed for my good friend Terry back in 2003.  That set never saw the light of day beyond giving it to him.  Since then, I've created two more but I have to say that I FINALLY managed to work this mother out.  The Cher set is a fitting tribute to the Goddess of all who came after her and I can firmly assure you that you won't be disappointed.
So put your dancing shoes on because Cher is IN THE HOUSE!
Until the next time…ENJOY!
Album : Cher | The Diva Series
Genre : Club, House
Year : 2014
Total Time : 2:05:04.00
1. Follow This You Bitches [Intro]
2. Dark Lady (Mixmaster F Farewell Club Mix)
3. A Different Kind Of Love Song (Lenny B.'s Different Kind Of Club Mix)
4. Believe (Almighty Definitive Mix)
5. Alive Again (Twisted Dee Additive Mix)
6. One By One (Junior Vasquez Club Vocal Mix)
7. Don't Come Crying To Me (Mijango's Club Mix)
8. Love One Another (Eddie Baez Club Mix)
9. If I Could Turn Back Time (Almighty Club Mix)
10. Walking In Memphis (Shut Up & Dance Remix)
11. When The Money's Gone (Gay Pittsburg Mix)
12. Song For The Lonely (Almighty Mix)
13. All Or Nothing (Almighty Definitive Mix)
14. We All Sleep Alone (Todd Terry TNT Remix)
15. Dov'e L'amore (Tony Moran's Anthem Mix)
16. Strong Enough (Marc Andrews Remix Edit)
17. I Found Someone (Dark Lady Mix)
18. I Hope You Find It (Funk Generation & H3DRush Club Mix)
19. I Walk Alone (JRMX DownTown Club)
20. Woman's World (Jodie Harsh Club Mix)
21. Take It Like A Man (7th Heaven Club Mix)
22. You Haven't Seen The Last of Me (Almighty Club Mix)
(Visited 1 times, 1 visits today)
Podcast: Download
Listen on: Apple Podcasts | Google Podcasts | Amazon Music | Android | iHeartRadio | Deezer | Donate