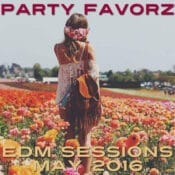 As we continue to edge closer towards warmer days, Party Favorz is sending up your pre-summer dance party mix with the May EDM Sessions.
Kicking it off with Justin Timberlake's out of the box early summer anthem Can't Stop This Feeling, this set continues to steamroll that fuzzy feeling forward one right after the other.
I do inject a bit of a spanking with the uhh-mazing Cedric Gervais remix of Give Me Your Love but for the most part this set has S-U-M-M-E-R written all over it.
Surprisingly, there haven't been near as many Prince bootlegs as I was expecting to pop-up but there's still time. However, one of my favorites, Erotic City with the fabulous Sheila E. (the infamous b-side of When Doves Cry that didn't make the Purple Rain album) gets a sweet update or more like a punch to the original by DJ Scotty Boy. Crank this fucker up and get into the funk swing of it. This song is as fresh now as when it was released and I promise, you will DIG IT!
Honestly, I'm on a roll at the moment and if I remain in this fantastic mood (overcast, gloomy and all) through tomorrow, I may go ahead and share a little more love on the site. No promises, but …ya never know.
That's all I got for now. Until the next time (whenever that may be) …ENJOY!
Album : EDM Sessions [May 2016]
Genre : EDM, Electro, Progressive, Deep House
Year : 2016
Total Time : 01:17:59
Justin Timberlake – Can't Stop The Feeling (Daniel Siman Tov Remix)
Alesso feat. Nico & Vinz – I Wanna Know (Alesso & Deniz Koyu Remix)
Cash Cash feat. Sofia Reyes – How To Love (Extended Mix)
Zedd & Kesha – True Colors (Division 4 Club Mix)
Calvin Harris feat. Rihanna – This Is What You Came For (Erick T. Remix)
Snakehips feat. Tinashe & Chance The Rapper – All My Friends (Kue Remix)
Fifth Harmony – This Life (Disco Suckz Remix)
Alex Newell with Jess Glynne & DJ Cassidy feat. Niles Rodgers – Kill The Lights (Audien Extended Mix)
tyDi & Olivia Somerlyn – Only (Marc Stout & Scott Svejda Remix)
Alessia Cara – Wild Things (Jesse Bloch Remix)
Sigala feat. John Newman & Nile Rodgers – Give Me Your Love (Cedric Gervais Remix)
Hardwell feat. Jake Reese – Run Wild (Esquire Houselife Remix)
Zayn – Pillowtalk (MCB Bootleg Mix)
Galantis – No Money (Tom & Jame Bootleg)
Prince – Erotic City (Scotty Boy Remix)
Just Kiddin – Fall For You (Alex Metric Remix)
Austin Parker – Faded (Kryder & Tom Staar Remix)
The Rua – Without You (Chris Daniel & DJ Suri Vocal Remix)
Jennifer Lopez – Ain't Your Mama (Amice Remix)
(Visited 1 times, 1 visits today)
Podcast: Download
Listen on: Apple Podcasts | Google Podcasts | Amazon Music | Android | iHeartRadio | Deezer | Donate