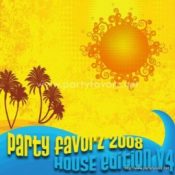 I want to welcome everyone to the final House Edition of the summer.  Don't expect another Beach House mix 'cause that ain't what's being served up.  Instead, I purposely took this mix in a more uplifting direction full of fun disco house music.  Granted, there's definitely a lot of soul to boot, but it is the 'fun' aspect I was focusing on.  Besides, summer will end soon and I wanted to leave on a feel-good note.  I hope all the disruptions this weekend didn't kill my vibe, but I think I really delivered on this one; not just on song choice but mixing as well.  I'll be back tomorrow or the day after with Take 2 of this mix.  Until then…ENJOY!
If you enjoy this podcast:
1. Leave me a comment at the end of this post.  That's one of the ways I gauge what people are feeling and it ensures I'll continue making this type of mix in the future
2. Don't keep this site your little secret, tell your FRIENDS so we can keep this community strong.
3. Donate via PayPal to help keep Party Favorz going. I can assure you that all donations received goes right back into this site to help cover the costs associated with hosting and the purchase of new music; even a couple of bucks/euros goes a long way. 
Album : House Edition v4
Genre : Disco, Funky, House, Soulful
Year : 2008
Total Time : 1:19:55:00 
Track : 1
Title : It's Yours (Joey Negro Remix)
Artist : Jon Cutler feat. E-Man
With a ton of support from a variety of DJs, this is destined to be a late summer smash.  Of course, I'm always partial to Joey and he certainly did not fail to deliver.  Essential
Track : 2
Title : Love Me (Sergio D'Angelo Remix)
Artist : Steve Paradise feat. Kiara S
The vocals on this song alone are worth the price of admission alone.  Amazing song, even better vocals and a stellar remix by Sergio; this is the full meal deal.  What a package!  Essential.
Track : 3
Title : I Love America (DJ Meme Main Club Mix)
Artist : Hanna Hais
I for one would have never thought about doing a remix of the Patrick Juvet disco club hit from 1979.  I had to go back and dig out my Casablanca Records box set to refresh my memory.  After listening to both, I gotta say DJ Meme was definitely the guy for the job.  I've really been digging his work lately and this mix does not fail to disappoint.  Essential.
Track : 4
Title : Gotta Have House (Do You Remember) (Knee Deep Anthem Mix)
Artist : Knee Deep & DJ Spen feat. Biblical Jones
Yet another song about 'house music'.  Nevertheless, Knee Deep live up to their name and really punch the groove out in their mix, making this an obvious choice for a night out in Ibiza.
Track : 5
Title : Show Me How Good (Arduini-Pagany Philly Vocal Mix)
Artist : Arduini & Pagany feat. Vale Ducros
Ahh, picture yourself under the disco lights getting all caught up in the swirling strings.  This feel-good number is instantly catchy and definitely memorable.  Essential.
Track : 6
Title : Down (Vocal Club Mix)
Artist : Freak 'n' Funky
Boogie Oogie Oogie…need I say more?  Essential.
Track : 7
Title : Where Love Lives 2008 (Soulshaker Remix)
Artist : Alison Limerick
Earlier this summer, I previewed an amazing electro version and now we have the Soulshaker remix.  Well, we all know that Soulshaker has definitely been on a roll lately and this song just continues that pattern with their take on this early 90's classic.  Essential.
Track : 8
Title : Underlying Feeling (Soulshaker Remix)
Artist : Sylvia Tosun
After failing to really make a dent with her amazing "Head Over Heels" track back in early December, Sylvia is back with her follow-up.  Folks, this is an ultra-catchy tune with a couple outstanding remixes to suit everyone.  Now if this doesn't hit, then something is just ain't right in clubland.  Essential.
Track : 9
Title : Falling (Earnshaw's Vocal Re-Touch)
Artist : Soulmakers
Not an instantly gotcha song like its predecessors in this mix, but once you get into it, you'll be feeling the groove too.  Outstanding.
Track : 10
Title : Poor People (Original)
Artist : Quentin Harris feat. Monique Bingham
This is certainly Quentin's year.  He's already got one the best songs of the year with 'My Joy" featuring Margaret Grace and now another floor burner.  I don't know where he keeps digging up these amazing vocalist, but he definitely has a knack.  Since this has not been released off of his amazing album 'No Politics', I'm hoping for a full remix package once more DJs hop on board for what is certain to be another house classic.  Essential.
Track : 11
Title : For The Light (Eric Kupper Remix)
Artist : Cargo
Good but not great.  Vocals are a little thin and the production seems to have been duplicated from his work with Samantha James.  In fact, this may very well be a leftover track from those sessions.  Nevertheless, I don't rag on Eric who is like a god to me.  That being said, this is still a fine mix.  I just wish Samantha had sung on it.  Outstanding.
Track : 12
Title : Shining Star (The Mac Project Instrumental)
Artist : Sybil
I know you must be asking yourself 'so why didn't you use the vocal mix…after all, this marks the return of Sybil?'  Actually, the vocal mix is very good and I'm definitely looking forward to hearing more from her.  The only problem I had was that the actual mix got washed out in favor of bringing the vocals to the forefront.  I think an equal balance would have suited the song better since Mac's production is as equally important.  Nevertheless, this is the first release off of Ultra Nate's new label 'Deep Sugar Music'; and if they both keep putting stuff like this out, odds are Sybil will be back on top and Ultra will be a contender in the dance label business. Outstanding.
Track : 13
Title : We Ride (Moto Blanco Club Vox)
Artist : Mary J. Blige
All of a sudden this appeared in April out of nowhere.  I'm thinking this may have been completed for the release of her semi-best of comp that came out a couple of years ago and was never picked up by Mary's label.  Well, it's out now and my god what were they thinking?  Had they released it at the time, 'We Ride' might very well have been a bigger hit.  Essential.
(Visited 1 times, 1 visits today)
Podcast: Download
Listen on: Apple Podcasts | Google Podcasts | Amazon Music | Android | iHeartRadio | Deezer | Donate