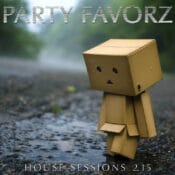 So is anybody as sick and tired of the rain, ice, snow and ungodly freezing-cold temperatures as I am?  If you answered yes, you're a reasonable and sane person.  If you answered no, give us your address so everyone that answered yes can go there and kick your ass LOL.
Granted, I live in Atlanta so the worst we've had was about 15 degrees for a couple of days and many in the 20s.  This morning it was 32 and we even had a little snow-dust yesterday but nothing near as bad as those folks above our latitude; my heart bleeds for you.
I'm a southern boy who is used to warmer, sunny days and when it isn't; I feel about as happy as Box Boy on the cover art of this set.
That being said, I'm here to inject warmth into these gloomy days with some funky, disco, house shit that will have you thinking about sipping margaritas on the beach.
Hang in there folks, spring is almost here.  ENJOY!
Album : House Sessions 2.15
Genre : Disco, House, Funk
Year : 2015
Total Time : 01:19:59
TVFROM86 – Purple People (Original Mix)
Twism & B3RAO – Jump to It (Original Mix)
John Stoongard – Look @ Here Daddy (Gianni Bini Rootsy Vocal Rework)
David Morales pres. The Face feat. Kym Mazelle – Lovin' (Disko Mix)
HouseChild – Jumpin (Georgie's Original Club Mix)
Sister Sledge – Lost In Music (Dimitri Form Paris Remix)
Odyssey – Going Back To My Roots (Audio Jacker Remix)
Rockefeller – Do It 2 Nite (Lucas & Steve Remix)
Sadam Ant – Baby Brother (DJ Fudge Mix)
Simon Adams & Stefano Mango – Soul Panda (Original)
Steve Lawler – House Record (Original)
UMEK & Mike Vale – All I Want (Dosem Remix)
Muzikfabrik – Disco Tragedy (Loving Arms Club Mix)
Hercules & Love Affair – Do You Feel The Same (Purple Disco Machine Remix)
Croatia Squad, Me & My Toothbrush – Scream for Pleasure (Original Mix)
DASCO feat. Justina Maria – What I Need (Right Here-Right Now) (Club Mix)
(Visited 1 times, 1 visits today)
Podcast: Download
Listen on: Apple Podcasts | Google Podcasts | Amazon Music | Android | iHeartRadio | Deezer | Donate