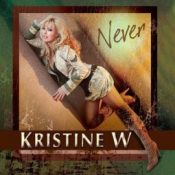 WOO HOO!  I got my CD Maxi yesterday of Kristine W's second single from the forthcoming "Power of Music" album to be released in 2009.  In true Kristine fashion, this puppy comes loaded to the gill with some first-rate club mixes to suit almost every dancefloor.  While Love To Infinity delivers a stellar rework, the standout remix is by the top rate production team 7th Heaven, who have no doubt had an outstanding year. Surprisingly good is the Perry Twins production.  Though not quite as 'electro' as their title would suggest, they deliver one heck of a guilty pleasure that strays from their big room sound they're known for.
Unfortunately, if you're looking form some big beats, you're not going to find it in the DJ Escape & Johnny Vicious remix.  Instead, they and newcomers DJ Peter Canellis & Kamil Bartoszcze deliver a very satisfying remix that comes closer to mainstream electro-funk that will definitely get the attention of your floor.  Probably the weakest remix in the bunch is the Ruff & Torte production that resembles more of a dub-electro mix bordering on a progressive sound.  Not bad, but if you didn't know the song, it may not work in your sets.
In addition to the full club remixes, you get the radio mixes for all but the Ruff & Torte plus two additional house turns by Brothers Behind The Light and Nick Harvey suggesting a second release package in the near future.  After listening to all the remixes, I can't but wonder how well this song might benefit from a progressive mix by Adam K & Soha or Morgan Page.  Certainly, it lends itself to the genre and could work very well.  Nevertheless, I'm not bitching because once again Kristine really knows how to cover the base with her releases and ensure that no fan is left behind.
Currently "Never" is available via multiple vendors, which is important to note that availability and pricing vary greatly.  With the heavy onslaught of digital piracy on the Internet (especially in club music), it appears Kristine's production company took a different tack in trying to minimize losses for this release.  So, let me cut through the red tape and lay it out for everyone.  I bought this release via the Kristine W online store where you can purchase the physical product for $8.98 and/or digital downloads for $1.99 each.  You can also purchase the full release via download at Masterbeat, however, be warned that the full package will cost you $16.99.  The same is true for Perfect Beat in both formats plus they have additional downloads not available at Masterbeat nor on the CD maxi.  For starters, you can get the full Nick Harvey Club Mix and Tribal Dub as well as the Ruff & Torte Radio Mix and DJ Escape & Johnny Vicious Dub.   Currently, this release is not available via iTunes, though may be made available in the near future.  As you can see, there are plenty of options and there shouldn't be any European restrictions for those fans purchasing from abroad.
All in all, this is an outstanding package that is certain to deliver yet another #1 for Kristine.  Please help support her efforts to bring top-notch club music to the masses by purchasing through legal channels.  Kristine has done so much not only for the club community in general but has been an outstanding ally in the gay community as well.  It's only through our support that she can continue to provide us with the kind of offerings that this release contains.  Let's help keep the music alive by supporting those efforts.  I'll be back tomorrow with my review of Kristine's "Mr. Christmas".
Album : Never CD Maxi-single
Artist : Kristine W
Genre : Mainstream Club, Electro, Funky
Year : 2008
Track : 1 Title : Never (Love To Infinity Radio Mix)
Track : 2 Title : Never (DJ Escape & Johnny Vicious Radio Mix)
Track : 3 Title : Never (7th Heaven Radio Mix)
Track : 4 Title : Never (DJ Peter Canellis & Kamil Bartoszcze Radio Mix)
Track : 5 Title : Never (Nick Harvey Radio Mix)
Track : 6 Title : Never (Brothers Behind The Light Radio Mix)
Track : 7 Title : Never (Perry Twins Radio Edit)
Track : 8 Title : Never (Ruff & Torte Global Club Mix)
Track : 9 Title : Never (Love To Infinity Never Leave The Club Mix)
Track : 10 Title : Never (DJ Escape & Johnny Vicious Stompin Club Mix)
Track : 11 Title : Never (7th Heaven On The Floor Club Mix)
Track : 12 Title : Never (DJ Peter Canellis & Kamil Bartoszcze Backroom Mix)
Track : 13 Title : Never (Perry Twins Electro-Club Mix)
(Visited 1 times, 1 visits today)