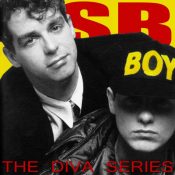 With the recent release of Pet Shops Boys latest single "Love etc." and the highly anticipated "Yes" album to be released on March 23rd (in the U.K. only, U.S. will follow later this year), I decided it was time to dig out a mega-mix I put together in 2007 for Rick, the ultimate 'pethead'.  For whatever reason, I never shared it with the site, but I popped this sucker in while he was cooking our nights dinner to be served with a movie and a few cocktails.
Frankly, I forgot just how good this mix is.  All I could remember is what a bitch it was to put together.  After all, vastly different BPMs, different decades, different styles often without an intro/outro to the mixes, didn't make for club-friendly mixing (hence the reason why so many "Hot Tracks" and "Razormaid" mixes were used due to their club readiness).  I also checked out our good friend Raj over at Electroqueer, whose post "My Life in the Pet Shop Boys" is a fun read on his thoughts about what PSB means to him.  He also includes his top ten all-time favorite PSB albums.  Check it out for a quick trip down memory lane.
I'm sure everyone has their stories about where they were, what they were doing or even their first gay kiss while listening to the boys.  I'm not sure where I read this, but several years ago I came across an article about ten ways to tell if your boyfriend is gay.  One of the things on the list is if his CD collection had Madonna's "Immaculate Collection", Erasure's "Pop! 20 Hits" or the Pet Shop Boys "Discography: The Complete Singles Collection".
Granted, he could just say that it belonged to his little sister, but try explaining all three (which is the most likely scenario for any self-respecting card-carrying homosexual from the eighties and nineties) LOL.  While there has never been a shortage of PSB mega-mixes, I think you'll find these two mixes cover a broader range of favorites as well as the hits from the 80's forward.  I hope you like this as much as Rick and I did while bouncing off the walls last night.
ENJOY!
Album : Pet Shop Boys |  Mixed-UP I & II




Genre : Dance, Disco, Electronica, House




Total Time : 2:37:02
Opportunities (Let's Make Lots Of Money) (Original 12" Mix)
Love Comes Quickly (Dance Mix)
West End Girls (Sasha Mix)
One More Chance (Hot Tracks Remix)
Left To My Own Devices (Razormaid Mix)
Heart (Hot Tracks Mix)
What Have I Done To Deserve This (Shep Pettibone Mix)
Domino Dancing (Disco Mix)
Always On My Mind (Hot Tracks Mix)
Losing My Mind (Hot Tracks Remix)
Was It Worth It (12" Remix)
Discoteca (Trouser Enthusiasts Mix)
Go West (Ming's Gone West First & Second Movement)
Before (D.T.'s After Mix)
Being Boring (Hot Tracks Remix)
Where The Streets Have No Name (Hot Tracks Remix)
I Don't Know What You Want But… (David Morales Remix)
Break 4 Love (Friburn & Urik Hi-Pass Mix)
It's A Sin (Technopop Remix)
Minimal (M-Factor Mix)
So Hard (David Morales Red Zone Vocal Mix)
Paninaro '95 (Angel Moraes Deep Dance Mix)
I'm With Stupid (PSB Maxi-Mix)
New York City Boy (The Almighty Definitive Mix)
It's Alright (Razormaid Mix)
(Visited 168 times, 2 visits today)
Podcast: Download
Podcast (preview-channel): Download