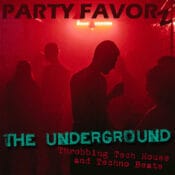 Embark on a sensorial odyssey with the latest offering from Party Favorz, "The Underground," a sultry blend of Tech House and Techno rhythms that promise to enliven your nocturnal adventures.
A Seductive Start: The Remix that Reels You In
The journey begins with the pulsating Vintage Culture remix of "Spring Girl" by Adam Ten and Maori which brightens the core of Tech House while weaving in a seductive mystery with its fast-talking, indecipherable lyrics. It's a siren's call, inviting you to a night filled with untold stories.
"Prada," a Tech House gem by cassö, Raye, and D-Block Europe, receives a transformative White Label Techno remix. This fresh take on an already beloved track will rekindle your love for the beat, taking your connection to soaring new levels.
Unexpected Twists: Breaks That Sweep You Away
Dusky x Denham Audio's "Everything I Do" is a masterful stroke of breaks and euphoria. The track's syncopated beats, overlaid with swirling synths, are a tribute to the underestimated power of Breaks—serving a more thrilling ride than even the current Dubstep trend.
Refreshing Classics: Tech House with a New Heartbeat
Deadau5 & The Neptunes' "Pomegranate," turned Tech House anthem by Jay Robinson, receives a Party Favorz touch—accelerating it to a heart-racing tempo that reignites the track's initial allure.
Clever Fusion: Hip Hop Meets Tech House
Gary Caos's "Smoke Everyday" is a genius fusion, layering Dr. Dre's iconic "The Next Episode" with electrifying Tech House beats, creating an irresistible dance floor magnet.
Energetic Encounters: Techno That Commands the Dance Floor
Hardwell and Nicky Romero's "I Wanna Dance" is a Techno powerhouse that's followed by BENNETT's surprising "Vois Sur Ton Chemin" remix. With an unexpected choir over a Techno backdrop, it offers a novel twist that's as intriguing as it is infectious.
Swedish House Mafia's "Ray of Solar" is elegantly remixed, balancing operatic vocals with a violin chorus against the grounded beats of Tech House, remixed to perfection by Mau P.
Speaking of Mau P,  his latest offering "Dress Code" brings a playful "#Selfie" vibe, a lighthearted break amidst the set's intensity.
Hypnotic Rhythms: A Trip Down the Rabbit Hole
VNSSA's "One Pill," a mesmerizing twist on the psychedlic rock classic "White Rabbit,"  which layers Grace Slick's haunting vocals over trippy Tech House beats, offering a hypnotic escape.
A Genre-Bending Closer: The Fusion that Defines the Set
"Bowser" and MBreaks' "Analog Saw" is where Techno meets Breaks—a masterful concoction that epitomizes the innovative spirit of "The Underground" and just one more reason we see Breaks becoming the next big thing in House Music.
A Dark and Sensual Soundscape
"The Underground" is an exotic experience tailored for the nocturnal souls who dance until dawn where every beat is a sensation, every rhythm a confession of the night's embrace. Here, the music is not just heard; it's felt—a companion in the shadows, a whisper in the thrum of the city. So, as you navigate the depths of the club, let the sounds of "The Underground" elevate your spirit and fuel your dance until the first light breaks the spell.
And as always, Party Favorz invites you to immerse yourself in the rhythm.
Until the next time… ENJOY!
Album: The Underground
Artists: Various
Genre: Tech House, Techno, Breaks
Length: 02:03:56
1. Adam Ten & Maori – Spring Girl (Vintage Culture Extended Remix)
2. Odd Mob & OMNOM – Losing Control (Extended Mix)
3. Sak Noel – People In LA (Original Mix)
4. cassö, Raye & D-Block Europe – Prada (Lee Rose Extended Remix)
5. Dusky x Denham Audio – Everything I Do (Extended Mix)
6. ISOxo – how2fly (Original Mix)
7. Deadmau5 & The Neptunes – Pomegranate (Jay Robinson Remix)
8. Barkhan – Underground (Original Mix)
9. Gary Caos – Smoke Everyday (Clean Mix)
10. Noizu & Martin Ikin – Burnin' (Extended Mix)
11. Navos – Bodywork (Extended Mix)
12. Sllash & Doppe – Kyrenia (Extended Mix)
13. Biscits & Camden Cox – 365 (Extended Mix)
14. MEDUZA – Ecstasy (Extended Mix)
15. Hardwell & Nicky Romero feat. Meryll – I Wanna Dance (Extended Mix)
16. BENNETT – Vois Sur Ton Chemin (Extended Techno Mix)
17. Max Styler – Satisfy (Original Mix)
18. MEDUZA – Obsession (Extended Mix)
19. John Summit & VLTRA – Legacy (Extended Mix)
20. Siwell & Justri – Your Body (Extended Mix)
21. Swedish House Mafia – Ray Of Solar (Mau P Remix Extended)
22. Calvin Harris & Sam Smith – Desire (Steve Aoki & Kaaze Extended Remix)
23. Offaiah feat. Dope Earth Alien – Tempo (Extended Mix)
24. Midtown Jack – Give It To Me (Extended Mix)
25. Mau P – Dress Code (Extended Mix)
26. Tchami & Malaa – A Prayer (Extended Mix)
27. VNSSA – One Pill (Original Mix)
28. Rick Silva & Mabel Caamal – Parriba (Original Mix)
29. Westend feat. Notelle – Dive In (Extended Mix)
30. Bowser & MBreaks – Analog Saw (Original Mix)
(Visited 1 times, 7 visits today)
Podcast: Download
Listen on: Apple Podcasts | Google Podcasts | Amazon Music | Android | iHeartRadio | Deezer | RSS | Leave a review