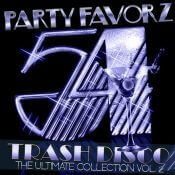 I'm back with Trash Disco | The Ultimate Collection Volume 2, and this one is a whopper!
Since Disco isn't monolithic in its styles nor liberal use of varying BPMs, I broke these mixes up into three distinct categories. First, you have the 90 to 121 BPM tracks, which will be the second of this series that I have not started yet. Then there is the average tempo ranging from 121 to 128 BPM, which is what I've been posting. We have one more to go on Thursday. Then there's the break-neck speed tracks that go anywhere from 131 – 140 BPM, which I'll post last. That will be the most challenging to put together. Think, "Knock On Wood," "Born To Be Alive," "Get Off," etc.
That's not to say that these first three sets have a been a cakewalk. Since I'm pulling from early 70's soul tracks by the likes of The O'Jays, M.F.S.B., Barry White, and Van McCoy & the Soul Symphony, into the mix, it can be a challenge making this all work. Then there are popular Funk tracks and many 80's tracks which have their own distinct style; especially a lot of the 80's songs, which is about the time that beat machines and synthesizers became affordable and were responsible for a lot of the 80's sound, which tended to be less warm and had a cold feel to them. Nevertheless, I do my best to make it all work.
Then there is the mastering. A lot of the DJs who create these fantastic edits (mix-friendly edits of the originals) are only as good as the masters they have to work with. A lot of the CD rips are still not the great. Some need more bass to bring these songs up to today's standards, others lack fidelity and need more mids, while others overcompensate in both areas and need to be tempered. Pro Tools would solve a lot of these problems but unless you're at the level of Barry Harris and DJ Meme, those plugins are cost prohibitive for most folks. So, I painstakingly went through each one to ensure quality and fidelity for today's modern playback devices. I hope I've succeeded.
In the next posts, I'll give shoutouts to the DJ's that make this all work and maybe even discuss some history behind the history of the Disco machine.
For now, I want everyone to sit back, relax, loosen up and as always…ENJOY!
Album: Trash Disco | The Ultimate Collection Vol. 2
Artists: Various
Genre: Disco
Length: 03:22:42
Jackie Moore – This Time Baby (John Morales M+M Mix)
Sylvester – Do Ya Wanna Funk (Dr. Packer Remix)
Lipps Inc. – Funkytown (Digital Visions 2015 Re-Edit)
Poussez! – Come On And Do It (Digital Visions Re-Edit)
Change – Angel In My Pocket (Nicky Holloway's Pablo Discobar Mix)
Barry Manilow – Copacabana (Digital Visions Re-Edit)
The O'Jays – I Love Music (Joey Negro Sweet Music Mix)
Edwin Starr – Contact (Disco Incorporated Remix)
Carol Jiani – Hit 'n Run Lover (Digital Visions Re-Edit)
Chic – Dance, Dance, Dance [Yowsah, Yowsah, Yowsah] (Digital Visions Re-Edit)
Deniece Williams – I've Got the Next Dance (Digital Visions Re-Edit)
Debbie Jacobs – Don't You Want My Love (Dimitri From Paris Classic Re-Edit)
The Originals – Down To Love Town (Digital Visions Re-Edit)
Cerrone – Love In C Minor (Dimitri From Paris Remix)
Donna Summer – Could It Be Magic (Digital Visions Re-Edit)
Giorgio Moroder – The Chase (Digital Visions Re-Edit)
Madleen Kane – Forbidden Love (Digital Visions Re-Edit)
Gwen McCrae – Keep The Fire Burning (Alien Disco Sugar Mix)
GQ – Disco Nights [Rock-Freak] (Appo Remix)
Alicia Bridges – I Love The Nightlife [Disco 'Round] (Digital Visions Re-Edit)
Boys Town Gang – Can't Take My Eyes Off You (Alien Disco Sugar Remix)
Diana Ross – I'm Coming Out (Barry Harris 2018 Remix)
Anita Ward – Ring My Bell (Digital Visions Re-Edit)
Debbie Jacobs – High On Your Love (SanFranDisko ReRub)
Thelma Houston – Don't Leave Me This Way (Almighty Mix)
The Trammps – Disco Inferno (Digital Visions Re-Edit)
Bee Gees – You Should Be Dancing (Retro Edit)
Love And Kisses – Thank God It's Friday (Digital Visions 2016 Re-Edit)
Rufus & Chaka Khan – Any Love (Sanny X Club Mix 2014)
Cerrone – Paradise (Joey Negro Full Club Mix)
Manhattan Transfer – Twilight Zone (Digital Visions 2018 Re-Edit)
Viola Wills – If You Could Read My Mind (SanFranDisko Re-Rub 2018)
John Paul Young – Love Is In The Air (Digital Visions Re-Edit)
Cheryl Lynn – Got To Be Real (Alien Disco Sugar Remix)
Irene Cara – Flashdance… What A Feeling (Hot Tracks Remix)
(Visited 1 times, 6 visits today)
Podcast: Download
Podcast (preview-channel): Download