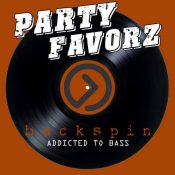 Party Favorz is back with the second half of the early millennial BackSpin throwback posted yesterday.   Addicted to Bass follows in the same steps as the earlier set with really deep, dark and delicious beats, all of which were monster hits at the time of their release.  The sounds here are as fresh now as they were when they were released.
Got a lot of Pride stuff going on around the globe next week, with the highly anticipated ruling on Marriage Equality from the Supreme Court as well.  This will likely be cause for massive celebration as the United States catches up with the rest of civilized society.
I've got a lot in my basket the next couple of weeks, so I will likely start posting some more current sets around the first week of July.
Hope everyone has a fantastic weekend.  I'll see ya when I see ya.  Until then …ENJOY!
Album : BackSpin | Addicted to Bass
Artists : Various
Genre : House Classics
Length : 1:26:21
Puretone – Addicted To Bass (Differentgear Mix)
Celeda – The Underground (Peter Rauhofer Original Mix)
Kosheen – All In My Head (Planet Funk Mix)
Sounds From The Ground Feat. Colein – Lean On Me (Mauve's Dark Vocal Mix)
Fragma – Toca's Miracle (Extended Mix)
Moony – Dove (I'll Be Loving You) (Stephane K. & John Creamer Mix)
Rui Da Silva feat. Cassandra – Touch Me (Double 99 Club Mix)
Cassius – The Sound Of Violence (Narcotic Thrust Two Minute Warning Club Mix)
Daniel Bedingfield – Gotta Get Thru This (Passengerz Violation Vox Club Mix)
Brancaccio & Aisher – It's Gonna Be… (A Lovely Day) (Bini & Martini Club Mix)
X-Press 2 feat. David Byrne – Lazy (Norman Cook Remix)
Iio – Rapture (Tastes So Sweet) (Original Mix)
Coldplay – Clocks (Heaven & Earth Division Remix)
Res – They Say Vision (Robbie Rivera's Vocal Mix Part 2)
(Visited 46 times, 4 visits today)
Podcast: Download
Podcast (preview-channel): Download