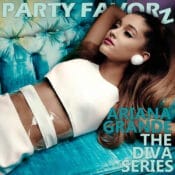 2018 and 1019 have been a whirlwind of success for Ariana Grande.  With multiple #1 singles and Top Tens, the woman is truly "dangerous."
It seems like yesterday that her duet with Iggy Azalea "Problem" was the song of the summer but that was only in 2014. Even with her public romances and subsequent breakups and the 2017 Manchester Arena bombing. Less than a month later, Ariana went back to the UK and held the "One Love Manchester" benefit concert for the victims of the bombing where 22 people were killed and another 250 injured. Broadcast live on TV, radio, and social media, the concert went on to be ranked as the #1 concert of 2017.
Ariana Grande has been a prolific advocate for a variety of issues including ending online bullying, gun control, LGBT rights, and Black Lives Matter amongst others.
At the young age of 25, the powerhouse vocalist, who is often compared to another famous chanteuse in the Party Favorz Diva Hall of Fame, Mariah Carey  — has the world at her fingertips and has a very long and successful career ahead of her.
It's for these reasons and so much more that Party Favorz — once again — inducts the fabulous and crazy-talented Ariana Grande into the Diva Hall of Fame. ENJOY!
Album: Ariana Grande 2019 | The Diva Series




Genre: Dance, Club




Year: 2019




Total Time: 02:01:21
1. Love Me Harder (Country Club Martini Crew Remix) [feat. The Weeknd]
2. Side To Side (MSC Bounce Remix) [feat. Nicki Minaj]
3. Dangerous Woman (Barry Harris Remix)
4. 7 Rings (Division 4 & Matt Consola Remix)
5. One Last Time (Barry Harris Remix)
6. Focus (7th Heaven Explicit Club Mix)
7. God Is A Woman (Charlie Lane Remix)
8. Breathin (Mark Jay Remix)
9. Baby I (Cosmic Dawn Club Mix)
10. Problem (Wayne G Anthem Mix) [feat. Iggy Azalea]
11. Greedy (Zephyr Mix -Party Favorz Edit)
12. Over And Over Again (Cahill Club Mix) [with Nathan Sykes]
13. Dance To This (Barry Harris Mix) [with Troye Sivan]
14. Thank U, Next (Barry Harris Remix)
15. The Way (Jody Den Broeder Club Mix) [feat. Mac Miller]
16. Break Free (Barry Harris Big Drama Anthem) [with Zedd]
17. Bang Bang (Disco Suckz Remix) [with Jessie J & Nicki Minaj]
18. Everyday (Division 4 Remix) [feat. Future]
19. Imagine (Ray Isaac Club Mix)
20. Break Up With Your Girlfriend, I'm Bored (Division 4 & Matt Consola Remix)
21. No Tears Left To Cry (StoneBridge Club Mix)
22. Right There (7th Heaven Club Mix) [feat. Big Sean]
23. Moonlight (Division 4 Club Mix)
24. Into You (Liam Keegan Remix)
25. Touch It (Slipenberg Remix)
(Visited 1 times, 1 visits today)
Podcast: Download
Listen on: Apple Podcasts | Google Podcasts | Amazon Music | Android | iHeartRadio | Deezer | Donate