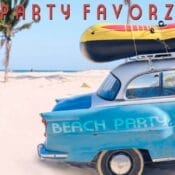 I've been moved in for a week now into my new place and frankly still have a lot of work to do.  Regardless, I've been itching to get something new out so between now and next week, there will be three sets going up.
I'm kicking things off with a long-overdue serving of commercial EDM hits that should keep you folks busy well into summer.  I pulled out the stops on this so you end with a monster-sized set.  This could have easily been two sets but I'm saving Beach Party v2 for a funky-house set later in June.
I'm almost at capacity on Google Drive where they'll start charging me for additional storage and they sent me a notice that they will start charging for bandwidth, data something like that in July due to all the activity that had been going on.  I'm at a point where I MUST pair all of my costs down.  So, I'm dropping the vault all-together though everyone who has paid still will have access through the summer.  Just make sure you get everything you want.  Going forward, everything will be downloadable through the site and free for all.
Also, I've dropped Blubrry for my podcast host and will continue to use house-mixes for the hosting since it's free.  Downloads will still be through the main Party Favorz site though, which allows me to track what people are gravitating towards.  As for my web host, that renews in June to a whopping $400!  I'm cutting that down to the essentials cause I ain't got that kind of money.
Don't expect that I will keep things up at break-neck speed but I'll post new stuff as I get to it after this next week.  I may be partnering with another site to get all of the Diva Hall of Fame sets back up, one week at a time (more on that later).  I'll also be re-posting the Pride Classics the first week of June.
That's about all I got for now.  Until the next time …ENJOY!
Album : Beach Party 2015 v1
Genre : EDM, Electro, Progressive, House
Year : 2015
Total Time : 01:47:36
Sak Noel DJ Kuba & Neitan & Veronica Mayra – No Boyfriend (Radio Club Mix)
Audien feat. Parson James – Insomnia (Ashley Wallbridge Club Remix)
Taio Cruz – Do What You Like (Zoo Station Remix)
The Weeknd – Earned It (DJ Drew Remix)
Britney Spears & Iggy Azalea – Pretty Girls (DJ DigiMark vs. Dave Aude Mashup)
DJ Fresh & Adam F – Believer (Jacob Plant Remix)
Goldhouse – When I Come Home (Nightdrive Club Mix)
Lost Frequencies – Are You With Me (86 Club mix)
Jane Vanderbilt feat. MJ – Welcome To My Party (Pri yon Joni Deep Bounce Remix)
Giorgio Moroder feat. Sia – Deja Vu (Benny Benassi Club Remix)
Britney Spears – Tom's Diner (DJ Digimark vs. Bingo Players Mashup)
Martin Garrix feat. Usher – Don't Look Down (DJ FmSteff 2015 Totalmix)
Walk The Moon – Shut Up & Dance (Jason Nevins Radio Alt Mixshow B)
Skylar Stecker – Rooftop (Dave Aude Club Mix)
Philip George – Wish You Were Mine (Dirty Pop Remix)
Madonna – Ghosttown (Mike Rizzo Funk Generation Club Mix)
Axwell & Ingrosso – On My Way (Extended Original)
Tori Kelly – Nobody Love (Jonathan Pitch Remix)
Adam Lambert – Ghost Town (Ian Thomas Bootleg Edit)
Luciana & Glovibes – One By One (Original Mix)
Rihanna – Bitch Better Have My Money (R3hab Remix)
Malea – One Hot Mess (Justin Prime Remix)
Zedd feat. Jon Bellion – Beautiful Now (Extended Mix)
Alesso feat. Roy English – Cool (Bottai Remix)
Andy Grammer – Honey I'm Good (The DJ Mike D Extended Remix)
Major Lazer & DJ Snake feat. MØ – Lean On (Original)
(Visited 1 times, 1 visits today)
Podcast: Download
Listen on: Apple Podcasts | Google Podcasts | Amazon Music | Android | iHeartRadio | Deezer | Donate