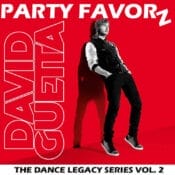 David Guetta's output over the past 10 years cannot be underestimated. Taking a glance at some of the biggest urban, pop, DJ, rap, and R&B artists he's collaborated with is exhausting. Aside from pulling Chris Willis from obscurity, he clearly favored Sia and Nicki Minaj. He's worked with these two ladies more than any others which generated some of his biggest tracks.
Now that David Guetta is making good use of his alias Jack Black and churning out some fantastic Tech House — it appears he's not about to lay down and go away quietly. He's gauging the musical landscape by keeping a pulse on musical trends and adapts as necessary. It's part of the man's genius and I fully expect more from him in the coming years.
Volume 2 of the David Guetta Dance  Legacy series covers a lot more territory than the first. Clocking in at just over 2 hours, this could very well be your poolside party for the Memorial Day weekend.
I'll be back next week with Gay Days 2019. Until then…ENJOY!
---
Since enacting the premium content subscription, a few of you have reached out who already signed up but still wanted to donate to my efforts. I have since reinstated the Donation widget in the right sidebar for those that still want to make separate contributions.  I want to thank Ignacio G. for his generous donation. 
I also want to mention that the current price of $1.49 will be doubling by mid-June. Meaning, that at the moment, I'm offering 50% to those of you who are the first to sign up and you will be grandfathered in for a year. For everyone else waiting it out — the new price starting around the 15th will be $2.99 a month. If you want to enjoy all the benefits at our lowest price — now would be the time to sign up.
Album: David Guetta – The Dance Legacy Series vol. 2




Genre: EDM, House Music




Year: 2019




Total Time: 02:06:01
1. Bad (Club Mix) [with Showtek feat. Vassy}
2. Club Can't Handle Me (Fuck Me I'm Famous Remix) [Flo Rida feat. David Guetta]
3. Love Don't Let Me Go [Walking Away] (Joachim Garraud & David Guetta's Fuck Me I'm Famous Mix) [David Guetta vs. The Egg]
4. Gettin' Over You (Extended Mix) [with Chris Willis feat. Fergie & LMFAO]
5. Flames (Pink Panda Extended Mix) [with Sia]
6. Say My Name (Lucas & Steve Remix) [feat. Bebe Rexha & J Balvin]
7. One Love (Extended Version) [feat. Estelle]
8. Wild One Two (Original Mix) [Jack Back feat. David Guetta, Nicky Romero & Sia]
9. Just One Last Time (Tiësto Remix) [feat. Taped Rai]
10. Like I Do (Extended) [with Martin Garrix feat. Brooks]
11. Complicated (Diego Miranda & Wolfpack Remix) [Dimitri Vegas & Like Mike vs. David Guetta feat. Kiiara]
12. Where Them Girls At (Extended Mix) [feat. Flo Rida & Nicki Minaj]
13. Turn Me On (Extended Remix) [feat. Nicki Minaj]
14. Commander (Extended Mix) [Kelly Rowland feat. David Guetta]
15. I Gotta Feelin' (David Guetta Remix) [Black Eyed Peas]
16. Right Now (Cosmic Dawn Club Mix) [Rihanna feat. David Guetta]
17. Don't Leave Me Alone (EDX's Indian Summer Extended Mix) [feat. Anne-Marie]
18. Dirty Sexy Money (Joe Stone Remix) [with Afrojack feat. Charli XCX & French Montana]
19. Sun Goes Down (Extended) [with Showtek feat. Magic & Sonny Wilson]
20. Put Your Phone Down (Low) (Extended Mix) [Jack Back]
21. Light My Body Up (CraigWelsh Remix) [feat. Nicki Minaj & Lil Wayne]
22. Play Hard (Extended Mix) [feat. Ne-Yo & Akon]
23. Just A Little More Love (Leonardo La Mark Remix) [feat. Chris Willis]
24. 2U (Extended Mix) [feat. Justin Bieber]
25. Promises (David Guetta Extended Mix) [Calvin Harris & Sam Smith]
26. Memories (Club Mix) [feat. Kid Cudi]
27. Ocean (David Guetta Extended Remix) [Martin Garrix feat. Khalid]
28. Shed A Light (Extended Mix) [with Robin Schulz feat. Cheat Codes]
(Visited 1 times, 1 visits today)
Podcast: Download