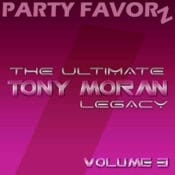 Welcome back to the third volume of our Ultimate Tony Moran Legacy series, where we delve even further into the extraordinary oeuvre of Tony Moran. With each set, it becomes abundantly clear that Moran isn't just a one-hit-wonder; he's an industry titan whose flair for remixing and production has left an indelible mark on dance music.
Moran's breadth of work is impressive, to say the least. Whether contributing tracks for his own "Event" compilations or lending his Midas touch to other artists, he's accumulated an astonishing number of chart-topping songs—many reaching the zenith of the Dance Club charts, while others have conquered various other charts, including the illustrious Hot 100.
Tony Moran is more than just a studio genius; he's a stage phenomenon. Over the years, his live performances have gained almost mythical status, drawing packed houses worldwide. In many ways, he's paved the way for the next generation of DJ-producer-entertainers like Calvin Harris, David Guetta, Skrillex, and Avicii, who've transitioned their talents from the studio to colossal live shows.
Let's talk about some of the spectacular songs that are featured in this volume. "Real Love" by Deborah Cooper is a testament to Moran's ability to infuse classic house elements with a modern touch. Then there's "Keep Your Body Workin'" featuring Martha Wash, which has become an anthemic number that resonates across dance floors. Annie Lennox's "Into The West" takes on a new dimension under Moran's expert touch, transforming it into a dance track that retains its original emotional power.
Ben Platt's "Waving Through A Window," featuring the Original Broadway Cast of Dear Evan Hansen, showcases Moran's knack for traversing genres. He managed to turn a Broadway ballad into a danceable tune without losing an ounce of its raw emotion. Jennifer Lopez's "Qué Hiciste" gets a sultry, rhythmic overhaul that showcases J.Lo's vocal prowess in a completely new light. Moran's remix of "Give It Up" by Kevin Aviance is a pulsating extravaganza, and "I'd Rather Be Me" from the cast of Mean Girls is a delightful surprise, as he spins its youthful energy into dance gold.
In conclusion, Tony Moran is not just surviving in this industry; he's thriving and evolving. Each set in this Legacy series reveals another layer of his multifaceted talents, and this third volume is no different. We're excited to showcase these and many more tracks that exemplify the genius of Tony Moran—a legend whose legacy only continues to grow.
Until the next time…ENJOY!
Album: The Ultimate Tony Moran Legacy | Volume 3
Genre: Circuit, Tribal, House
Year: 2021
Total Time: 02:34:22
. Becky Baeling – If You Love Me (Tony & Mac's Semolinic Adventure Club Vocal Mix)
2. TM feat. Deborah Cooper – Live You All Over (TM-Deep Influence & Brian-Cua Mix)
3. TM, Giuseppe D. & SugarHouse Crew – Blow The Top Off (Original Mix)
4. Sun – Gone (TM & Jody Den Broeder Mixshow Edit)
5. Kaci Battaglia – Crazy Possessive (TM & Warren Rigg Dirty Fun Club Mix)
6. Darren Hayes – Step Into The Light (TM Full Mix)
7. John LePage feat. Niki Haris – Not Enough (TM & Warren Riggs Club Mix)
8. Celeda – Vibe'N (TM & Deep Influence Remix)
9. TM feat. Martha Wash – Keep Your Body Workin' (Ralphi Rosario Extended Remix)
10. Annie Lennox – Into The West (TM Unreleased Private Mix)
11. Utada – Come Back To Me (TM & Warren Rigg Club Mix)
12. Ben Platt feat. Original Broadway Cast Of Dear Evan Hansen – Waving Through A Window (TM Extended Club Remix)
13. Caroline Lund – When You Tell Me That You Love Me (A New Day TM Club Mix)
14. Jennifer Lopez – Qué Hiciste (TM Remix)
15. Cast Of Mean Girls – I'd Rather Be Me (TM Remix)
16. Brian Justin Crum feat. Toy Armada & DJ Grind – Show Me Love (TM's All Love Mix)
17. TM feat. Anastacia – If I Was Your Boyfriend (TM & Warren Rigg Dance Club Mix)
18. Taylor Dayne – How Many (TM Mix)
19. Deborah Cooper – Real Love (TM & Warren Rigg Mix)
20. Kevin Aviance – Give It Up (TM & Warren Rigg Remix)
21. TM & Ric Sena feat. Zhana Saunders – Waiting For Alegria (Alegria Anthem Mix)
22. TM feat. Orion – I Give In (TM & Warren Rigg Extended Remix)
(Visited 1 times, 1 visits today)
Podcast: Download
Listen on: Apple Podcasts | Google Podcasts | Amazon Music | Android | iHeartRadio | Deezer | RSS | Leave a review