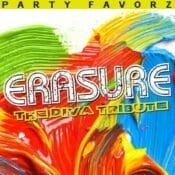 In the twilight of 1986, I found myself back in my hometown, rebooting life after a pause post-high school. As fate would have it, I returned to C&C Music/Video—a place that had worked for during my high school years. Erasure's "Oh L'amour" was already setting dance floors on fire, but honestly, I hadn't deeply considered the duo behind the beats. That changed, and how, when their extended play album "The Two Ring Circus" was released.
Before we dive into the Erasure saga, let's step back a bit. Vince Clarke, one half of Erasure, was already a synth-pop legend due to his earlier stints with Depeche Mode and Yaz (known as Yazoo in Europe). It was the blending of Clarke's genius with Andy Bell's vocal prowess that gave Erasure its distinct sound—a combination that felt like a revelation to my young, queer self. Their lyrics, sharp and universally relatable, had a unique resonance for the LGBTQ+ community.
Now, let's talk songs, shall we? "Victim of Love" is a tune that forever evokes bittersweet nostalgia. It carries me back to memories of Michael, a man 20 years my senior who became a mentor and friend during those formative years. He tried to enrich my life with opera and introduced me to the camp classic "Mommie Dearest." We crossed the line from friendship to romance and his memory lives on each time I play "Victim of Love." For some inexplicable reason, it's our song.
Fast forward to Erasure's album "Wild!" and the gem "Star," a song inseparably tied to the love of my life Pete. A charismatic guy who I thought was my romantic endgame, Pete turned into a life lesson on the power of unchecked emotions. Our fallout was nasty, something I've never been proud of. Years later, in a coincidental encounter at a local gay club, we finally managed to lay old ghosts to rest. "Star" has become a poignant reminder of what was, what could have been, and the wisdom that came from it.
The lines "Sent you money sent you flowers, could worship you for hours, in whose hands are we anyway?" and "Did you ever have a lover, leave you for another, to take your love and kisses for granted? Never to discover, war is not the answer, leave you only disenchanted" from that song really sank my heart.
Creating this Erasure tribute mix was an emotional rollercoaster, to say the least. Each track, carefully selected, represents their early brilliance encapsulated in "Pop! The First 20 Hits," with a few other gems sprinkled in. Vince Clarke's eloquent lyrics and Andy Bell's unparalleled voice make Erasure an indelible part of not just my story, but countless others. And let me tell you, assembling this mix was a labor of love and respect. I was terrified I wouldn't do Erasure justice, but if I can say so myself, the result is something pretty fabulous.
With a sense of profound honor, I hereby enshrine Erasure into our Diva Hall of Fame and Legacy series. This tribute is more than just a walk down memory lane; it's a homage to the impact Erasure has had on our lives and the queer community at large. It's dedicated to Michael and Pete, figures who have played significant roles in my life's narrative, forever linked by the music of Erasure.
Until the next time…ENJOY!
Album : Erasure | The DIVA Tribute pt. 1




Genre : Dance 




Year : 2017 




Total Time : 1:51:57.00
1. Gimme! Gimme! Gimme! (Remix)
2. Star (The Trafalmadore Mix)
3. Love To Hate You (Hot Tracks Mix)
4. Stop! (Vince Clarke Sync 82 Remix)
5. The Circus (Bareback Rider Mix)
6. Heavenly Action (Razormaid Mix)
7. Victim Of Love (Extended Mix)
8. Am I Right (The Grid Remix)
9. It Doesn't Have To Be (Boop Oopa Doo Mix)
10. Chains Of Love (Truly In Love With The Marks Bros. Mix)
11. A Little Respect (Extended Mix)
12. Ship Of Fools (RC Mix)
13. You Surround Me (Remix)
14. Sometimes (Shiver Mix)
15. Who Needs Love Like That (Mexican Mix)
16. Oh L'Amour (PWL Funky Sisters Say 'Ooh-La-La' Mix)
17. Take A Chance On Me (Special K Vision Mix)
18. Drama! (Krucial Mix)
19. Breath Of Life (Elixir Mix)
20. Always (Microbots Trance Dance Mix)
21. Chorus (Hot Tracks Mix)
22. Blue Savannah (Razormaid Mix)
(Visited 1 times, 1 visits today)
Podcast: Download
Listen on: Apple Podcasts | Google Podcasts | Amazon Music | Android | iHeartRadio | Deezer | RSS | Leave a review