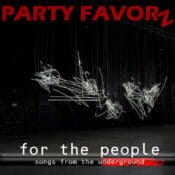 And the music keeps rolling with our final Underground House set of the year. Once again, this newly minted set pulls from a wide variety of genres to keep listeners, ravers and party-goers engaged. From Tech House, Bass House, Trance, Drum and Bass, and everything in between — "For the People" delivers the party and then some.
Things kick off slowly with the Danny Darko and Julien Kelland remake of the Rolling Stones classic "Paint It Black." This is one of the darker tracks in the Stone's catalog (next to "Gimme Shelter") and Danny Darko takes it even darker. There was a remix contest for the original and frankly, all the remixes officially picked for this release were excellent.
"Paint It Black" is followed by NERVO & Skazi's rework of the more recent "Faded" by Zhu — an equally dark track that put Zhu on the map. It's rare that a recent hit song like this gets a remake but this version is better than the original.
From there, things pick up as we move into the warehouse rave party you came here for. There are plenty of twists and turns in this set with much of it mashed to keep things flowing until we get to the next hard break and switch gears.
I enjoy making the Underground House mixes because the music options are limitless and it gives me greater creative control over what to use and decide on the direction I want to take. Not complaining about the other sets I make, which are by far more popular but I enjoy being able to stretch things to their limit.
Here in the United States, everyone is gearing up for Thanksgiving and I hope y'all have an enjoyable holiday with friends and family. I plan on dropping something special for Black Friday to help everyone get in the mood for power shopping, putting up holiday decorations, or just zoning out. I'm fairly certain y'all can figure it out. Just know that I plan on making it extra special this year.
Until then…ENJOY!
Album: for the people
Genre: Tech House, Breaks, Drum & Bass, Electro House, Progressive House
Year: 2019
Total Time: 02:05:30
1. Danny Darko feat. Julien Kelland – Paint It Black (SHYHiZZLE Remix)
2. NERVO & Skazi – Faded (Extended Mix)
3. Kid Panel – My Bassline (Original Mix)
4. Lucky Vegas – Yaz (Extended Mix)
5. Martin Ikin – Hooked (Original Mix)
6. Hott Like Detroit & Kathy Brown – Get Home (Respect) (Original Mix)
7. MorganJ – Let It Go (Extended Mix)
8. Akon x Wax Motif – Smack That (Angelo The Kid Wet Edit)
9. Bram Fidder – Bentley (Extended Mix)
10. Alt-A – Hold Back (Original Mix)
11. Meduza, Becky Hill & Goodboys – Lose Control (WeDamnz Bootleg)
12. Mart Under Sanctions – Pump Up The Volume (Extended Mix)
13. DNF x James Brown – I Feel Funky (Criminal Noise & Mairee Mashup)
14. Martina Budde – Wanna Disturb Your Mood (Luca Debonaire Club Mix)
15. KSHMR feat. Never – Do Bad Well (Extended Mix)
16. Chris Lake & Solardo – Free Your Body (Extended Mix)
17. Robosonic & EPMD – For The People (Illyus & Barrientos Extended Remix)
18. Billy Kenny – Take Me To Church (Original Mix)
19. Clubland – Let's Get Busy 2019 (Man Without A Clue Club Mix)
20. Marshall Jefferson & Solardo – Move Your Body (Extended Mix)
21. Nader Razdar & Kevin McKay – Get Ur Freak On (Extended Mix)
22. OFFAIAH – Soldier (Club Mix)
23. Steff Da Campo & Smack – Renegade (Extended Mix)
24. Hampenberg & Alexander Brown feat. Busta Rhymes & Shonie – You're A Star (mh 2019 Remix)
25. Halsey – Graveyard (Axwell Remix)
26. Dom Dolla – San Francisco (Eli Brown Extended Mix)
27. Kudisan Kai – Set It Off (HeadRocka Make It Clap Remix)
28. Digital Base + Andy Vibes – The Coolness Of The 1990s (Original Mix)
29. Martin Ikin feat. Dope Earth Alien – Headnoise (Get Hype) (Original Mix)
30. Tom Bug, Grooveline, Ida Flo Alaia & Gallo – Satisfy (Original Mix)
31. Illyus & Barrientos – Losing Control (Extended Mix)
32. MOGUAI – ACIIID (Kryder & Benny Benassi Extended Remix)
(Visited 1 times, 1 visits today)
Podcast: Download
Listen on: Apple Podcasts | Google Podcasts | Amazon Music | Android | iHeartRadio | Deezer | Donate