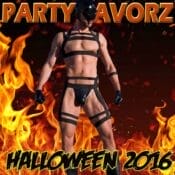 I'm back with part two of the Halloween Edition and yada, yada, yada. One thing I do want you folks to pay attention to is Manuel Riva & Eneli – Mhm Mhm (Silver Bluff Remix). This is my go to song of the moment. I'm torn between two versions for the upcoming EDM set of the Halloween Edition and not doubt a more stripped down laid-back version will make it onto my next Mixtape in November. That's how freaking good this song is and is worth your time to hunt down the original and give these guys some big-ass support by streaming or purchasing their song. I want to see this shit ride up the iTunes and Billboard charts, even if it's a sleeper.
To be honest, because of the more late night aspect of this set, it really doesn't fit in but I'm too drained to remove it and I really do like it that much. Everything else, speaks for itself and is what you come to expect from my circuit sets.
Now that I've calmed down a bit…I'll be pulling a Michael Jackson (not that I already haven't been) working day and night (reference from his debut album if you don't get it) to get the EDM set out to you folks in-time for Halloween. I still haven't even gone through and sorted nor tagged all the songs to be used. So, I've got my work cut out for me.
I'll be back before Friday this next week, I promise. Until then …ENJOY!
Album : Halloween Edition 2k16 pt. 2




Genre : Circuit, Progressive, Tribal




Year : 2016




Total Time : 01:22:54
Wiktoria – Save Me (Danny Verde Remix Extended)
Nacho Chapado – 2, 3, 4, 5, 6, 7, 8 & Jump (Original Mix)
Vandopler feat. Mitzy & Sergio Garcia – Beat Fashion (Beatallfusion Rconstruction)
Peter Rauhofer + Victor Calderone – Do It Properly (Nitram Baeza Remode)
Michelle Weeks vs. Ivan Gomez & Carranco – The Light (Yerko Molina Private Mashup)
DJ Pebbles – To Not Love You (Ranny's Big Room Mix)
Christina Aguilera – Hurt (Kike Mavera & Deibi Garcia Gay Mix)
Dawn Tallman – Higher Heights (Jackinsky's Help Mix)
George Figares & DJ Blacklow feat. Brenda Reed – To Be Able to Love (Original Mix)
Manuel Riva & Eneli – Mhm Mhm (Silver Bluff Remix)
Leanh vs. Offer Nissim, Mariah Carey & Maya – I'm That Chick (Yerko Molina & Fred Miller Private Mix)
Crystal Waters feat. Sted-E & Hybrid Heights – Believe (Tony Moran & Bissen Remix)
Drew G. – Hands Off (Original Mix)
Tony Moran & Dani Toro feat. Zhana Roiya – Lick Me Up (All Ovah Dub vs. Tom Stephan Mash-Up) [Private Mix]
DJ Aron feat. Beth Sacks – Voulez Vous (Arturo Estrada Afterhours Rework 2016)
(Visited 1 times, 1 visits today)
Podcast: Download
Listen on: Apple Podcasts | Google Podcasts | Amazon Music | Android | iHeartRadio | Deezer | RSS | Leave a review