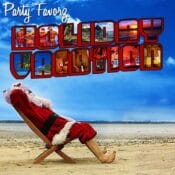 Santa is pretty much fed up and has decided to sit this year out and just relax on the beaches of Qualcomba. The elves are on strike, Rudolph is nearing his expiration date and Mrs. Santa has been shacking up with some of the elves.  He can't afford one of those new jet-propelled sleighs to compete against UPS and FedEx and with their cheap China mass produced toys with toxic chemicals made with slave labor, Wal-Mart forced him to lay off half his workforce (hence the elf strike).  He left a note at little Suzy's house underneath the plate of milk and cookies that read "take this job and shove it you whiny little brat."

Sun, fun and some hot babes are what he's looking forward to as he retires to these exotic islands.  Yeah, he just wants to kick back some fruit cocktails, smoke some of that amazing spliff he picked up in Colorado and just listen to some fine house music.
Well Santa, I've got the perfect soundtrack for your retirement. Let's start off with some old school funk and then slide into some filtered disco and wrap it around some tasty vocal house and I'll have you wiggling your toes and ho, ho, ho-ing night and day. So sit back and relax. Then get up and boogie the night away. You've earned it. ENJOY!
Album : Holiday Vacation
Artists : Various
Genre : Disco, House
Length : 01:19:52
1. Pete Rose & Devious – So Much In Love With You (Club Mix)
2. Seamus Haji pres. Big Bang Theory – Hold It Now! (Old School Mix)
3. Buy One Get One Free – Piano Fool (Original Club Mix)
4. Greg Lukas – Don't You Want Me (Greg's Beachclub Mix)
5. DJ Zimmo – Dont Stop (Original Mix)
6. Random Lyrics – Wake Up Tomorrow
7. Roger Stoudt – Champaign Wishes & Caviar Dreams (Original Mix)
8. Northbrook – Dance (I Like) (Original Mix)
9. Milk & Sugar feat. Lisa Millett – Lift Me Up (Jason Chance Remix)
10. Jay Vegas – Born Free (Original Mix)
11. Menini & Viani feat. Roz Brown – It's On Tonight (Menini & Viani Vocal Club Mix)
12. DJ PP – Queen Of Disco (Original Mix)
13. Colourphonic feat. Katia – Who Needs Love (Soulshaker Club Mix)
14. A&M feat. Kelly Joyce – The World Changes (Andrea Arcangeli + Mappa Club Mix)
15. Wise D & Kobe – Check Out The Groove (Original Mix)
(Visited 1 times, 1 visits today)
Podcast: Download
Listen on: Apple Podcasts | Google Podcasts | Amazon Music | Android | iHeartRadio | Deezer | Donate