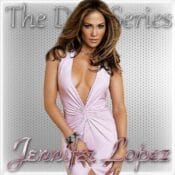 By 2005, Jennifer Lopez' star began to fade with a series of albums that failed to get much Top 40 traction (though generating #1 dance hits) a marriage to Mark Anthony and twins about to hit the shelves, Jenninfer was not getting the kind of attention she had previously enjoyed (barring the twins she had been carrying).
After parting ways with Epic Records, her label since the start of her music career, she signed with Island. She accepted the role as a judge on American Idol, which was said to be worth $20 million, and staged a comeback, and boy did she.
Still owing Epic one more album, her three #1 singles On the Floor, I'm Into You and Dance Again were all included on the greatest hits package released by Epic to fulfill her contract.
With the release of a couple more perfumes, a reality series similar to Idol produced for Univision and her first-ever Dance Again world tour coupled with starring turns in various movies, Jennifer's star is back in alignment and shining brighter than ever. Party Favorz welcomes Jennifer Lopez a.k.a. J-Lo back as a two-time inductee into the Diva Hall of Fame where no doubt she will reign for years to come.
Until the next time…ENJOY!
Album : The Diva Series
Artists : Jennifer Lopez
Genre : Mainstream Club, EDM 
Length : 01:24:11
1. Love Don't Cost A Thing (HQ2 Mixshow)
2. Goin' In feat. Flo Rida (Gustavo Scorpio Club Mix)
3. Let's Get Loud (Wild Pistols Remix)
4. I'm Into You (Dave Aude Club Mix)
5. Ain't It Funny (Almighty Mix)
6. Waiting For Tonight (Hex Hector Vocal Mixshow)
7. I'm Real (Dezrok Vocal Mixshow)
8. Alive (Thunderpuss Club Mix Edit)
9. On The Floor feat. Pitbull (Cajjmere Wray Club Mix)
10. Play (Thunderpuss Club Mix)
11. Jenny From The Block (Seismic Crew's Latin Disco Trip)
12. Papi (JNX vs. Alex Gaudino & Jason Rooney Club)
13. Louboutins (Moto Blanco Club Mix)
14. Hold It Don't Drop It (Moto Blanco Club Mix)
15. Dance Again (Cosmic Dawn Club Mix)
16. On The Radio (David Guetta Extended Mix)
(Visited 1 times, 1 visits today)
Podcast: Download
Listen on: Apple Podcasts | Google Podcasts | Amazon Music | Android | iHeartRadio | Deezer | Donate