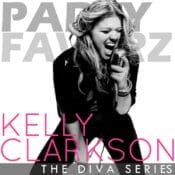 Party Favorz is digging into our past inductees into the Diva Hall of Fame and updating those that have since released considerable new material with a refresh of the original inductions.
Kelly Clarkson is one of two divas getting a makeover. While her original induction from 2013 is still available, she remains just as viable today as she did when it was released.
Considered America's sweetheart, she is a refreshing breath of fresh air from all the noise that's cluttering up our social collective. She also remains a badass and shows her feisty spirit when called out with negativity.
When a troll on Twitter made a very random remark that she was fat, she flatly replied:
Yes, girl, YOU ARE! Kelly is beautiful no matter her size and her winning personality and awesome vocals will keep us in her corner for eternity. Kelly can be seen as a coach on NBC's The Voice though honestly, I don't have cable so I couldn't tell if it's still on or not. She also just finished a pilot for a daytime talk show and is currently shopping it around to the various networks. Once again, it's her personality that will likely get it picked up and I wish nothing but continued success for her.
In the interim, we've polished up the old set and introduced a slew of hit singles and bootlegs to keep it fresh. With much love and admiration, Party Favorz recognizes the massive talent of this woman and her contributions to the dance floor. R-E-S-P-E-C-T.
Album : Kelly Clarson 2018 | The Diva Series
Artists : Kelly Clarkson
Genre : Dance, Club
Length : 01:36:23
I Don't Think About You (Luca Schreiner Remix)
Never Again (Dave Audé Mixshow)
Walk Away (Ralphi Rosario Main Club Mix)
Because Of You (Joe Bermudez & Chris Griffin Vocal Club Mix)
The Trouble With Love Is (Bermudez & Bertoldo Delinquent Cupid X Mix)
Invincible (Tom Swoon Remix)
Mr. Know It All (Billionaire Remix)
Stronger (What Doesn`t Kill You) (7th Heaven Club Mix)
Since U Been Gone (Jason Nevins Rock Da Club Mix)
Dark Side (Maison & Dragen Club Remix)
Miss Independent (Shanghai Surprise Remix)
My Life Would Suck Without You (Chriss Ortega Club Mix)
Behind These Hazel Eyes (Active DJs Remix)
Catch My Breath (Cosmic Dawn & Andy Reese Club Mix)
Already Gone (Bimbo Jones Club Mix)
I Do Not Hook Up (Bimbo Jones Club Mix)
Love So Soft (Barry Harris Remix)
Heartbeat Song (JRMX Club Mix)
People Like Us (Baggi Begovic Club Mix)
Piece by Piece (Bootleg Remix by Naccarati)
(Visited 1 times, 1 visits today)
Podcast: Download
Listen on: Apple Podcasts | Google Podcasts | Amazon Music | Android | iHeartRadio | Deezer | Donate