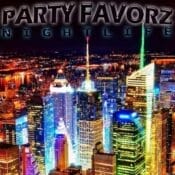 Welcome to the 2017 Funky House inaugural edition. Eh, just kidding.
I was going to put this out tomorrow morning but I figured a lot of you may need the diversion sooner rather than later.
If you can believe it, I'm currently at a loss for words. I'd like to smoke a joint but I haven't done that in 10 years and don't have any lying around.
I guess I'll just slam a few beers; pop an Ambien and try to sleep it off.
Peace.
Album : Nitelife




Genre : Disco, Funk, House




Year : 2017




Total Time : 01:31:51
Disco Funk Spinner – Night Strangers (Original)
Alexz – That's The Way (Angelo Ferreri Remix)
Camelphat – The Quad (Illyus & Barrientos Remix)
Pat-Rich & Simon Shane – YEP! (Original Mix)
Byron Stingily – Get Up (Everybody) (Mousse T. Remix)
Woody Bianchi & Re-Tide – Changes (Original Mix)
Four Kings feat. Sybil – Together You And I (SannyX Disco 54 Remix)
Moloko – Sing It Back (Mousse T.'s Feel Love Mix)
Jay Vegas – I Need U (Original Mix)
Birdee – Anywhere (Pete Herbert Remix)
John Davis & The Monster Orchestra – Bourgie', Bourgie' (Louie Vega Mix)
Yass – Been A Long Time (Original Mix)
Babert – War (Original Mix)
Armand Van Helden – The Funk Phenomena (Original Mix)
Frey & Waxy – We Came To Party (Original Mix)
Marshall Jefferson – Lock The Doors (Dub Mix)
Gwen McCrae – Keep The Fire Burning (Alien Disco Sugar Mix)
(Visited 1 times, 1 visits today)
Podcast: Download
Listen on: Apple Podcasts | Google Podcasts | Amazon Music | Android | iHeartRadio | Deezer | Donate