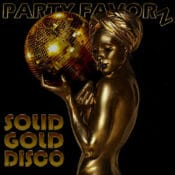 Never one to sit on my laurels — Party Favorz is back with our final FunkyDiscoHouseShit set of 2019 and boy is it a winner! Solid Gold Disco is a non-stop disco-lover's wet dream all wrapped up on a golden platter. It takes from a multitude of familiar beats of the 70s, 80s, and 90s and wraps them up in a tight package with a giant bow on top making these tracks as fresh as if they were delivered to your door today. It really doesn't get any better than this.
Now that my workstation is back and better than ever — I've got a lot of ground to cover to ensure I stay on track for what is the busiest time of the year for the podcast. If I were you, I'd pay close attention because I'll be dropping bombs one right after another — enough to keep you in the holiday spirit (clears throat) no matter your genre preference. If you like everything I'm delivering — you're going to be really busy.
I won't be unwrapping your presents before it's time, so think of each release as a new gift from me to you as we count down the 30 days of Christmas. Until the next time…ENJOY!
---
On a final note — Party Favorz is not averse to receiving gifts either. If you like what I'm delivering and are feeling in the holiday spirit, feel free to buy a cup of coffee. The donation link is now up and active.
This episode has been updated by editing out 31 seconds of the original podcast and fixing one transition. The changes are minor and strictly for those that archive all episodes of Party Favorz. 
Album: Solid Disco Gold
Genre: House Music, Funky House, Jackin House, NuDisco
Year: 2019
Total Time: 02:07:09
1. Seamus Haji – Boogie 2nite (Dr. Packer Extended Remix)
2. Mike Dunn – Natural High (Mike Dunn Black Glitter Extended Mix)
3. Madison Avenue – Don't Call Me Baby (Mousse T Remix)
4. Bobbe Green – Survival (Georgie's Jackin' House)
5. Mondo feat. Peter Monk – Dancer (Extended)
6. Gary Caos – Shake Shake Shake (Original Mix)
7. Crazibiza & House Of Prayers – Let's Play House (Original Mix)
8. Crazibiza – Soul Cool (Original Mix)
9. Disco Incorporated – Barry (Black Soul Music Mix)
10. Sweetpower, Dirtydisco & Adam Nova – Groovin' To The Beat (Original)
11. Starley – Lovers + Strangers (Mousse T Extended Remix)
12. Sharam Jey – 4 Your Mind (Original Mix)
13. Richard Grey – Turn Your Love Around (Jacks On Remix)
14. Powerdance – Power Dance (Mousse T's Disco Shizzle Extended Mix)
15. The Spinners – I'll Be Around (Frank Delour Remix)
16. Block & Crown feat. Martina Budde – Mister Deejay (Original Mix)
17. Giman & Chic_Ago – Le Chic (Vocal Mix)
18. Moon Rocket – Funk U! (Angelo Ferreri Remix)
19. Thomaz Krauze – Boogie (Original Mix)
20. DJ Mes – Les Sensations (Original Mix)
21. Dr Packer & Mark Lower – Moods Of Music (Extended Mix)
22. Miguel Migs feat. Lisa Shaw – Moving Light (Deep Feels Dub)
23. Alex Preston – Love Move (Original Mix)
24. Kraak & Smaak feat. Izo FitzRoy – Sweet Time (Yuksek Remix)
25. Happy Clappers – I Believe (David Penn Re-Edit)
(Visited 1 times, 1 visits today)
Podcast: Download
Listen on: Apple Podcasts | Google Podcasts | Amazon Music | Android | iHeartRadio | Deezer | Donate