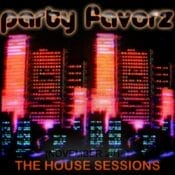 Party Favorz is proud to present to final House Sessions set of 2014 and as Loleatta once said "let me tell ya" this thing wreaks of a 1,000 sweaty bodies crammed into a warehouse rubbing and gyrating under the glow of a sparkling disco ball at 3 AM in the morning.  In short, I turned this MOTHERFUCKER OUT!
We start out nice and sweet with the early 80s throwback SO IN LOVE by Adri Block, which channels the fabulous Evelyn King.  From there, it continues to pick up steam until BAM! You hit a brick wall the moment you run into SAY YES by Two Kings feat. the Queen.  This shit is like the Staple Sisters went to house heaven and sprinkled disco dust on all the believers down below.
No strangers to the scene, Two Kings consist of the legendary Jamie Lewis, who frankly needs no introduction and Fabulous Keys another veteran stalwart that you may be more familiar with the folks he's worked with (Chaka Khan, Sheila E., James Brown) than the actual man himself.  Throw into this mix Swiss made soul singer TANJA DANKNER and you got yourself a recipe that even Julia Child couldn't have concocted.
If this song is any indication of how well they work together, Party Favorz is EAGERLY awaiting their album SAY YES to drop in early January, which will include a solid mixture of chill grooves, deep house, and funky house music.
Another favorite veteran around here is the incredible Mark Picchiotti who is introducing us to Chicago's Rufus Proffit.  SHELTER takes us back to the 70s while Marks keeps the beats centered around funky house bliss and Rufus delivers a deliciously soulful vocal that harkens back to another place and time.  Those that know me also know that besides being a dedicated house-head, I am a HUGE 70s soul, disco, and funk fan and my encyclopedic brain's endorphins go into overdrive when I hear something as sweet and funky as SHELTER.  Trust.
This leads me to the 70s disco classic SPANK by Ron Louis Smith.  Originally performed by Jimmy "Bo" Horne back in the day, Ron actually wrote the song and brings it back to us with his vocals in what can only be described as PURE FUNK.  While Jimmy's excellent version had that classic "Sunshine" sound, Ron casts it in the era in which it was originally written.  This is definitely a get up off your ass floor stomper!
Jay Vegas is back with another winner in LUV DRUG with its infectious funky house beats and what appears to be a Loleatta Holloway monologue asking folks "is there anybody out there that has been with someone and wishes they were with someone else." I'm convinced this IS her because this is so classic Loleatta.   Jay takes this monologue and wraps it around pure house bliss adding another gold star to his burgeoning catalog.
The House Sessions wouldn't be true to itself if I didn't include two re-worked 90s house classics.  So, I worked in Ruffneck and Yavahn's EVERYBODY BE SOMEBODY and the Nightcrawlers PUSH THE FEELING ON, which have been updated for today's floors.  Now, folks, I don't care how you bend it, stretch it or tweak it, cause you ain't NEVER gonna break it.  These songs are as good now as when they were originally being served up back in the day.
Another goto song at the moment is the super deep and funky GO ALL NIGHT by Gorgan City and the always fabulous Jennifer Hudson.  This song IS THE SHIT and one of two Jennifer has out at the moment.  Watch out of the fabulous Freemason's mix of this song as well.  Clearly getting a big push by Gorgan City's label, I fully expect even bigger things for this song.
I wanted to close the set out with Kiesza's latest NO ENEMIES, but the full-length remixes aren't scheduled for release until November 24th so we'll just have to settle for the MASSIVE Jax Jones rework of Duke Dumont's WON'T LOOK BACK.  I know, I know violins, please.  It's like, okay twist my arm, I'll drop it in (as if I needed any coercion) LOL.
That's what I got going on for your weekend.  I'll be back next week with another triple play for ya.  Until then …ENJOY!
Album : The House Sessions | November 2014
Genre : Funky House, NuDisco, Soulful
Year : 2014
Total Time : 01:20:00
1. Adri Block – So In Love (Original)
2. Sugar Hill & Wasabi – It's On You (Original Mix)
3. ATFC – Bank Loan (Original Mix)
4. Two Kings feat. The Queen – Say Yes (Jamie Lewis Club Mix)
5. Ron Louis Smith – Spank (Original Club Mix)
6. Ruffneck feat. Yavahn – Everybody Be Somebody (Lucas & Steve Remix)
7. Mark Picchiotti feat. Rufus Proffit – Shelter (Mark Picchiotti Vocal Mix)
8. Viciousi – Rollo Vice (Original Mix)
9. Roter & Lewis – Get Out Of My Life
10. Gorgan City feat. Jennifer Hudson – Go All Night (Extended Mix)
11. Nightcrawlers – Push The Feeling (U-Ness JedSet 2014 SoulHeat Remix)
12. Sugar Hill – Help Me To Remember (Original Mix)
13. DJ Tonka – Feel (2014 Update)
14. Jay Vegas – Luv Drug (Original Mix)
15. Mad8 – I Keep Dancing (Dino Da Cassino Mix)
16. Duke Dumont – Won't Look Back (Jax Jones Remix)
(Visited 1 times, 1 visits today)
Podcast: Download
Listen on: Apple Podcasts | Google Podcasts | Amazon Music | Android | iHeartRadio | Deezer | Donate